Monday Night Football reaction: Lightning, Bolts make for a rough night for Raiders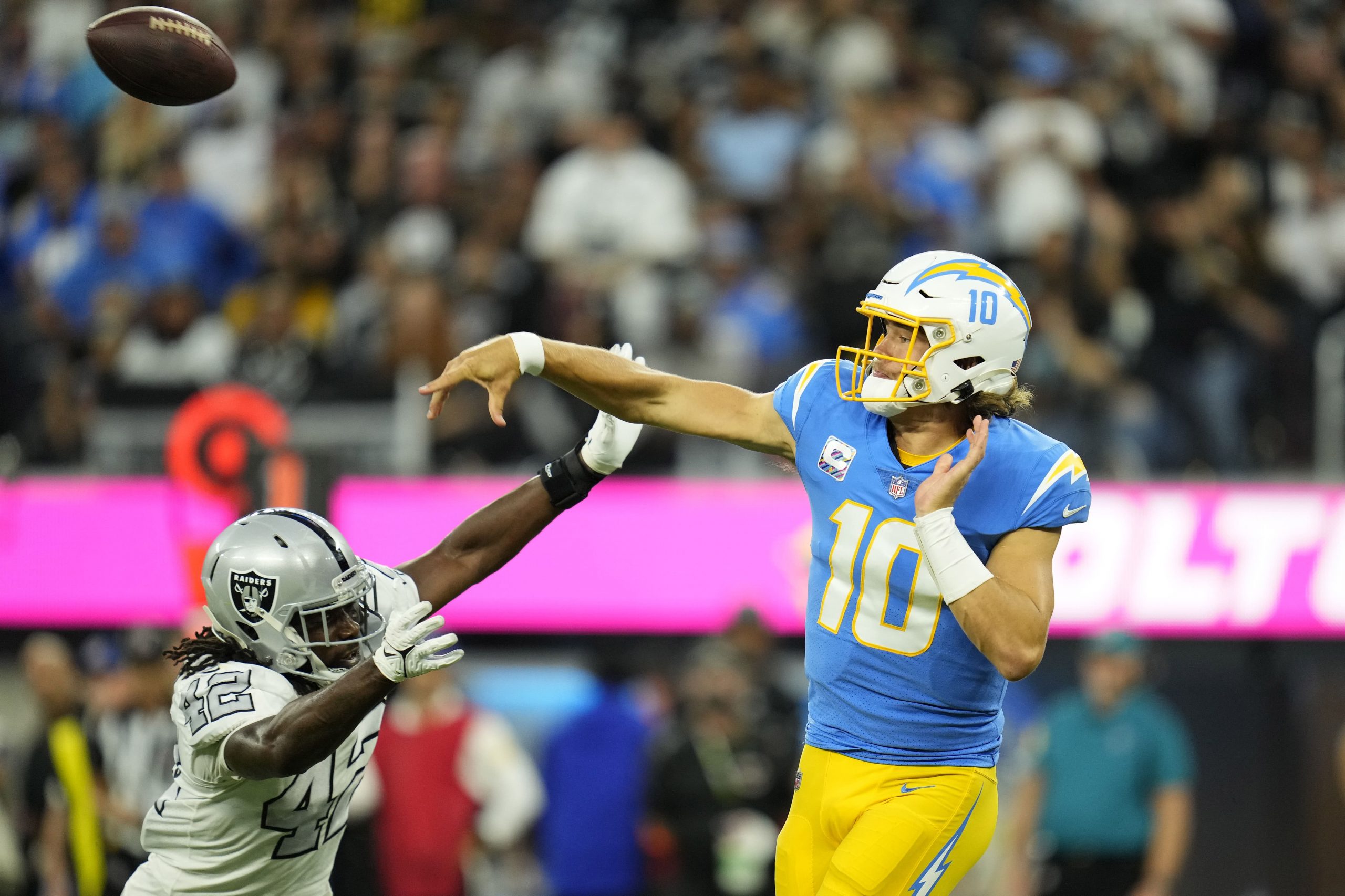 Kickoff for Week 4's Monday Night Football showdown between the Los Angeles Chargers and Las Vegas Raiders was delayed by more than 30 minutes because of lightning. The Raiders, themselves, were delayed in joining the party, and by the time they got rolling the Chargers' lead was too much to overcome.
Playing at home but in a stadium that had more fans of the visiting team, Los Angeles held off Las Vegas' second-half charge to prevail 28-14.
Let's recap what happened in Los Angeles on Monday night and break down what it means.
Herbert huge again
Like the rest of us, Raiders head coach Jon Gruden was flabbergasted as to how there could be a lightning delay of a game played under a closed roof.
Jon Gruden is all of us learning you can still have a weather delay in a roofed stadium pic.twitter.com/puSmE13n8Y

— Pick Six Podcast (@picksixpod) October 5, 2021
How is the game being delayed due to weather when it is being played in a dome? pic.twitter.com/NVgFG2DJ7G

— Pickswise (@Pickswise) October 5, 2021
Gruden must have been equally confused over how to stop Justin Herbert. The second-year signal-caller out of Oregon completed 25 of 38 passes for 222 yards with 3 touchdowns and no interceptions. Over the past 2 games he has 7 TDs and no INTs. We already knew Herbert was the real deal; last week's win over the Kansas City Chiefs and Monday's success against Las Vegas confirmed as much (and continued to add to the Miami Dolphins' pain of picking Tua Tagovailoa over Herbert).
Staley strikes again
By the way, I love Los Angeles head coach Brandon Staley's aggressive mindset. Far too many football coaches are too passive; they play not to lose as opposed to playing to win (Herm Edwards, of course, is one notable exception). Staley plays to win.
Last week against the Chiefs his team needed only a field goal with the score tied 24-24 in the final minute but he bypassed a 48-yard try and went for it on 4th down. The Chargers got it and eventually scored the game-winning touchdown. On Monday, Staley went for it on 4th-and-2 from LA's own 45-yard line while leading by 14 with 6 minutes remaining in the third quarter. That, too, was converted. The Chargers eventually punted on that drive, but it still sent a message. They went for it again on 4th-and-2 at the 50 while leading by 7 with 9 minutes left in the game. Failure would have given the Raiders prime field position and within one possession. But, you guessed it, the Bolts again moved the chains. That led to an Austin Ekeler touchdown and a 28-14 advantage that all but iced the game.
Wild, wild West
The Chargers' win means the Chiefs are still in last place in the AFC West, 4 weeks into the season. You cannot make this stuff up, folks. Kansas City, which is still a +300 favorite to win the AFC and a -110 favorite to win the division, is 2-2. Everyone else (LA, Las Vegas, and the Denver Broncos) is 3-1.
Along with its West counterpart in the NFC, this is one of the most fun divisions in football. I've always been high on the Raiders. Still am. Now I'm high on the Chargers, too. But high enough to bypass the Chiefs to win the division when you can get them right around even money?
Nope, not that high.
Pickswise is the home of free NFL Predictions  and NFL Odds. Check out the latest NFL Prop Bets and NFL Parlays as well as expert NFL Underdog Picks and NFL Computer Picks.