Monday Night Football reaction: Perfect week for the beasts of the East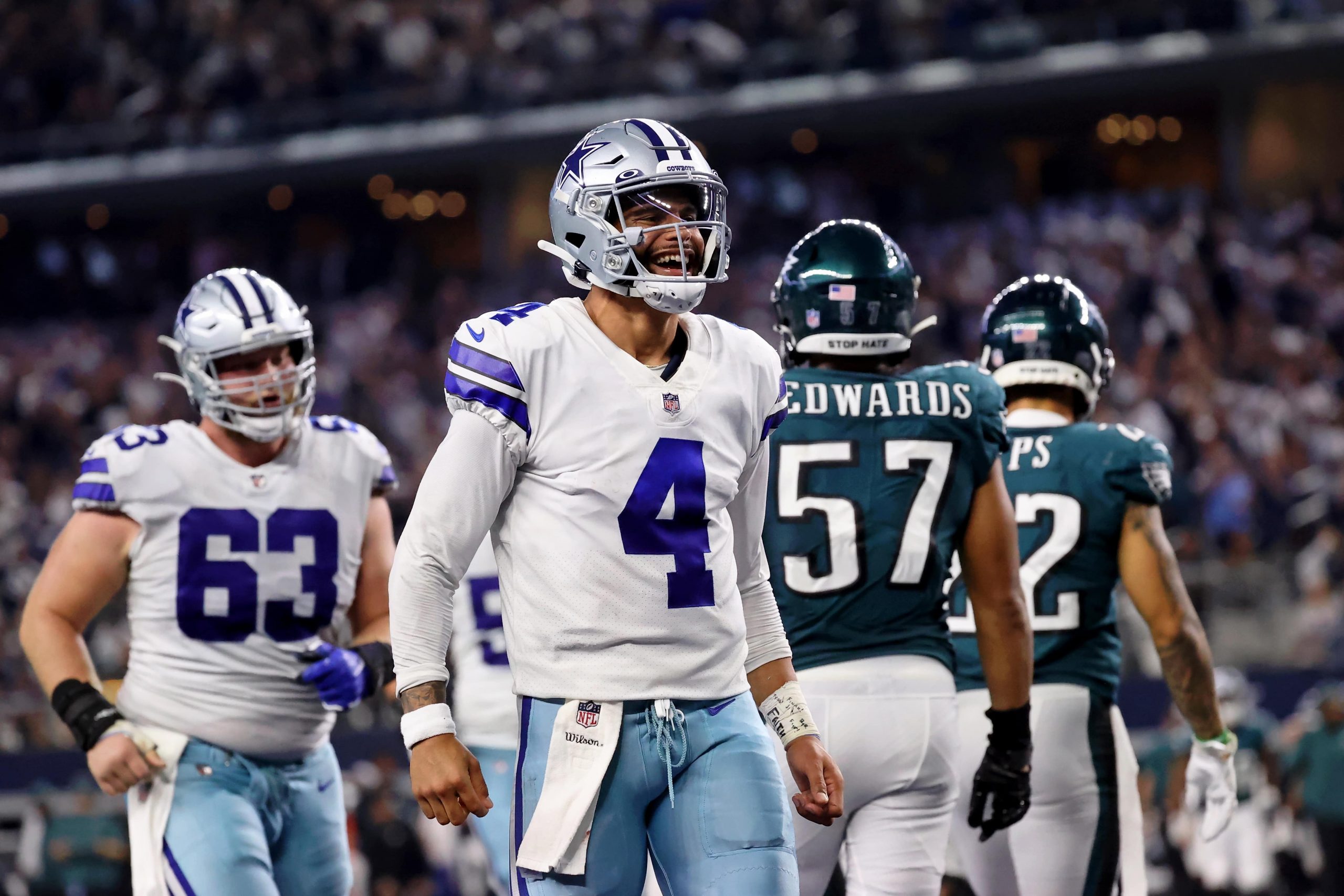 By NFC East standards, Monday Night Football between the Dallas Cowboys and Philadelphia Eagles was actually pretty good. When the worst division in football is involved in primetime (which happens far too often, I must say), you can't ask for both entertainment and high quality. You normally get one or the other, but never both.
More often than not, primetime NFC East games are high on entertainment and low on quality. This time around it was the opposite. Dallas played good football basically from start to finish and treated its home crowd to a 41-21 beatdown of Philadelphia.
It capped off a perfect week for the Cowboys, as they won and every other division rival lost (Washington got thrashed by Buffalo and New York fell at home to Atlanta).
Let's reflect on what happened and break down what it means.
Is the Dallas defense actually good?
The Cowboys finished in the bottom 10 of the NFL in total defense last season and then brought in Dan Quinn as their new defensive coordinator. One would normally think that bringing in Dan Quinn as DC wouldn't lead to improvement, but here we are. Dallas has held the Chargers and Eagles to 17 and 21 points, respectively, in their two victories, and even in their only loss they forced 4 Tampa Bay turnovers.
Two more turnovers were forced on Monday night — a pair of interceptions thrown by Jalen Hurts. One of those picks was returned 59 yards for a touchdown by Trevon Diggs.
COWBOYS PICK-6 TO THE HOUSE 🏡pic.twitter.com/aIR88h6VmT

— Pickswise (@Pickswise) September 28, 2021
The Eagles seem to have no idea what they are doing on offense. Hurts is in his first full season as a starter in the NFL, the offensive line in front of him is in shambles, and Philly was taken out of its game-plan early against Dallas since the scoreboard was out of hand. So the Cowboys still have something to prove. In this early sample size, though, their defense appears to be legit.
Oh, by the way: I'm well aware that Quinn fared well as DC in Seattle. But Ted Lasso could have made Seattle the No. 1 defense in the league with the defensive roster Quinn was working with at that point. When Quinn was working with mere mortals in Atlanta, the results were disastrous.
Is it over in the NFC East?
Speaking of mortals, that is exactly what the Eagles, Giants, and Football Team are looking like through 3 weeks. Philly is 1-2 with a win only against Atlanta. New York is still winless, and given how its offense is sputtering right now a first victory could remain elusive for a while. Washington's lone win has come against the Giants (and by 1 point!) and it lost to Buffalo by more than 3 touchdowns.
Again, it's early. But no other NFC East team seems poised to challenge Dallas. They aren't good enough and —amazingly enough — the Cowboys might actually be too good. Their defense doesn't even have to be great; just being mediocre should suffice with the way Dak Prescott is playing. If Prescott stays healthy, Comeback Player of the Year is a lock. NFL MVP is what should be on his mind if he is on the field for a full 17-game schedule.
And, more importantly, a division title.
Pickswise is the home of free NFL Predictions  and NFL Odds. Check out the latest NFL Prop Bets and NFL Parlays as well as expert NFL Underdog Picks and NFL Computer Picks.