Most NFL passing yards 2022 predictions, odds & picks: Justin Herbert's time to shine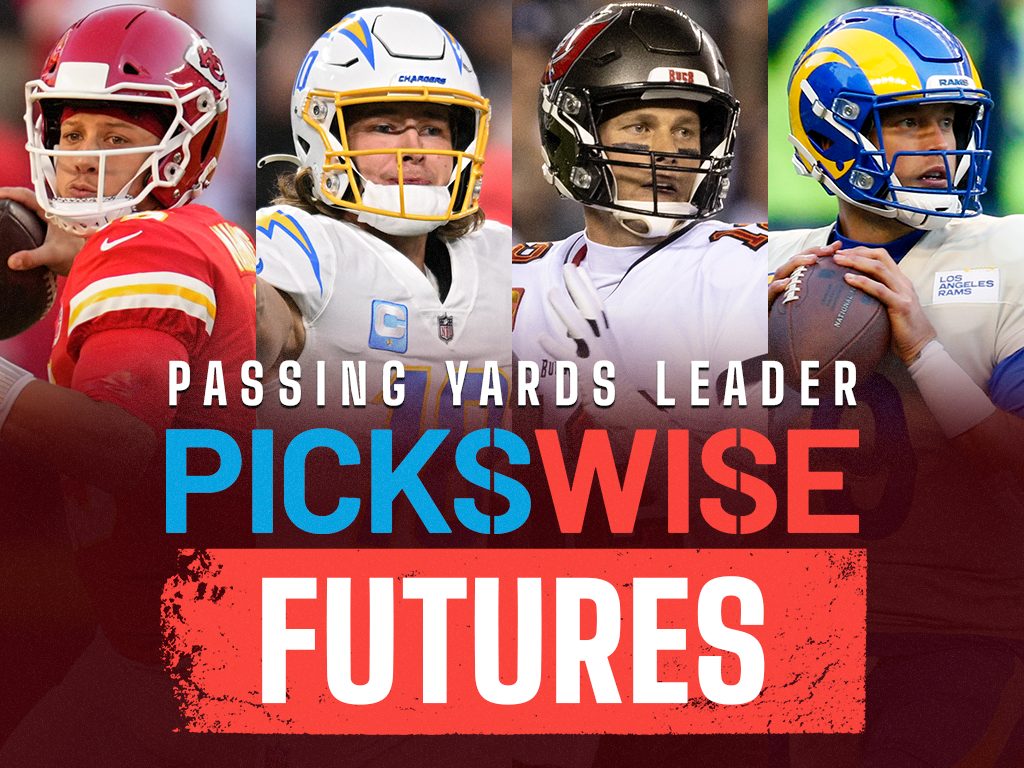 The 2022 NFL season is finally on the horizon. The marathon battle for the Lombardi Trophy begins on September 8 with a matchup between the Buffalo Bills and Los Angeles Rams. As well as projecting who will win the rushing title, we can also make our predictions for who will lead the league in passing yards.
Looking at the odds, there multiple contenders in this market, making this a highly competitive field. Let's take a look at the best bets to target before the season starts.
Check out our picks to win Super Bowl 57, including a +4500 longshot
Regular season most passing yards odds
Odds available at FanDuel Sportsbook at time of publishing
Justin Herbert (+700)
Tom Brady (+800)
Patrick Mahomes (+800)
Matthew Stafford (+800)
Derek Carr (+1100)
Dak Prescott (+1100)
Josh Allen (+1100)
Joe Burrow (+1200)
Russell Wilson (+1600)
Kirk Cousins (+2000)
It's not surprising to see most of the names at the top of this market. Tom Brady is coming off a season in which he led the league in passing yards. Justin Herbert finished 2nd last year and is only getting better, while Patrick Mahomes isn't getting worse anytime soon. Further down the line, Josh Allen and Joe Burrow both have plenty of weapons and should be in contention all season long. Russell Wilson and Kirk Cousins round out the top 10, as both quarterbacks have proven to be reliable when it comes to putting up passing yards. Let's get into our best bets for this market.
Passing leader best bet: Justin Herbert (+700)
This year feels like Herbert's breakthrough season into the realm of elite quarterbacks. Yes, he's considered one of the best in the league by most analysts, but the Chargers gunslinger needs to validate that with wins. Despite throwing for over 5,000 yards and racking up 38 touchdowns a season ago, Herbert is still getting better as he enters his third season. While their defense did improve in the offseason, I don't expect it to be an elite unit. The Chargers aerial attack will still need to produce at a high level in order to stay in front of teams. Fortunately, Herbert will have multiple running backs who can catch out of the backfield, plus Keenan Allen and Mike Williams.
Over his first 2 seasons, Herbert has completed 66% of his passes while having the second most completions in that span. The Chargers phenom also averaged 11.3 yards per completion in 2021, and I see no reason for that to change. With the Chargers expected to play in a number of close games, opportunities will be there for Herbert to pick up chunks of yards in 4th quarters and overtime. I think another 5,000 yard season is certainly in the cards.
Don't miss our NFL MVP best bets for the 2022 season
Passing leader longshot bet: Jameis Winston (+3000)
When looking for a longshot, it makes sense to target a high volume passer. But remember, it's still extremely unlikely that someone outside the top 10 in this odds market can finish 1st. With that being said, why not place a bet on a previous passing yards leader at 30/1 odds?
Coming off an injury-plagued season in 2021, Jameis Winston is clearly undervalued heading into this campaign. The Saints quarterback is no stranger to throwing the ball downfield often, as he led the league in passing yards in 2019. Winston threw for over 5,100 yards in that campaign, while completing 61% of his passes. In fact, if he didn't also lead the league in interceptions, Winston likely would have thrown for even more yards. Now in New Orleans, the veteran field general is surrounded by really talented weapons. With Michael Thomas and Chris Olave on the outside and Alvin Kamara and Mark Ingram catching passes out of the backfield, Winston should have a successful season. This price is simply too long, so I'm happy to take a shot.
Could this +7500 bet on Defensive Player of the Year have value?