Most NFL receiving yards 2022 predictions, odds & picks: Can't stop Cooper Kupp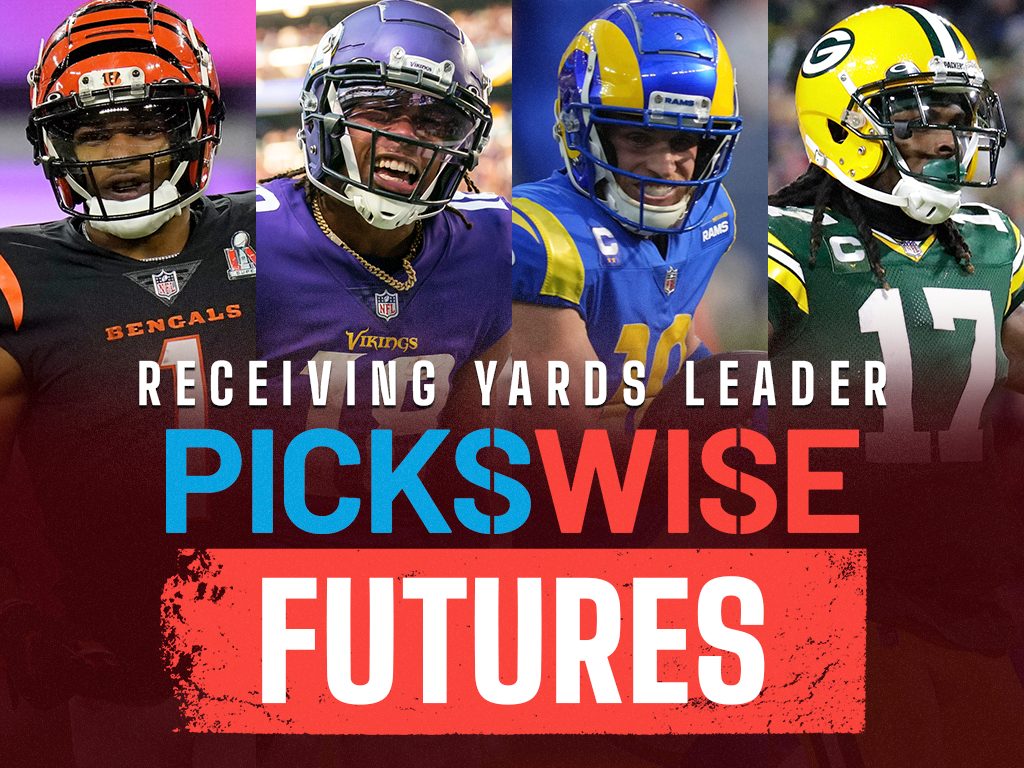 The 2022 NFL season is finally on the horizon. The marathon battle for the Lombardi Trophy begins on September 8 with a matchup between the Buffalo Bills and Los Angeles Rams. As well as projecting who will win the rushing title, we can also make our predictions for who will lead the league in receiving yards.
Looking at the odds, there multiple contenders in this market, making this a highly competitive field. Let's take a look at the best bets to target before the season starts.
Check out our picks to win Super Bowl 57, including a +4500 longshot
Regular season most receiving yards odds
Odds available at DraftKings Sportsbook at time of publishing
Justin Jefferson (+800)
Cooper Kupp (+900)
Ja'Marr Chase (+1000)
Davante Adams (+1200)
Stefon Diggs (+1400)
Ceedee Lamb (+1400)
Tyreek Hill (+2000)
Travis Kelce (+2000)
Mike Evans (+2500)
Deebo Samuel (+2500)
It's not surprising to see most of the names at the top of this market. Cooper Kupp is coming off a season in which he led the league in receiving yards. Justin Jefferson finished 5th last year and is only getting better, while Davante Adams isn't getting worse anytime soon. Further down the line, Tyreek Hill and Ceedee Lamb should see plenty of targets all season long. Mike Evans and Deebo Samuel round out the top 10, as both have proven to be reliable targets for their quarterbacks. Let's get into our best bets for this market.
Receiving leader best bet: Cooper Kupp (+900)
Last year was a career-best season for Cooper Kupp in Los Angeles. The Rams star wideout had a season for the ages, racking up nearly 2,000 yards through the air and 16 touchdowns. He easily finished the campaign with the most receiving yards in football, finishing 400 yards better than the next closest receiver. When looking at the wideouts near the top of the odds, what is there to say that Kupp can't replicate last seasons' success? Sure, he'll be at the top of most defensive coordinators priority list, but that didn't stop him last season.
Kupp and Matthew Stafford have a clear connection that is second to none. In fact, with Tyreek Hill out of Kansas City and Davante Adams no longer in Green Bay, Kupp and Stafford's connection has to be the best in football. The Rams dynamic passing attack runs through Kupp and I see no reason for his production to fall off. The fact that he isn't the betting favorite at the moment is puzzling, so I'm happy to back Kupp at this price.
Don't miss our NFL MVP best bets for the 2022 season
Receiving leader longshot bet: Travis Kelce (+2000)
There are a number of ways you could go with selecting a longshot. However, none of those other players with longer odds is in a situation like Travis Kelce. Kelce is a tight end by position but he has traditionally been used as a wide receiver by the Chiefs. Not only is Kelce a reliable target for Patrick Mahomes, but his role will greatly increase this year without playing alongside Tyreek Hill. Kelce had the 10th most receiving yards in 2021 as a second option to Hill, so you can imagine his production will only increase this fall.
Much like with Kupp and Stafford, Kelce's rapport with Mahomes is part of why I think he's worth backing. He finished 13th in receptions on 134 targets in 2021. Crucially, the tight end should become more active in the downfield passing game, especially if any of the Chiefs' receivers suffer injuries. If Kansas City is to have success in a brutal AFC West, Kelce will need to produce at a high level. If he does, don't be surprised if he's near the top of the receiving leaderboard.
Could this +7500 bet on Defensive Player of the Year have value?