Mostert, Williams are co-favorites to score Super Bowl LIV's first touchdown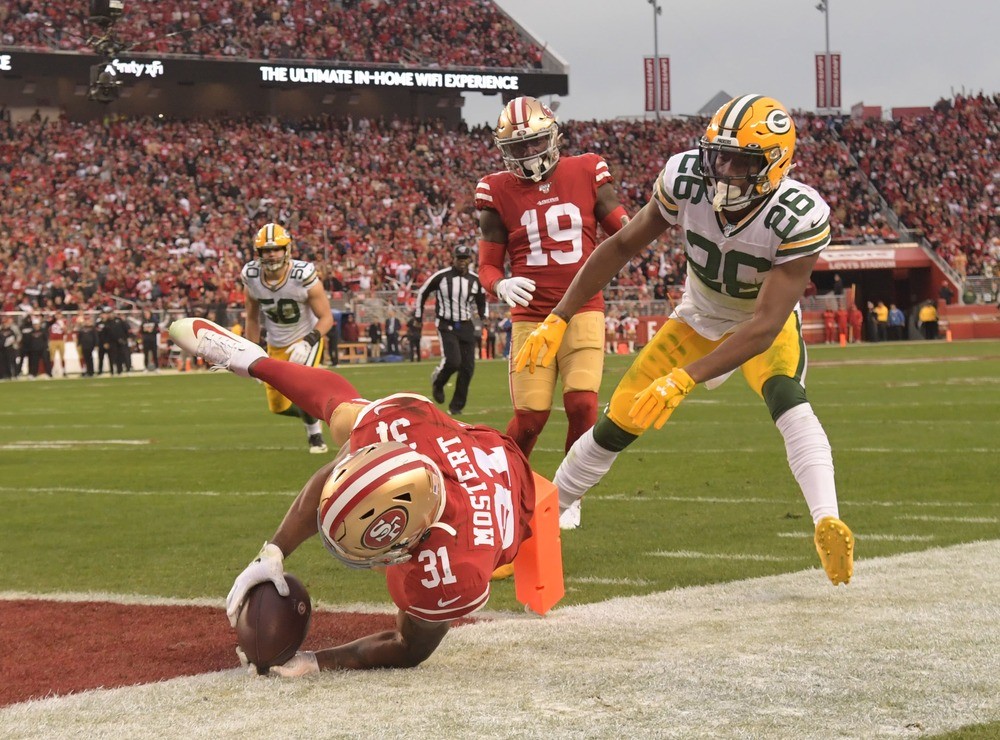 It does not get quite the same traction as Super Bowl MVP, but the first touchdown scorer is always one of the most popular futures bet for the big game. In Super Bowl LIV (check out our free expert predictions for Sunday's showdown between the Kansas City Chiefs and San Francisco 49ers), touchdowns are expected to come early and often. We are not talking LSU vs. Oklahoma or LSU vs. Clemson style, but the total is up there (54.5 to be exact, one point more than its 53.5 opening).
Who will find the endzone first? Let's take a look at the favorites.
Raheem Mostert, RB, 49ers (+600)
Mostert will be a trending pick here after he positively erupted during San Francisco's 37-20 NFC Championship win over Green Bay. He rushed 29 times for 220 yards and four scores. Kansas City's defense finished a mere 26th in the NFL against the run compared to eighth against the pass, so Mostert should be able to do some damage.
Damien Williams, RB, Chiefs (+600)
Williams probably isn't going to win MVP, as the Chiefs are a too much of a passing team. Scoring the first touchdown, however, certainly isn't out of the question. The Oklahoma product scored a modest seven touchdowns in the regular season, but six of those came during the last eight weeks. Most noteworthy is the fact that he has delivered four TDs in two playoff appearances.
Travis Kelce, TE, Chiefs and Tyreek Hill, WR, Chiefs (both +800)
Which one will be Patrick Mahomes' go-to guy on Sunday? In the divisional round it was Kelce (10 catches, 134 yards, three touchdowns); in the AFC Championship it was Hill (five catches, 67 yards, two touchdowns). You get the feeling that a big stage such as this one was made more for Kelce than for Hill, but both have good value at +800.
George Kittle, TE, 49ers (+1000)
Interestingly, Kittle has the same odds to score the game's first touchdown as he does to win MVP. Although he has been a total non-factor in the playoffs since San Francisco has done nothing but run the ball, Kittle caught 85 passes for 1,053 yards and five TDs in 14 regular-season games. You have to think the 49ers will be forced to air it out more on Sunday than they did against Minnesota and Green Bay, so he should have a chance here.
Deebo Samuel, 49ers (+1400)
Given how slowly the Chiefs started in each of their first two postseason contests, there is solid value on all of the 49ers guys behind Williams, Kelce, and Hill on this list—Samuel and Kittle included. If San Francisco gets in the endzone first, it could be courtesy of a Jimmy Garoppolo-to-Samuel connection. The rookie out of South Carolina has been an absolute steal of a 36th overall pick, racking up 802 receiving yards and six TDs (three rushing) in the regular season.
Patrick Mahomes, QB, Chiefs (+1600)
Mahomes was good during the regular season, but he has been great in the playoffs—to the extent that is he is once again looking like the best player in the NFL. If the 24-year-old performs up to his potential this weekend, he will certainly be the best player on the field. In the divisional round and AFC Championship, Mahomes completed a combined 46 of 70 passes for 615 yards with eight touchdowns and no interceptions. 49ers receiver Emmanuel Sanders and Chiefs receiver Sammy Watkins are also +1600.
Head to our Super Bowl Odds page for the latest Super Bowl 55 odds including who is favorite to be the First Touchdown Scorer this year. Be sure to check our expert Super Bowl Prop Bet analysis where we post our favorite Prop Bet picks, including those Touchdown Scorer props.