NBA Draft predictions: School, conference, and top 10 specials
We've already covered certain individuals in terms of their prospects for the upcoming NBA Draft. We've done a mock draft, made player position prop bets, and discussed the contenders for No. 1 overall.
Now it's time to take a look at the groups as whole—such as colleges, conferences, freshmen, and international stars. Without further ado as Wednesday's festivities approach, let's dive into some more intriguing prop plays.
School specials
University of Arizona Over 1.5 players drafted in the first round (-110)
The Wildcats are a good bet to watch two of their former players go off the board in the first round. Josh Green, who we have going No. 23 overall to the Utah Jazz, should be a lock. Zeke Nnaji (No. 30 to the Boston Celtics) is not as much of a slam dunk, but he has a decent chance to be a first-rounder. In fact, No. 30 may be a somewhat conservative prediction. Also keep in mind that Nico Mannion has a shot, as well. Arizona could get three.
University of Washington Over 1.5 players drafted in the first round (-104)
This all comes down to Jaden McDaniels and Isaiah Stewart, as Washington does not have a third option for insurance like Arizona does with Mannion. Look no further than our mock draft to see that we are high on both McDaniels (No. 16 to the Portland Trail Blazers) and Stewart (No. 18 to the Dallas Mavericks). You have to like the Huskies going over here.
Conference specials
SEC Under 5.5 players drafted in the first round (-125)
Don't be surprised if the SEC gets stuck on five in the first round. It could get No. 1 overall in Anthony Edwards, while Isaac Okoro and Tyrese Maxey are also locks to be among the first 30 players picked. Aaron Nesmith and Kira Lewis Jr. have good chances, too. A Mississippi State pair to look out for is Robert Woodard II and Reggie Perry, plus there is the Arkansas duo of Isaiah Joe and Mason Jones. Nonetheless, those guys will likely have to wait until round two.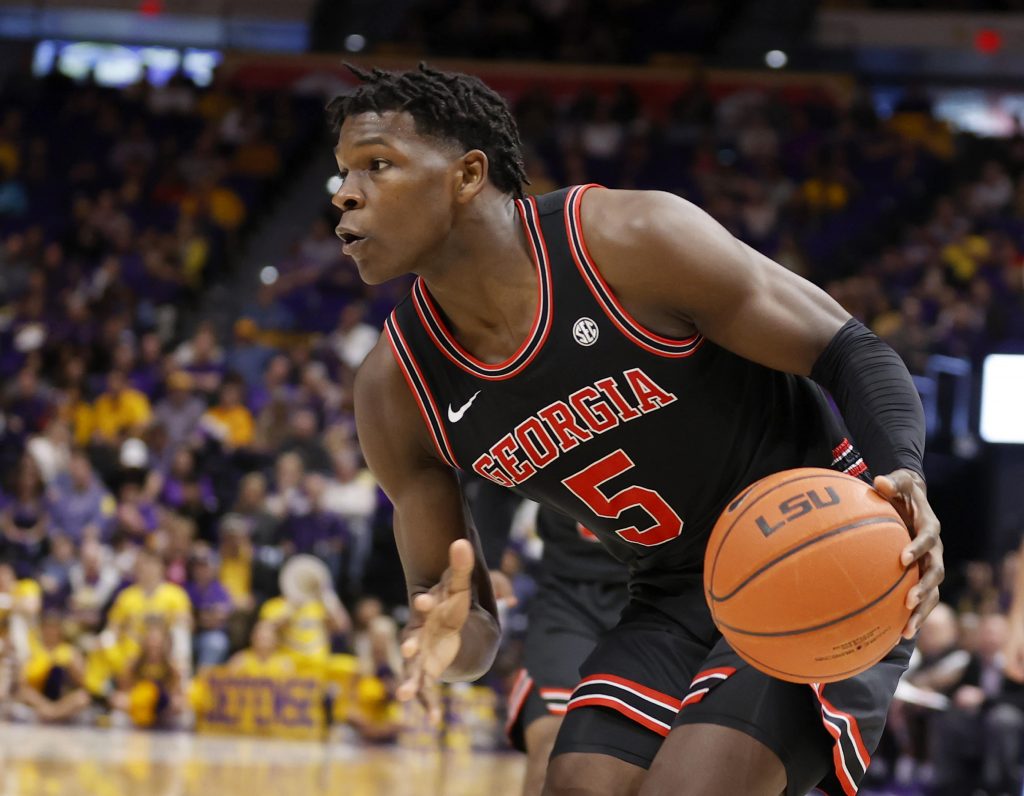 Big 12 Under 2.5 players drafted in the first round (-225)
As the odds suggest, the Big 12 staying under its quota is a safer bet. Tyrese Haliburton is a sure thing, but he very well could be the only representative in the first round. Jahmi'us Ramsey is next in line, and we have him going No. 29 overall to the Toronto Raptors. Kansas has Devon Dotson and Udoka Azubuike in the mix, but the Big 12 has a better chance of getting just one in the first 30 picks than three in the first 30.
Top 10 specials
College freshmen Over 4.5 drafted in the top 10 (-125)
I don't love the -125 juice on this play… but I also don't hate it. This will probably all come down to Isaac Okoro, as Anthony Edwards, James Wiseman, Onyeka Okongwu, and Patrick Williams should be slam dunks for the top 10. Okoro, whom we have going No. 10 overall to the Phoenix Suns, has a ton of upside. He should be able to sneak in there and take this total over.
International players Under 3.5 drafted in the top 10 (-560)
The payout isn't great here, but it's not bad for an absolute lock. Only Deni Avdija and Killian Hayes are in the realistic running. Yes, some team (see: the New York Knicks) occasionally does something crazy and goes for a serious international reach in the top 10. But even if that happens once on Wednesday, this will still stay under the number. If you can find this at 2.5 and take the under at much more lucrative odds, that would be the way to go.
Pickswise is the home of free NBA picks and predictions. We will cover all the big offseason news before making picks for every game during the 2021 season.