NBA Finals Game 1 Boston Celtics vs Golden State Warriors same game parlay at (+1051 odds) – Curry and Smart to deliver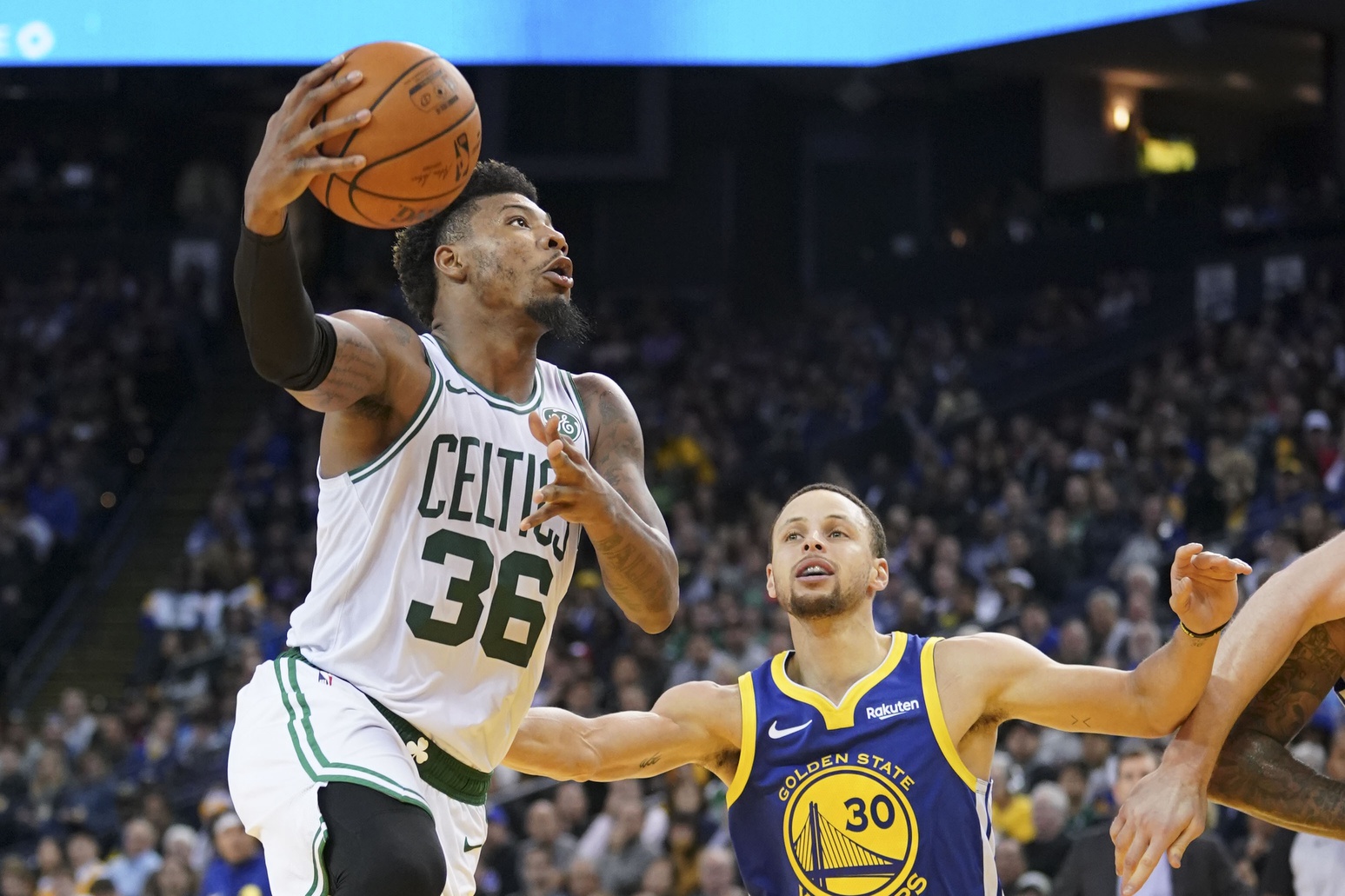 We're finally into June and there are only 2 teams remaining – the Boston Celtics and Golden State Warriors. After splitting the 2 regular-season meetings, the series opener on Thursday promises to be an exciting one. Tip-off is set for 8:00 pm ET on ABC, and I've prepared a same game parlay which is available below.
Make sure you also check our NBA Finals series preview and predictions!
Let's get into it!
Boston Celtics over 104.5 points (-114)
Marcus Smart to score 20+ points (+300)
Stephen Curry over 5.5 assists (-118)
Boston Celtics over 104.5 points (-114)
I feel like scoring should come a lot easier for the Boston Celtics in this series compared to what we saw in the series against the Heat. During the regular season, they cleared this bet in both meetings against the Warriors, and back in March when the game was played at Chase Center, they ended up with 110 points. The Warriors also don't rely as much on defense as the Heat do to win games.
In their previous series against the Mavs, Golden State allowed over 104.5 points in 3 of the last 4 games. Denver also scored over 104.5 points against them 4 times and the Memphis Grizzlies did so in 3 of the 6 games played. Jayson Tatum and Jaylen Brown are almost always good for at least 50 points, while I'm expecting other players like Marcus Smart and Al Horford to step up.
Be sure to check out our full Game 1 preview for Boston Celtics vs Golden State Warriors
Marcus Smart to score 20+ points (+300)
Smart averaged 19.5 points per game in the 2 regular-season meetings against Golden State, plus played really good defense on Stephen Curry in both games. He is coming off a 24-point performance in Game 7 against the Miami Heat, which was his 2nd game in the series where he went over 20 points. That number would have probably been higher if it wasn't for the injury he had mid-series, but nonetheless, I'm expecting him to step up offensively on Thursday. He has the physical advantage over Curry, so the Warriors will have to come up with a game plan on how to stop Smart. The fact that Golden State will also have to be focused on Tatum and Brown on defense also helps, so hopefully Smart can deliver a strong offensive output in Game 1 of this series.
Stephen Curry over 5.5 assists (-118)
It's hard to judge Curry based on the 2 regular-season games as he got injured in the 2nd meeting at Chase Center. What we can point out are his shooting splits though – he averaged just 36% shooting from the field and 33% from three, and although he had 30 points in Game 1 played at TD Garden, he made only 8 of 21 shots in that game. Scoring on this Boston defense will be the biggest challenge he's faced so far in these playoffs, and I believe he could revert to distributing the ball more than he usually does. After all, that is what has gotten the Warriors back to the Finals for the 6th time in 8 years – everyone gets involved on offense, it's not just a one-man show.
Curry's highest points total in this postseason run is a modest 34 points, which he had back in Game 2 against Denver, so it's pretty clear he will have to get players like Thompson, Wiggins and Poole involved in order for the Warriors to get off to a winning start in this series. He's had 9, 8 and 11 assists over his last 3 games, and I'm expecting that run to continue in Game 1.
Make sure you also read JutPicks' analysis and best bet for NBA Finals MVP
Pickswise is the home of free NBA picks and predictions. Make sure to also check out our NBA parlays and NBA prop bets tabs for more expert picks.