NBA Futures: 2021-22 Southwest division odds, preview and best divisional bets: Luka for MVP?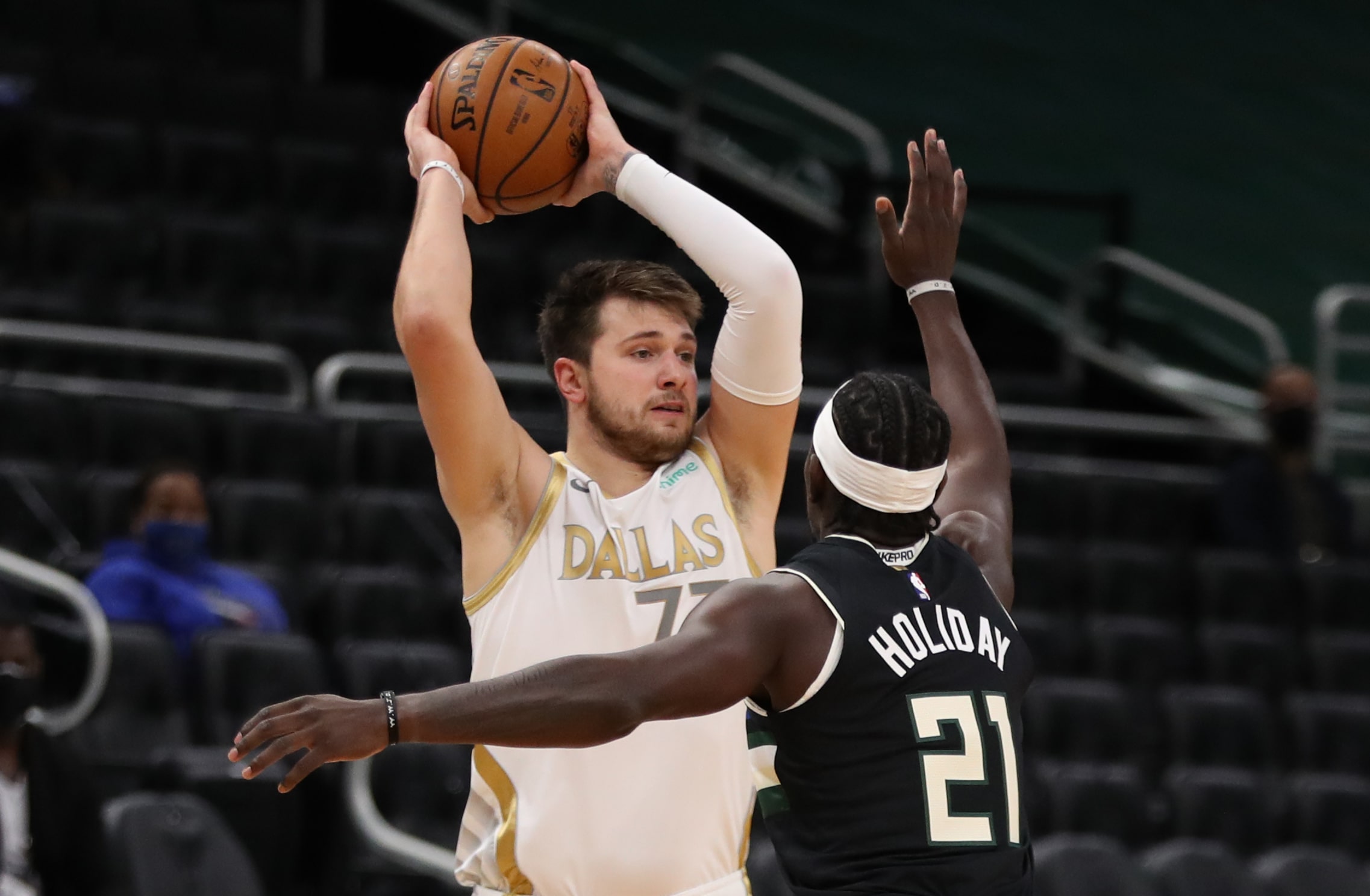 The 2021-22 NBA regular season tips off on Tuesday and we continue breaking down every single team's chances in their respective divisions. Similar to the Central Division, one team/player is making all the headlines in the Southwest Division before the start of the new season. Hailed by many as the favorite to win the MVP trophy this season, Luka Doncic is entering his fourth year, can he finally secure home-court advantage in the playoffs for the Mavs?
Continue reading below for our free Southwest Division preview for the 2021-22 season.
Dallas Mavericks
Odds to win division: -210
Win total: 48.5
Although most people will say everything depends on one player for the Mavs this season, I would argue it's two players – Luka Doncic and Kristaps Porzingis. These two had their issues last season and rumors have started going around how they aren't a good fit together, so new head coach Jason Kidd will have his hands full dealing with just that.
Dallas hasn't made any drastic changes to the roster — gone are J.J. Redick and Josh Richardson while they added the trio of Reggie Bullock, Moses Brown and Sterling Brown. Doncic had a decent summer at the Olympics carrying Slovenia to fourth place, their highest ever finish. He posted 27.7 points, 8 rebounds and 8.6 assists last season on 47.9 percent shooting. I expect similar numbers this season, although with better efficiency and in the end I believe Dallas will be one of the Top 4 seeds in the West. Back the Mavericks to win over 48.5 games at +104 odds at FanDuel.
Final, lol@Chime | #MFFL pic.twitter.com/rmECZtCikv

— Dallas Mavericks (@dallasmavs) October 14, 2021
Memphis Grizzlies
Odds to win division: +440
Win total: 41.5
Finishing second in the division behind Dallas last season were the Memphis Grizzlies with a solid 38-34 record. In the offseason they added Steven Adams to compensate for the departure of Jonas Valanciunas. Ja Morant carried this team all season long and was one of the most exciting players in the NBA, but now it's time for others to step up. Dillon Brooks for example averaged a career-high 17.2 points per game, however he will have to improve in other areas this season. Jaren Jackson Jr. also has to make the next step in his development, he performed well against the Jazz in the postseason. The Grizzlies are a young roster, they still have ways to go and I wouldn't be surprised if they finished in the play-in tournament once again. Take them to win over 41.5 games at -110 odds on FanDuel.
New Orleans Pelicans
Odds to win division: +500
Win total: 38.5
The two biggest moves the New Orleans Pelicans made during the offseason happened in the coaching department. Willie Green took over head coaching duties after a successful two-year run under Monty Williams in Phoenix. The Pelicans didn't stop there as they also added offensive mastermind Mike D'Antoni as an assistant, he should be a real help as the team moves on from the likes of point-guard Lonzo Ball. Jonas Valanciunas and Devonte Graham were added as well, which is good news for superstar Zion Williamson as the addition of a powerful center in the middle like Valanciunas makes his life a lot easier.
Speaking of Zion, he had foot surgery in the offseason and is most likely going to miss the season opener. Knowing how they have treated him so far, they won't be rushing him back on the court any time soon, so without their central piece I'm not sure how far the Pelicans can go. Sure, Brandon Ingram will give you 20+ points per game, but as currently constructed and with a brand new coaching staff, I'm not ready to call them a playoff team just yet, at least not until we see how Zion looks after the injury. Betting under 38.5 wins is the way to go at -140 odds with FanDuel.
San Antonio Spurs
Odds to win division: +1300
Win total: 29.5
After an exciting summer with Team USA in the Tokyo Olympics, Gregg Popovich is back with the San Antonio Spurs who are in a rebuilding phase right now. Rumors have already started circulating how this will be the 72-year old's final season as head coach in the NBA. Judging by the roster at his disposal, he won't be seeing many wins this season. Leading scorer DeMar DeRozan has moved on to Chicago, Rudy Gay is in Utah, while reliable playmaker Patty Mills is now in Brooklyn. It's time for somebody else to step up and take the keys, but who will it be? Dejounte Murray and Derrick White are two names definitely worth keeping an eye on, with both of them averaging over 15 points per game last season.
s much respect as I have for the work Pop has done over the years, wins will simply be hard to come by in the loaded West this season. Let's back under 29.5 wins at +108 odds at FanDuel.
Houston Rockets
Odds to win division: +10000
Win total: 25.5
And finally the team that finished with the worst record in the NBA last season – the Houston Rockets. After a nasty divorce with their best player James Harden, the Rockets have turned to their young guys and have added No.2 pick in this year's draft Jalen Green. They lack any real depth and experience, so it could be yet another long season for them.
We can expect a ton of threes by them, as that's just how Houston plays no matter who is on the roster, so if they get hot from distance at the right time they can beat almost anyone in the regular season. Realistically though, winning even 20 games could be a big ask from this young roster. With such low expectations, we could see a standout season, at least statistically, from the likes of Kevin Porter Jr. who averaged 16.6 points per game last year. It'll be interesting to watch how this young team develops, I think backing under 25.5 wins at +104 odds is the way to go here.
2021-22 NBA season preview
Want more NBA futures content? Check out more of our previews, including conference and division picks:
Pickswise is the home of free NBA Picks and NBA Predictions. Check out the latest NBA Prop Bets and NBA Parlays as well as NBA Best Bets from our NBA experts.