NFL playoffs divisional round reaction: Bet against Brady in the playoffs at your own risk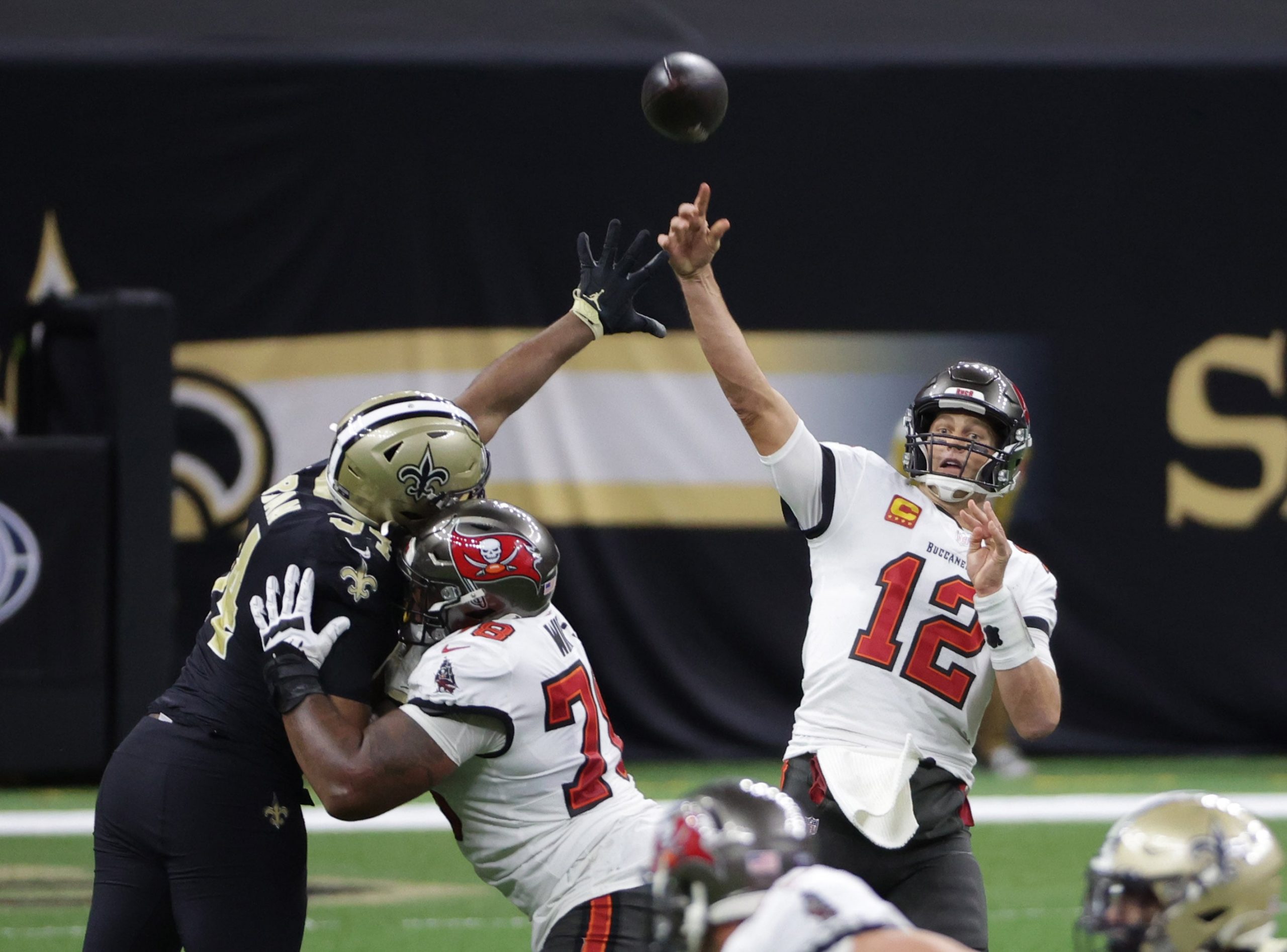 Everyone just assumes that it is terribly difficult to beat the same team three times in a single season. In actuality, heading into Sunday's matchup between the New Orleans Saints and Tampa Bay Buccaneers the team that swept the regular-season series against its division rival was 20-12 in the playoff rematch. At home in the playoffs, the sweeping team was 17-7.
Despite those statistics, you really did know that it would—in fact—be terribly difficult to beat these Bucs three times in a row. After all, it's never easy to get the best of six-time Super Bowl champion Tom Brady in the playoffs. Given the fact that he now has a defense better than many he had in New England and far more weapons on offense, Brady is even more lethal than usual.
Unsurprisingly, the Bucs in the playoffs look like much different beasts from the ones who lost to New Orleans by a combined score of 74-26 during the regular season. Already riding a five-game winning streak (four to conclude their schedule plus a 31-23 defeat of the Football Team last weekend), Brady and company went into the Mercedes-Benz Superdome and scraped out a hard-fought 30-20 victory. It was by no means one-way traffic from start to finish. Tampa Bay actually trailed by a touchdown late in the third quarter before scoring the final 17 points of the game. New Orleans managed to be competitive the whole way even though it lost the turnover battle by a ridiculous 4-0 margin.
Bucs are the complete package
There is not a whole lot between these two NFC South representatives. If there was, the Saints would have lost a game in which they committed four turnovers and forced none by a lot more than 10 points. But enough slight differences made the Bucs the better team on Sunday—and the better team in general.
One, Brady is simply superior to Brees right now. That isn't a knock on Brees, of course; Brady is superior to every quarterback in the history of the game. It didn't help that the Saints' veteran signal-caller suffered broken ribs and collapsed lung midway through the regular season. He was — understandably — never the same thereafter. Brady, on the other hand, has stayed upright the entire year.
Secondly, the GOAT is throwing the ball to guys like Mike Evans, Antonio Brown, and Chris Godwin while handing the ball off to Leonard Fournette and Ronald Jones II. Yes, Alvin Kamara is awesome; but Michael Thomas being basically nonexistent in 2020 ended up costing Brees and the Saints.
Finally, in a battle between two of the NFL's best defenses, it was Tampa Bay's that came up big this weekend. The Bucs forced Brees to throw into tight windows, got off the field on third downs (New Orleans was a modest 6-for-11, well below its standard throughout the Brees era), and in addition to their three interceptions they induced Jared Cook into a crucial third-quarter fumble on a textbook punchout by safety Antoine Winfield Jr.
FUMBLE.

Antoine Winfield Jr. rips it out of Cook's hands.

(via @NFLBrasil)pic.twitter.com/wQnD5gcaNG

— Bleacher Report (@BleacherReport) January 18, 2021
A look ahead
The Bucs were great on Sunday. They will have to be the same seven days from now in a popcorn-worthy NFC Championship against the Green Bay Packers if they want to play at home in Super Bowl LV. As if Brady vs. Brees wasn't enough, now we get Brady vs. Aaron Rodgers. While New Orleans needed a gadget play to make Tampa Bay's defense look foolish (on a 56-yard touchdown pass from Jameis Winston to Tre'Quan Smith following a pair of laterals), Rodgers is capable of running circles around any defense simply with his normal playbook. He is hands down going to win the MVP award, which means both quarterbacks in next Sunday's showdown are three-time NFL MVPs.
Tampa Bay is a +4.5 underdog. It was a +2.5 'dog against the Saints. Bet against this team at your own risk.
Pickswise is the home of free NFL picks. Check out the latest NFL props and NFL parlays as well as expert underdog predictions and computer picks.