NFL Playoffs Wild Card touchdown scorer predictions and prop bets: Las Vegas Raiders vs Cincinnati Bengals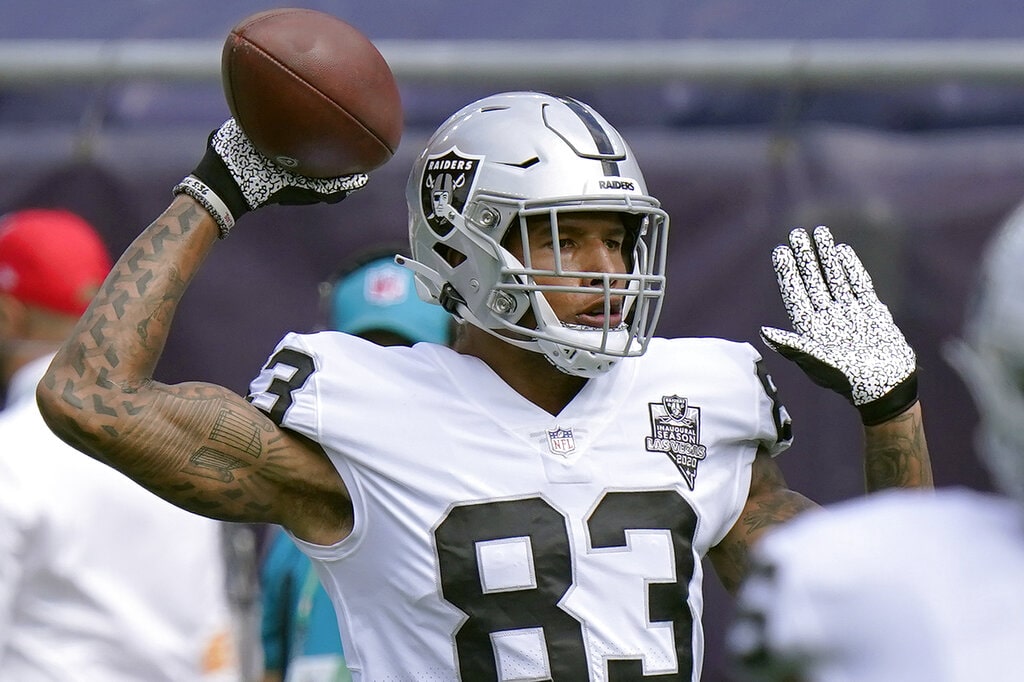 The playoffs get underway on Saturday afternoon with an outside contender for the game of the first round as the Las Vegas Raiders travel to the Cincinnati Bengals in the AFC. Trips to the playoffs have been rarities for both franchises in recent years with the Bengals gearing up for their first postseason run in six years after winning the AFC North with a 10-7 record.
For the Raiders, this is only their second playoff appearance in the last 19 years. Vegas rallied late in the season and won their final four games to snatch a wild card spot as they went 10-7.
So, the stage is set for an intriguing playoff matchup and now is the time to take a look at who might be the hero for these franchises as we examine the best touchdown scorer bets for Saturday's game.
Be sure to check out the full preview for Las Vegas Raiders vs Cincinnati Bengals
First touchdown scorer: Darren Waller, TE, Las Vegas Raiders (+1100)
Had Darren Waller not just made his return from a lengthy injury layoff, you would be very unlikely to get this sort of value on the Raiders' offensive star and it's worth snapping him up to score the game's first TD at these odds. Waller had been absent since Thanksgiving before making his long-awaited comeback in the Week 18 showdown with the LA Chargers. It was a low-key return as he finished the game with 2 catches for 22 yards.
Waller looked rusty but it was clear Derek Carr was keen to get him involved, targeting him nine times in the game, including twice when down in the red zone. Surprisingly, given his importance to Vegas, Waller only has 2 touchdowns to his name this season having grabbed 9 in 2020 but it hasn't been for want of trying with only Hunter Renfrow receiving more red zone targets.
I like to think that after another week of practice there's an opportunity for Waller to make a splash play on the big stage against a Bengals team that could come out a little cold on the big occasion. This is a nice matchup for Waller against a Cincinnati team that struggled to defend tight ends all year, giving up eight touchdowns to the position this season. The Bengals had a nightmare trying to contain Waller when the teams met in Week 11 of the regular season, giving up 116 yards but somehow managing to keep him out of the endzone.
The Bengals have also given up the opening touchdown in six straight games, while in comparison, the Raiders have scored the first TD in four in a row, adding even more weight to Waller being a nice value selection.
Read our same game parlay for Raiders vs Bengals (+1336 odds!)
Anytime touchdown scorer: Tyler Boyd, WR, Cincinnati Bengals (+165)
Joe Mixon did most of the damage when the Raiders hosted the Bengals in Week 11 but there's no value to be found in his price to add to the two touchdowns he got in Vegas. Instead, we turn to the man that also proved a handful for the Raiders' defense, exposing them in the middle of the field, where their defense is soft. Tyler Boyd finished up that game with six receptions, the most of any Bengals receiver, and yet is the outsider when it comes to the anytime TD odds for Cincinnati's three-headed receiving monster.
Boyd is not as flash as Ja'Marr Chase or Tee Higgins, but he enjoyed a strong end to the regular season, scoring 3 touchdowns in his final 3 games before being rested for the Week 18 game against Cleveland. Boyd has had to work hard to carve out a role for himself in the Bengals offense but has proven himself a dependable option and, much like Waller, this is a matchup that should play to his strengths.
Find out PropBetGuy's best player prop for Raiders vs Bengals!
Anytime Touchdown Scorer FAQs
What does "anytime touchdown scorer" mean?
Anytime touchdown scorer is a popular player prop bet that NFL bettors can wager on throughout the season. But what is it, and how do you win?
As the name suggests, placing a wager on the anytime touchdown scorer market is when you tip a particular player to score a touchdown during a game. This can be a rushing or receiving touchdown for an offensive player, or you can wager on a team's defense/special teams to score a touchdown by interception return and fumble return or kickoff and punt returns.
If your player or defense scores a touchdown, you win! The odds will differ from player-to-player depending on the sportsbooks' calculated probability of that player scoring.
Does anytime touchdown scorer include passing touchdowns?
Not for a quarterback, no. A player must get into the end zone, himself, in order to qualify as an anytime touchdown scorer. If a quarterback throws a touchdown pass, only the player who caught it counts as the scorer. If Tom Brady throws a touchdown pass to Mike Evans, wagers placed on Evans as an anytime touchdown scorer will cash. However, those placed on Brady as an anytime touchdown scorer will not (unless he also runs for a TD). See below for more on what the anytime touchdown scorer market means for quarterbacks.
What does anytime touchdown scorer mean for a QB?
For a wager on a QB to be an anytime touchdown scorer to cash, he must follow the same rules as a running back, tight end, or receiver. He must get into the end zone himself, either as a runner or a pass-catcher.
In the age of the mobile quarterback, QBs such as Patrick Mahomes, Lamar Jackson, Kyler Murray, and Josh Allen are often seen rushing in for a touchdown on any given Sunday. And don't forget the occasional Philly Special, either. QBs can sometimes catch passes for TDs, too.
Pickswise is the home of free NFL Predictions  and NFL Odds. Check out the latest NFL Prop Bets and NFL Parlays as well as expert NFL Underdog Picks and NFL Computer Picks.