NFL Thursday Night Football reaction: The NFC Least strikes again!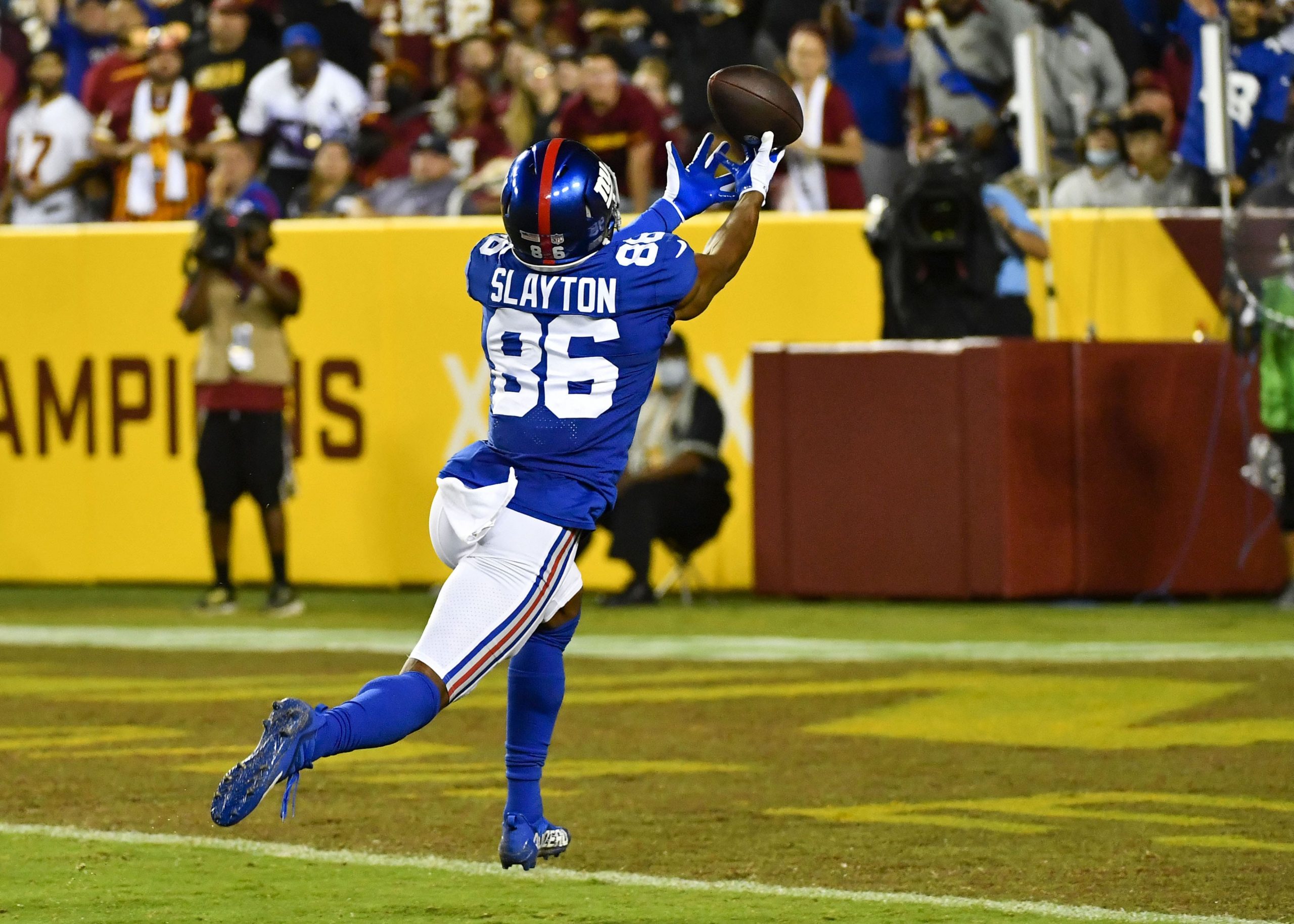 When it comes to primetime games, all you can ask for is entertainment. You can't ask for high-quality football — at least not when the NFC East is involved.
Unless you are a New York Giants fan, you have to be satisfied with what Thursday Night Football delivered in Week 2. High-quality football? Absolutely not! Entertainment? You better believe it!
In what started as a bad game and got progressively worse, the Washington Football Team committed fewer fourth-quarter mistakes to scrape past the Giants 30-29. A Dustin Hopkins last-second field goal from 43 yards out put an end to it — mercifully — in the Football Team's favor.
THE WASHINGTON FOOTBALL TEAM WINS IT!
pic.twitter.com/qYRheuD9Jd

— Pickswise (@Pickswise) September 17, 2021
How did it get to that point and how do things look moving forward for each team? Neither answer is pretty …
Both teams tried to give it away, the Giants succeeded
Both teams had every chance to put this game away.
With the Giants already leading 23-20 midway through the fourth quarter, they should have capitalized on complete busted coverage by Washington in the form of a 43-yard touchdown pass from Daniel Jones to Darius Slayton. Instead, Slayton dropped the pass in the endzone. Thus New York went from all but clinching victory with a 2-possession lead to settling for a field goal and inching ahead only by a 26-20 score.
You might think this was a touchdown.

It looks like it would be a touchdown.

It was not a touchdown. pic.twitter.com/KgzKBLRRhi

— Pickswise (@Pickswise) September 17, 2021
The Football Team responded with a touchdown and then forced a punt, giving them an opportunity to run out the clock. For some reason, however, they not only decided to pass the ball instead of run but Taylor Heinicke also threw into traffic and — you guessed it — got intercepted.
That's when the Giants could have and should have gone for the knockout punch. Instead, offensive coordinator Jason Garrett made a couple of gutless play-calls and his team again settled for a field goal while taking basically no time off the clock. A Graham Gano 35-yard field goal gave the visitors a 29-27 lead with 2 minutes left but kept them in a precarious position.
Needing only a field goal of their own, the Football Team drove right down the field into range as the seconds ticked down. Dustin Hopkins appeared to lose the game for TWFT when he bricked a 48-yard attempt wide right as time expired. But as hard as the home team tried to lose, the Giants refused to let that happen. Defensive tackle Dexter Lawrence jumped offsides in a move that had no impact on the play, Hopkins got another shot from 5 yards closer, and this time he drilled it.
Gosh, what a nightmare … but an entertaining nightmare, nonetheless.
The Giants are done, the Football Team is not
There was at least some good on Thursday night. Aside from Heinicke's inexplicable interception, the quarterback play was strong. Both Heinicke and Jones generally played well.
Unfortunately for the Giants, that is where the good news ends. They lost left guard Nick Gates to a broken leg in the first quarter. Saquon Barkley had a 41-yard run early but was otherwise non-existent as he continues to look like a shadow of his pre-injury self. New receivers Kenny Golladay and Kadarius Toney aren't doing anything. Garrett's play-calling was terrible and head coach Joe Judge's decision-making was for the most part even worse (a horrific decision to punt instead of go-for-it late in the fourth quarter didn't make the above list of errors only because it got bailed out by the interception).
It doesn't look like the Giants can get bailed out of their 0-2 hole. NFL teams that begin 0-2 have made the playoffs 30 times and have missed it on 372 occasions. This isn't a club that is built to buck that trend. In addition to all of the above problems, New York's schedule through Week 12 still includes road dates with New Orleans, Dallas, Kansas City, and Tampa Bay, plus a home game against the Rams.
Yep, it's over.
As for Washington, Heinicke offers some hope. So does a decent defense. An awful division helps, as well. A win is a win, and it's one the Football Team had to have. But they also have to start playing much, much better than they did on Thursday. If not, the worst division in football could come down to Philly and Dallas.
Pickswise is the home of free NFL Predictions  and NFL Odds. Check out the latest NFL Prop Bets and NFL Parlays as well as expert NFL Underdog Picks and NFL Computer Picks.