NFL Week 10 reaction: Large underdogs stay barking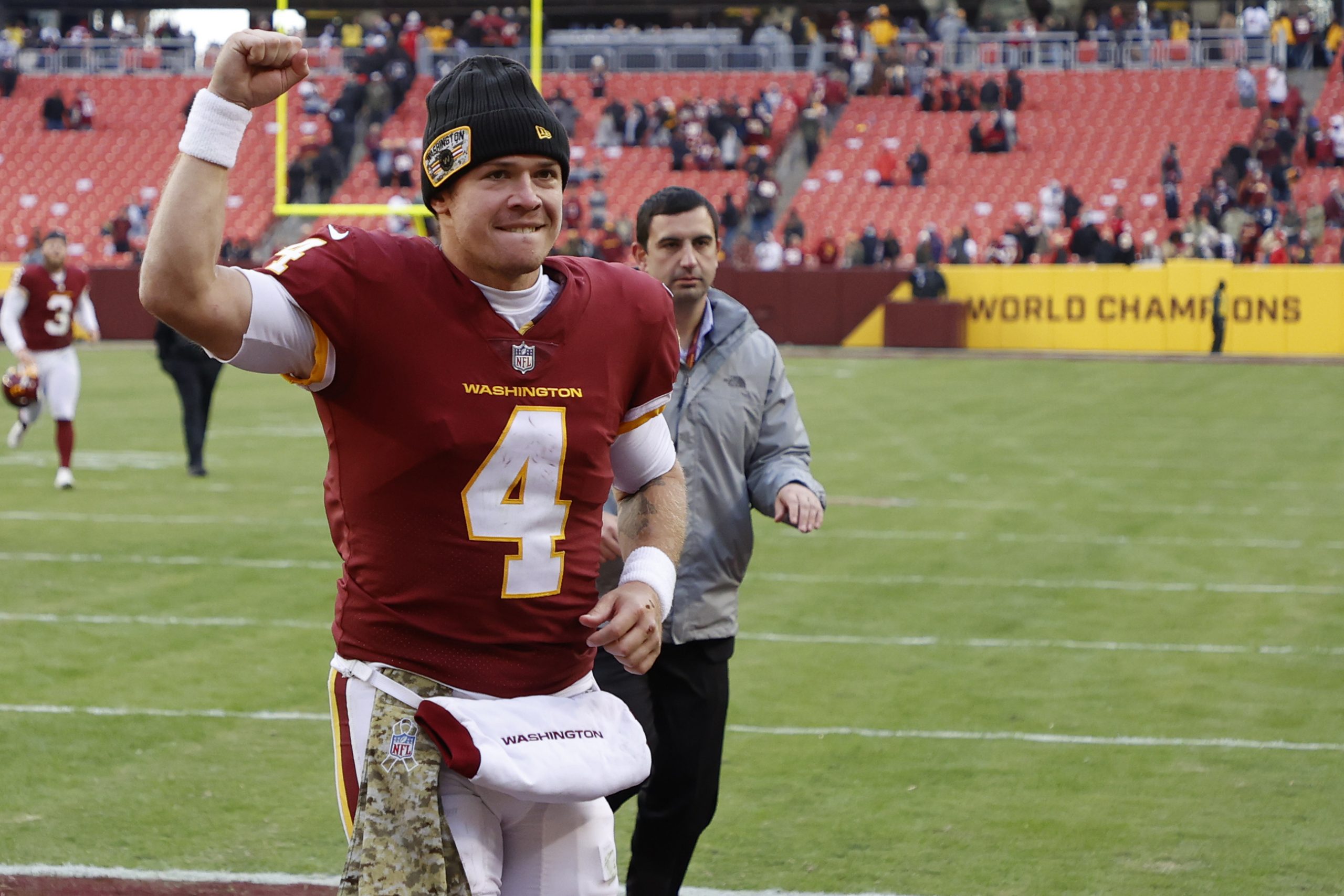 We still have one game left to go, but it's been another great Sunday so far. We're starting to approach the home stretch, and we know a lot more after Week 1o. There was a tie, a couple of blowouts, and everything in between.
Hopefully you had a successful day of wagering. Week 10 isn't quite over, so be sure to check out our game preview for Monday Night Football as the 49ers host the Rams. Before we turn our attention to Week 11, it's also important to digest what we just saw. Here are my top three takeaways from a betting perspective from a wild Sunday:
Large 'dogs stay barking
Early in the season, big favorites seemed to be covering even the largest of spreads. That's changed the past few weeks, and in Week 9 we saw the Broncos and Jaguars win outright as the two biggest dogs of the entire Sunday slate. The large 'dogs kept barking in Week 10. Washington beat the Buccaneers and the Panthers defeated the Cardinals, both as multi-score underdogs. Jacksonville was a double-digit underdog against the Colts and covered the spread.
The Lions had been multi-score underdogs earlier in the week before Ben Roethlisberger was ruled out, and they tied the Steelers. Underdogs of that size covering (and winning outright) is often good for sportsbooks, as the general public and recreational bettors tend to gravitate toward the favorites. It's a good reminder of the parity in the NFL, and that even the league's perceived worst teams can still put up a fight on any given Sunday.
Backup quarterback luck runs out
It looks like the luck backup quarterbacks have been having recently finally ran out. There have been some heartwarming stories in recent weeks, with guys like Mike White, Cooper Rush, and Colt McCoy coming off the bench and pulling off upsets. Jordan Love didn't win outright, but he managed to cover the spread in his spot start last week against the Chiefs.
All that caused there to be a lot of talk about oddsmakers potentially overreacting to quarterback injuries. That narrative took a bit of a blow in Week 10, as things didn't go nearly as well for the backups. Mason Rudolph struggled mightily in place of Roethlisberger and the Steelers never came close to covering. McCoy got a second start for Arizona in place of Kyler Murray and the Cardinals got smoked as a big favorite against Carolina. White was humbled by the Bills, as the Jets fell 45-17.
Already looking ahead to Week 11? Find out Jared Smith's best early bets in his Early Birds column!
What goes up must come down
Week 10 was also a great reminder of one of the universal truths of NFL betting. No team is ever as good as it looked the week before, and no team is ever as bad as it looked the week before. Teams that had downright ugly losses in Week 9 picked up dominant wins in Week 10, and vice versa. There's a reason why buying low and selling high is the key to beating any financial market.
Last week the Cowboys got embarrassed by the Broncos, losing in a blowout at home as 9.5-point favorites. This week they came out and humiliated the Falcons by a score of 43-3. In Week 9 the Browns made a statement with an emphatic 41-16 victory over the Bengals. They lost 45-7 to the Patriots today. It just goes to show, it's incredibly important not to overreact to one game when betting the NFL.
Don't forget to read our reaction to the Chiefs' dominant win over the Raiders on SNF!