NFL Week 12 Anytime Touchdown Scorer Predictions and Prop Bets: We went 4-0 last week, can we do it again?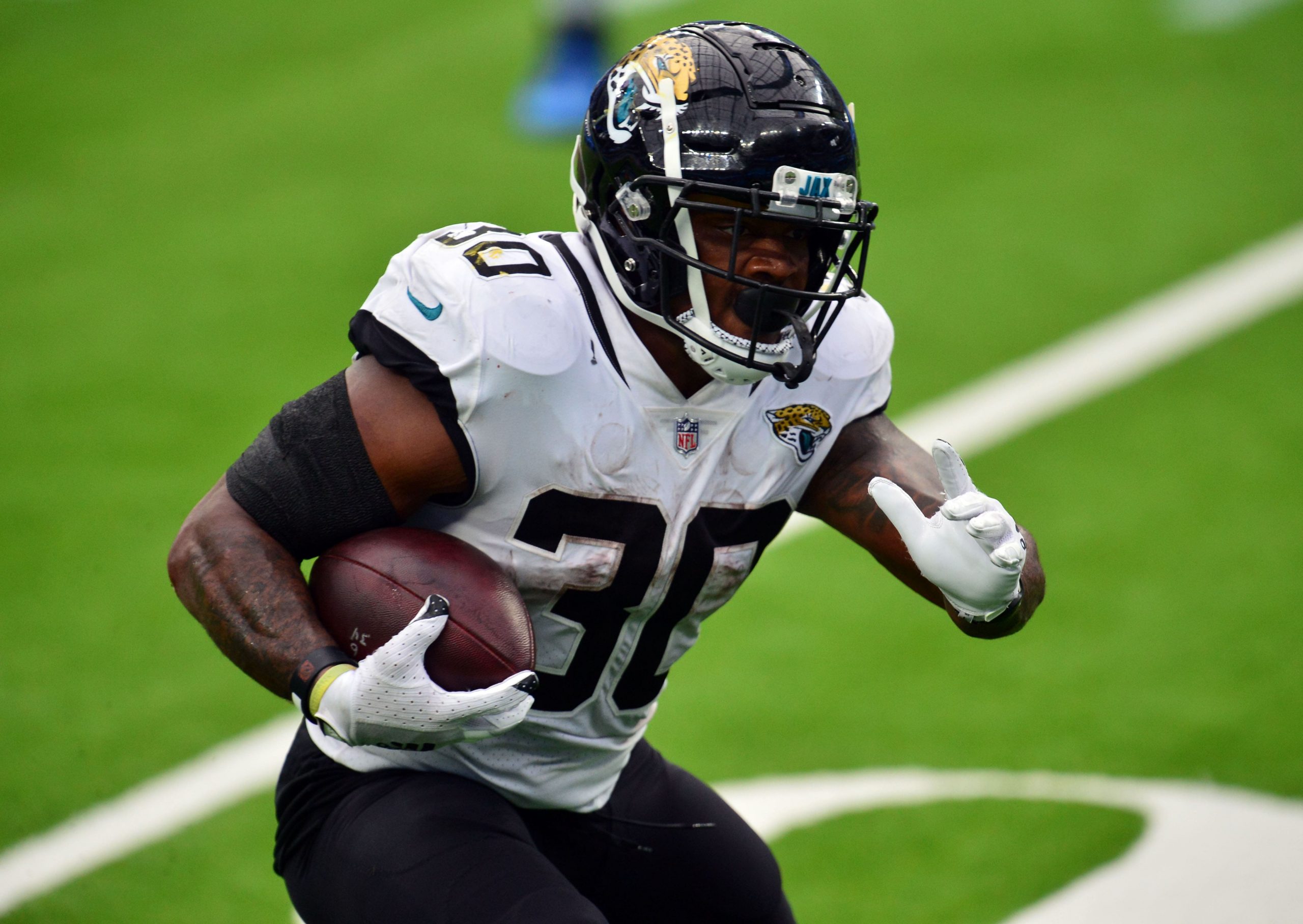 There has already been plenty of entertainment in Week 12 of the NFL season. Dallas losing at home (again) as a sizable favorite (again) is always entertaining, and Thursday's late-afternoon contest even went to overtime (the Raiders prevailed over the Cowboys 36-33). The Lions lost on a last-second field goal (again) to the Bears, while Josh Allen and the Bills capped off Thanksgiving Day with a great performance at New Orleans.
What will Sunday do for an encore? Who will be the stars as Week 12 continues into the weekend? Here are some of my best touchdown scorer bets.
Favored to score – James Robinson, RB, Jacksonville Jaguars (-105)
Getting Robinson at close to even money to score a touchdown on Sunday is an absolute steal. After all, he has found the endzone 7 times this season and all 7 TDs have come in the last 7 games. Only once since Week 2 has he failed to reach paydirt. There is no reason to think that anything will change when the Falcons come to town. They are 25th in the NFL in rushing defense and in the middle of the pack in terms of touchdowns allowed on the ground. Given how inept the Jaguars' passing attack has been of late (Trevor Lawrence has 438 yards and 0 scores in the last 3 weeks), this team will once again have to do its damage with Robinson.
Slight underdog – Ja'Marr Chase, WR, Cincinnati Bengals (+125)
How are we still getting Chase at plus money to score a touchdown?!?! The star rookie out of LSU has 8 TDs on the year and he has scored in 3 of the past 4 games. It is also worth noting that Chase has been targeted a total of 38 times during this stretch, so he always has chances and he generally capitalizes on them. Pittsburgh's passing defense is nothing special and Joe Haden is questionable, so another big day at the office should be in store for Chase.
Bigger underdog – Saquon Barkley, RB, New York Giants (+165)
The Giants' season is effectively over at 3-7 and Jason Garrett has been relieved of his offensive coordinator duties. They have nothing to lose by just keeping things simple, handing the rock to Barkley, and letting him see what he can do. The former Penn State standout averaged 4.2 yards per carry last week against Tampa Bay and caught all 6 of his targets for 31 yards. He deserves a bigger workload, and he should get it against Philadelphia. The Eagles have allowed the fifth-most rushing touchdowns in the league (12).
Longshot – Nelson Agholor, WR, New England Patriots (+220)
Agholor has scored a modest 3 touchdowns in 2021, but 2 have come in the last 4 contests. Mac Jones is rolling right now for the Patriots and he has targeted the veteran wide receiver 20 times in the last 4 weeks. Don't be surprised if the reeling Titans – who just lost at home to the Texans – go one the road and become the latest Pats victim. Tennessee is 23rd in the NFL in passing defense and has surrendered 18 TDs through the air.
Anytime Touchdown Scorer FAQs
What does "anytime touchdown scorer" mean?
Anytime touchdown scorer is a popular player prop bet that NFL bettors can wager on throughout the season. But what is it, and how do you win?
As the name suggests, placing a wager on the anytime touchdown scorer market is when you tip a particular player to score a touchdown during a game. This can be a rushing or receiving touchdown for an offensive player, or you can wager on a team's defense/special teams to score a touchdown by interception return and fumble return or kickoff and punt returns.
If your player or defense scores a touchdown, you win! The odds will differ from player-to-player depending on the sportsbooks' calculated probability of that player scoring.
Does anytime touchdown scorer include passing touchdowns?
Not for a quarterback, no. A player must get into the endzone, himself, in order to qualify as an anytime touchdown scorer. If a quarterback throws a touchdown pass, only the player who caught it counts as the scorer. If Tom Brady throws a touchdown pass to Rob Gronkowski, wagers placed on Gronkowski as an anytime touchdown scorer will cash. However, those placed on Brady as an anytime touchdown scorer will not. See below for more on what the anytime touchdown scorer market means for quarterbacks.
What does anytime touchdown scorer mean for a QB?
For a wager on a QB to be an anytime touchdown scorer to cash, he must follow the same rules as a running back, tight end, or receiver. He must get into the endzone himself, either as a runner or a pass-catcher.
In the age of the mobile quarterback, QBs such as Lamar Jackson, Patrick Mahomes, Kyler Murray, and Josh Allen are often seen rushing in for a touchdown on any given Sunday. And don't forget the occasional Philly Special, either. QBs can sometimes catch passes for TDs, too.
Pickswise is the home of free NFL Predictions  and NFL Odds. Check out the latest NFL Prop Bets and NFL Parlays as well as expert NFL Underdog Picks and NFL Computer Picks.