NFL Week 13 Anytime Touchdown Scorer Predictions and Prop Bets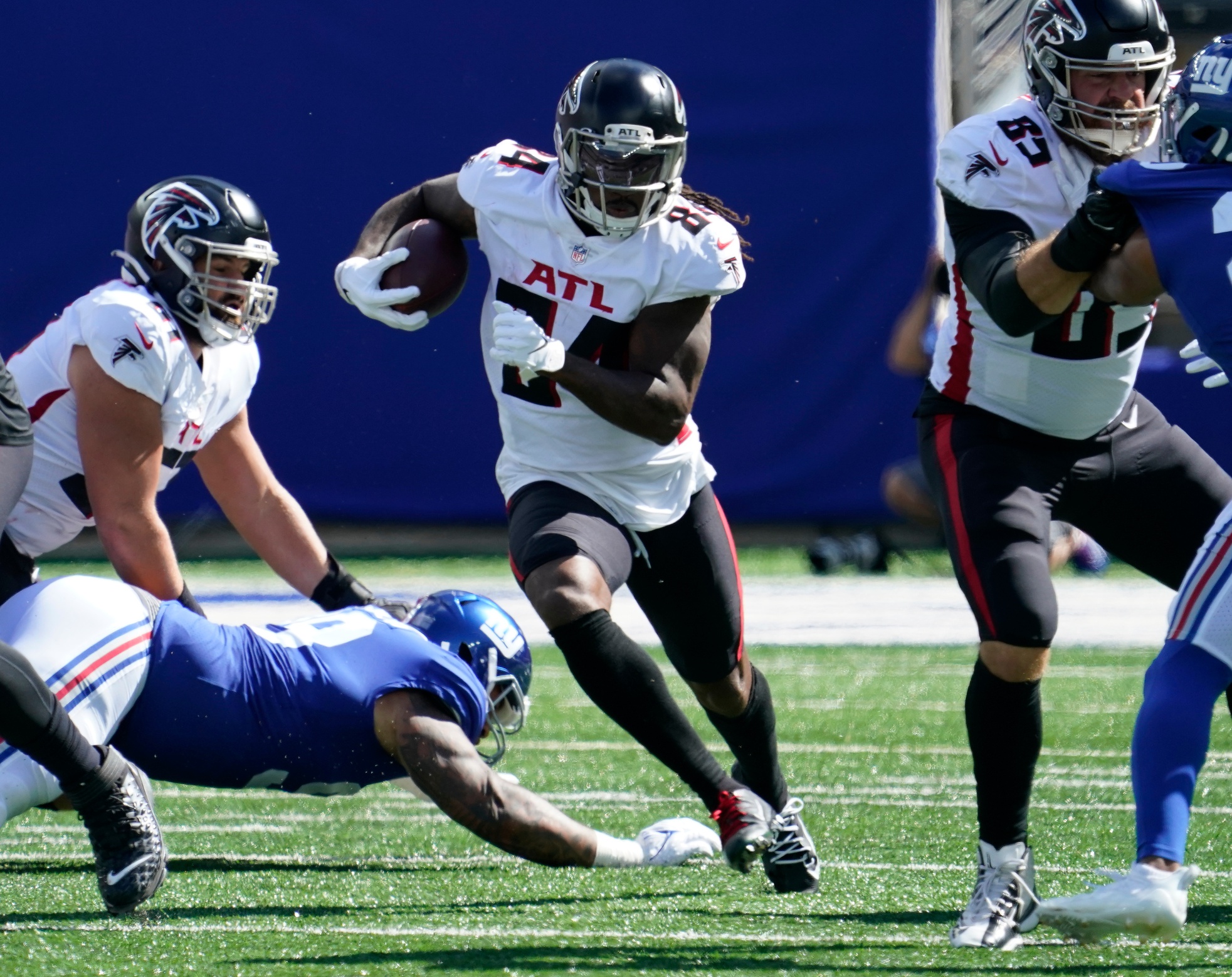 There weren't a whole lot of points put up in Thursday Night Football between the Dallas Cowboys and New Orleans Saints (won by the Cowboys 27-17), but you definitely could have gotten some nice anytime touchdown scorer odds on Saints receiver Lil'Jordan Humphrey and especially on Dallas defensive end Carlos Watkins.
Let's hope for more entertaining contests, more points, and more touchdown scorers throughout the remainder of Week 13 in the NFL. Here is a look at some of my best TD scorer bets.
Favored to score – Elijah Mitchell, RB, San Francisco 49ers (-105)
Mitchell has emerged as RB1 for the 49ers and to say that he is getting a lot of opportunities to tote the rock would be a gross understatement. The sixth-round pick out of Louisiana has gotten 27 carries in each of the last two games and he also had six receptions during last week's 34-26 win over Minnesota. Mitchell found the endzone once at the Vikings' expense, giving him four TDs on the season and three in the past five contests. Up next for San Francisco is a struggling Seattle team that ranks dead last in the NFL in total defense. Mitchell will likely run circles around the Seahawks on Sunday.
Slight underdog – Cordarrelle Patterson, RB/WR/S, Atlanta Falcons (+140)
Is there a more versatile player in the NFL than Patterson? Okay, that's a rhetorical question; obviously not. Patterson is currently the Falcons' primary running back, their most dangerous receiver, and now he is even listed as their third-string safety. You can't make this stuff up, folks. The University of Tennessee product returned from a one-week absence because of an ankle injury to score twice against Jacksonville last weekend – giving him nine touchdowns for the year (four rushing, five receiving). He also racked up a career-high 108 yards on the ground. With Calvin Ridley still sidelined, Patterson will remain far and away quarterback Matt Ryan's favorite weapon. He delivered two TDs against the Bucs earlier this season and should have no trouble victimizing them again.
The Falcons' depth chart now lists Cordarrelle Patterson as a reserve safety too 👀 pic.twitter.com/JDQ1MBLYry

— Pickswise (@Pickswise) December 1, 2021
Bigger underdog – Zach Ertz, TE, Arizona Cardinals (+195)
Kyler Murray is expected to be back on Sunday along with DeAndre Hopkins when Arizona pays a visit to Chicago. Hopkins may take away some of Ertz's targets, but keep in mind that the former Clemson star has not played since October and it could take him a while to get back into the swing of things. With Colt McCoy under center, Ertz went for 88 yards and two touchdowns on eight receptions against Seattle on Nov. 21 prior to the Cardinals' bye week. Chicago's defense is only mediocre against the pass, so Ertz should be in line for another big performance.
Longshot – Pat Freiermuth, TE, Pittsburgh Steelers (+220)
I rolled with Freiermuth two weeks ago at +275 and he delivered with a touchdown in a 41-37 win over the Chargers. Pittsburgh managed only one TD last Sunday against Cincinnati, but guess who it came from? Yep; Freiermuth. The rookie out of Penn State now has six TDs for the season, five of which have come in the past five games. Up next for the Steelers are the Ravens, who have allowed the fifth-most fantasy points to tight ends in 2021.
Anytime Touchdown Scorer FAQs
What does "anytime touchdown scorer" mean?
Anytime touchdown scorer is a popular player prop bet that NFL bettors can wager on throughout the season. But what is it, and how do you win?
As the name suggests, placing a wager on the anytime touchdown scorer market is when you tip a particular player to score a touchdown during a game. This can be a rushing or receiving touchdown for an offensive player, or you can wager on a team's defense/special teams to score a touchdown by interception return and fumble return or kickoff and punt returns.
If your player or defense scores a touchdown, you win! The odds will differ from player-to-player depending on the sportsbooks' calculated probability of that player scoring.
Does anytime touchdown scorer include passing touchdowns?
Not for a quarterback, no. A player must get into the endzone, himself, in order to qualify as an anytime touchdown scorer. If a quarterback throws a touchdown pass, only the player who caught it counts as the scorer. If Tom Brady throws a touchdown pass to Rob Gronkowski, wagers placed on Gronkowski as an anytime touchdown scorer will cash. However, those placed on Brady as an anytime touchdown scorer will not. See below for more on what the anytime touchdown scorer market means for quarterbacks.
What does anytime touchdown scorer mean for a QB?
For a wager on a QB to be an anytime touchdown scorer to cash, he must follow the same rules as a running back, tight end, or receiver. He must get into the endzone himself, either as a runner or a pass-catcher.
In the age of the mobile quarterback, QBs such as Murray, Lamar Jackson, Patrick Mahomes, and Josh Allen are often seen rushing in for a touchdown on any given Sunday. And don't forget the occasional Philly Special, either. QBs can sometimes catch passes for TDs, too.
Pickswise is the home of free NFL Predictions  and NFL Odds. Check out the latest NFL Prop Bets and NFL Parlays as well as expert NFL Underdog Picks and NFL Computer Picks.