NFL Week 15 anytime touchdown scorer predictions and prop bets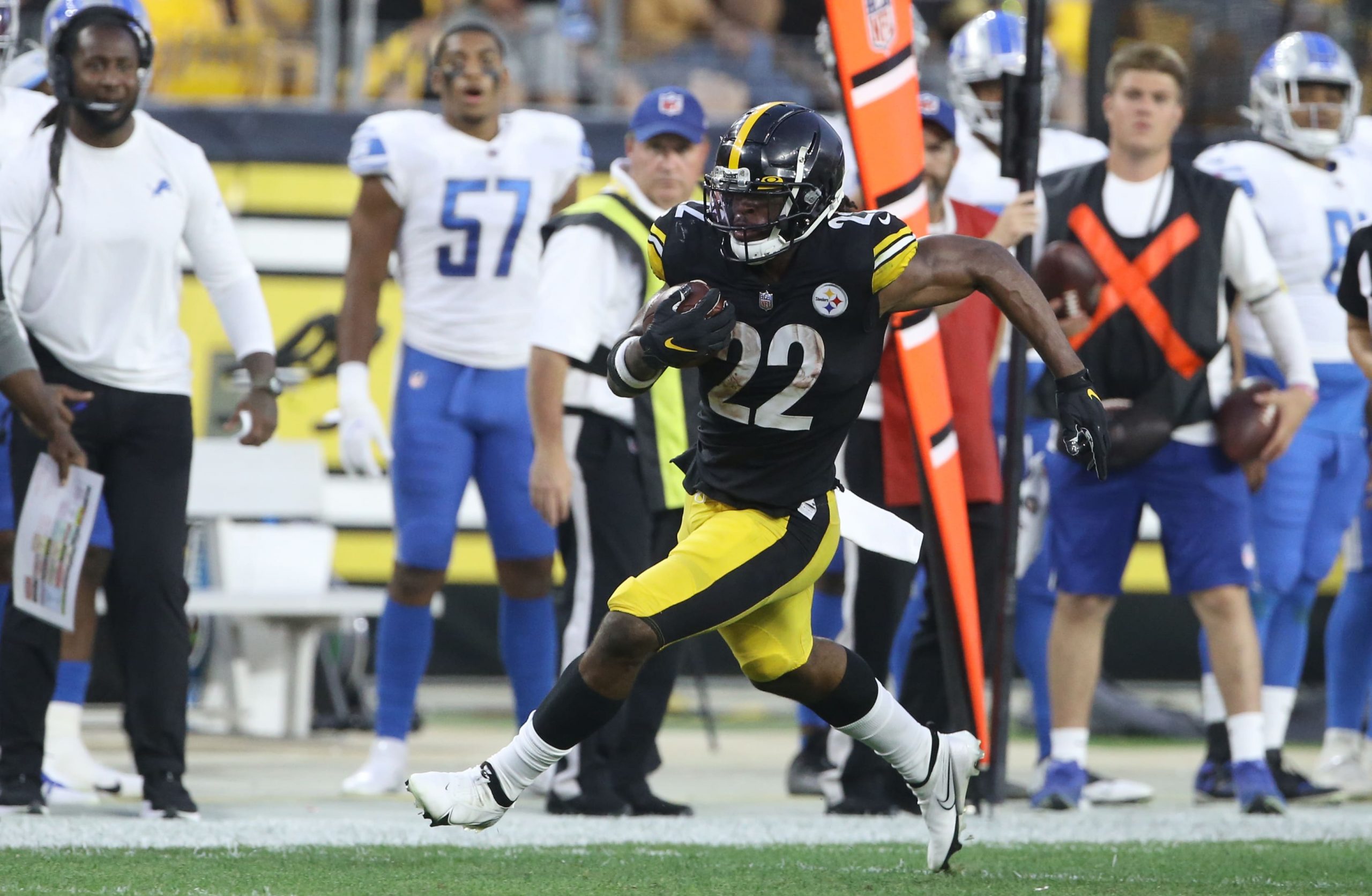 To say that Week 15 in the NFL got off to a strong start with Thursday Night Football would be a gross understatement. The Chiefs overcame the Chargers in an overtime thriller, with Travis Kelce going off to the tune of 191 yards and 2 touchdowns on 10 receptions – including the game-winner.
Who else is in line for big performances this week? That's one question; unfortunately another question is this: who will even be on the field? Covid-19 concerns abound in the NFL, and pretty much in every other sports league around the world at the moment. Nonetheless, let's try to sift through the madness and find some favorable touchdown scorer prop bets.
Favored to score – Najee Harris, RB, Pittsburgh Steelers (-105)
Ben Roethlisberger is on his last legs and Chase Claypool is in the doghouse. Along with Diontae Johnson, Harris really has to shoulder the load for Pittsburgh's offense these days. He certainly did so on Thursday Night Football last week, scoring twice to go along with 104 yards from scrimmage against Minnesota. The rookie out of Alabama now has 9 TDs on the year (6 rushing, 3 receiving). Next up for the Steelers are the Titans, who have surrendered 12 scores on the ground – slightly more than the league average.
Slight underdog – Stefon Diggs, WR, Buffalo Bills (+115)
Diggs has scored 6 touchdowns in his last 8 games, and the Monday Night Football debacle against New England in the ridiculous weather shouldn't even count; so it's really 6 out of 7. It's amazing that we can still get him at plus money to find paydirt. Sure the matchup this weekend isn't a great one, as Carolina leads the league in passing defense. But it's not as bad as that statistic suggests. Eight other teams have given up either the same amount or fewer TDs through the airwaves as the Panthers (18). As a whole they are a complete disaster right now, and a banged-up secondary watched Taylor Heinicke throw 3 TD passes for Washington before Miami's Tua Tagovailoa completed 27 of 31 passes at their expense.
Bigger underdog – Mike Gesicki, TE, Miami Dolphins (+187)
Gesicki has found the end zone just twice in 2021, but he has 59 catches on 90 targets for 642 yards. The Penn State product will likely maintain momentum against the hapless Jets, and the Dolphins as a whole have every reason to do the same. They have won 5 games in a row from completely out of nowhere, in part because Tagovailoa has 5 TD passes and only 1 INT in his last 4 outings. The Jets are 27th in the NFL in passing defense and dead last in passing yards allowed per attempt (8.3). They have also surrendered 21 scores through the air.
Longshot – Brandin Cooks, WR, Houston Texans (+250)
Houston quarterback Davis Mills missed all of November, but this offense is actually somewhat competent when he is on the field. Mills is back now, and he is coming off a 331-yard effort during last week's loss to Seattle as Houston now prepares to face Jacksonville. With his QB back in action and going up against a similarly awful opponent, Cooks should put up some impressive numbers on Sunday. Although he has scored only 3 TDs this season, 2 have come in the past 6 contests. Mills targeted Cooks 11 times last weekend, resulting in 8 receptions for 101 yards.
Anytime Touchdown Scorer FAQs
What does "anytime touchdown scorer" mean?
Anytime touchdown scorer is a popular player prop bet that NFL bettors can wager on throughout the season. But what is it, and how do you win?
As the name suggests, placing a wager on the anytime touchdown scorer market is when you tip a particular player to score a touchdown during a game. This can be a rushing or receiving touchdown for an offensive player, or you can wager on a team's defense/special teams to score a touchdown by interception return and fumble return or kickoff and punt returns.
If your player or defense scores a touchdown, you win! The odds will differ from player-to-player depending on the sportsbooks' calculated probability of that player scoring.
Does anytime touchdown scorer include passing touchdowns?
Not for a quarterback, no. A player must get into the end zone, himself, in order to qualify as an anytime touchdown scorer. If a quarterback throws a touchdown pass, only the player who caught it counts as the scorer. If Tom Brady throws a touchdown pass to Rob Gronkowski, wagers placed on Gronkowski as an anytime touchdown scorer will cash. However, those placed on Brady as an anytime touchdown scorer will not. See below for more on what the anytime touchdown scorer market means for quarterbacks.
What does anytime touchdown scorer mean for a QB?
For a wager on a QB to be an anytime touchdown scorer to cash, he must follow the same rules as a running back, tight end, or receiver. He must get into the end zone himself, either as a runner or a pass-catcher.
In the age of the mobile quarterback, QBs such as Kyler Murray, Lamar Jackson, Patrick Mahomes, and Josh Allen are often seen rushing in for a touchdown on any given Sunday. And don't forget the occasional Philly Special, either. QBs can sometimes catch passes for TDs, too.
Pickswise is the home of free NFL Predictions  and NFL Odds. Check out the latest NFL Prop Bets and NFL Parlays as well as expert NFL Underdog Picks and NFL Computer Picks.