NFL Week 2 Anytime Touchdown Scorer Predictions and Prop Bets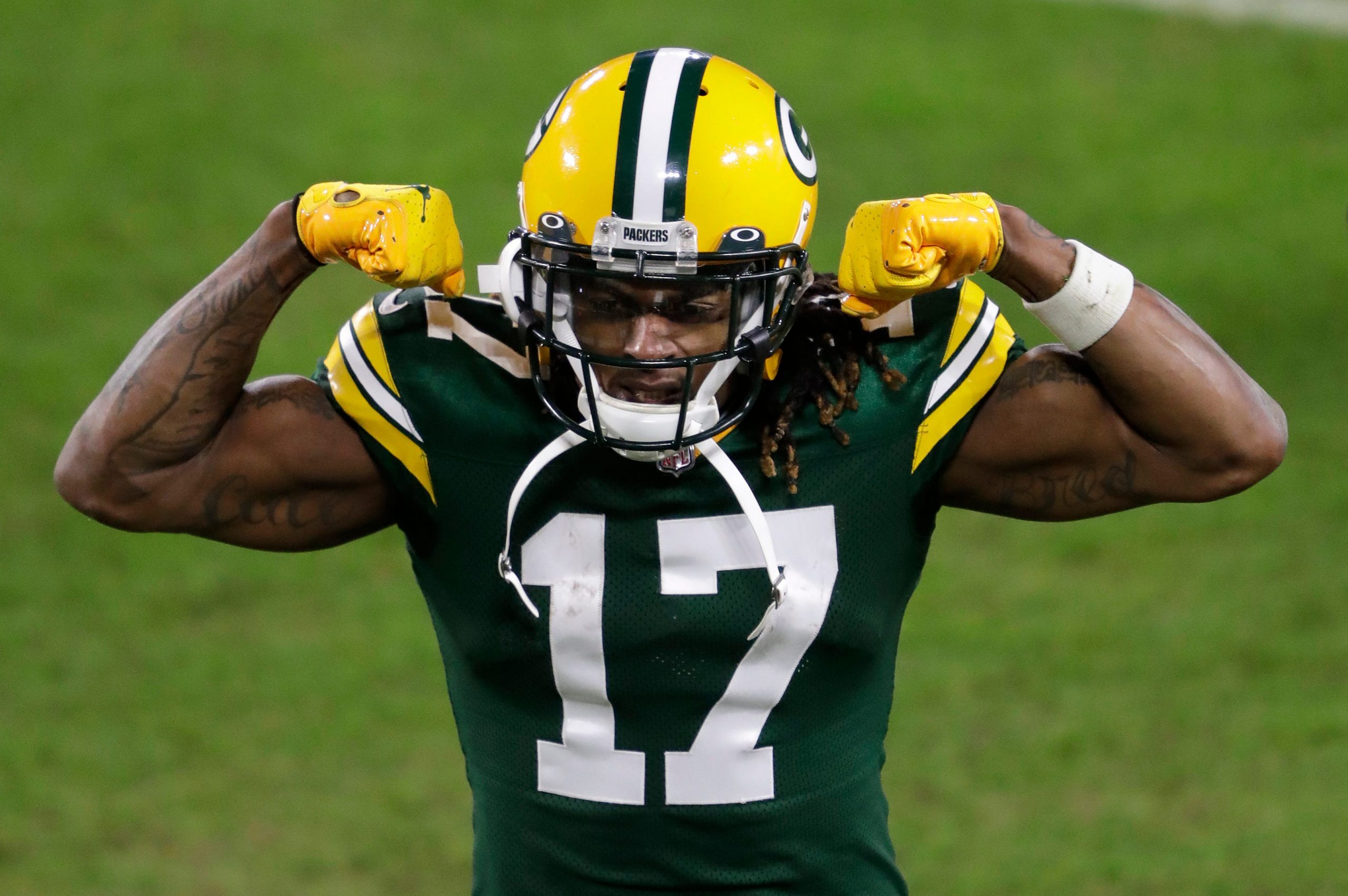 The second Sunday of the 2021 NFL season is here. It kicked off on Thursday night with a wildly entertaining NFC East affair between the Washington Football Team and New York Giants. That's not to say it was high on quality, and it should have been a lot higher in touchdowns (thanks a lot, Darius Slayton) but the two rivals combined for 8 field goals. Will teams do a better job of finding the endzone on Sunday on Monday, and if so which players will be the protagonists?
Let's take a look at 4 of this week's best anytime touchdown scorer bets, in descending order of likelihood per the odds.
Favored to score – Davante Adams, WR, Green Bay Packers (-150)
The Packers scored a grand total of 3 points in their humiliating Week 1 loss at New Orleans. A return home, especially in primetime with a raucous Lambeau Field crowd on hand, should be just what the doctor ordered. And, oh yeah, a matchup with the Lions helps. Detroit was third to last in passing defense last season and dead last with 38 touchdown passes allowed. A change in coaching staff hasn't seemed to help, as the Lions watched San Francisco QBs throw for 319 yards and 2 TDs on only 26 attempts last weekend. Adams and Aaron Rodgers were stymied by the Saints, but look for that duo to get on track in a big way.
Slight underdog – Damien Harris, RB, New England Patriots (+105)
Harris did not score a touchdown for the Patriots in their Week 1 setback at Miami, but he rushed 23 times for 100 yards. The former Alabama running back also caught 2 of his 3 targets from rookie quarterback Mac Jones. Up next for New England is a favorable matchup with the Jets, who were in the middle of the pack last year in both rushing yards and rushing touchdowns allowed. The Pats' offense should be better as whole, so count on Harris' turning his touches into multiple TD opportunities.
Bigger underdog – Calvin Ridley, WR, Atlanta Falcons (+140)
Not too much unlike Adams and Harris, Ridley is in line for a bounce-back performance. The Falcons lost to the Eagles 32-6 in Week 1 and now they face a tougher test in Tampa Bay. Although Atlanta has little to no shot at winning outright, this game sets up well for Ridley. The Bucs boasted the best run defense in the league last year and figure to be dominant in that department once again. The Falcons will have to air it out, just as Dallas did against Tampa Bay last Thursday night. Dak Prescott completed 42 of 58 passes for 403 yards with 3 touchdowns. Ridley and Matt Ryan may be able to have similar success, in part because they will almost surely be playing from behind all afternoon and attempting tons of passes. In 2 games against Tampa Bay last year, Ridley caught 18 of 26 targets for 215 yards and a touchdown.
Longshot – Brandin Cooks, WR, Houston Texans (+230)
Deshaun Watson's days appear to be over in Houston, but Tyrod Taylor fared just fine in Week 1. He completed 21 of 33 attempts for 291 yards with 2 TDs and zero INTs during a 37-21 rout of Jacksonville. Cooks didn't find the endzone, but he had 5 receptions for 132 yards. The Texans now face the Browns, who were just torched by Patrick Mahomes for 337 yards and 3 scores. Sure Taylor isn't Mahomes and Cooks isn't Tyreek Hill, but this connection should be good for a touchdown on Sunday—and it's an especially strong play at +230.
Anytime Touchdown Scorer FAQs
What does "anytime touchdown scorer" mean?
Anytime touchdown scorer is a popular player prop bet that NFL bettors can wager on throughout the season. But what is it, and how do you win?
As the name suggests, placing a wager on the anytime touchdown scorer market is when you tip a particular player to score a touchdown during a game. This can be a rushing or receiving touchdown for an offensive player, or you can wager on a team's defense/special teams to score a touchdown by interception return and fumble return or kickoff and punt returns.
If your player or defense scores a touchdown, you win! The odds will differ from player-to-player depending on the sportsbooks' calculated probability of that player scoring.
Does anytime touchdown scorer include passing touchdowns?
Not for a quarterback, no. A player must get into the endzone, himself, in order to qualify as an anytime touchdown scorer. If a quarterback throws a touchdown pass, only the player who caught it counts as the scorer. If Tom Brady throws a touchdown pass to Rob Gronkowski, wagers placed on Gronkowski as an anytime touchdown scorer will cash. However, those placed on Brady as an anytime touchdown scorer will not. See below for more on what the anytime touchdown scorer market means for quarterbacks.
What does anytime touchdown scorer mean for a QB?
For a wager on a QB to be an anytime touchdown scorer to cash, he must follow the same rules as a running back, tight end, or receiver. He must get into the endzone himself, either as a runner or a pass-catcher.
In the age of the mobile quarterback, QBs such as Mahomes, Lamar Jackson, Kyler Murray, and Josh Allen are often seen rushing in for a touchdown on any given Sunday. And don't forget the occasional Philly Special, either. QBs can sometimes catch passes for TDs, too.
Pickswise is the home of free NFL Predictions  and NFL Odds. Check out the latest NFL Prop Bets and NFL Parlays as well as expert NFL Underdog Picks and NFL Computer Picks.