NFL Week 6 anytime touchdown scorer predictions and prop bets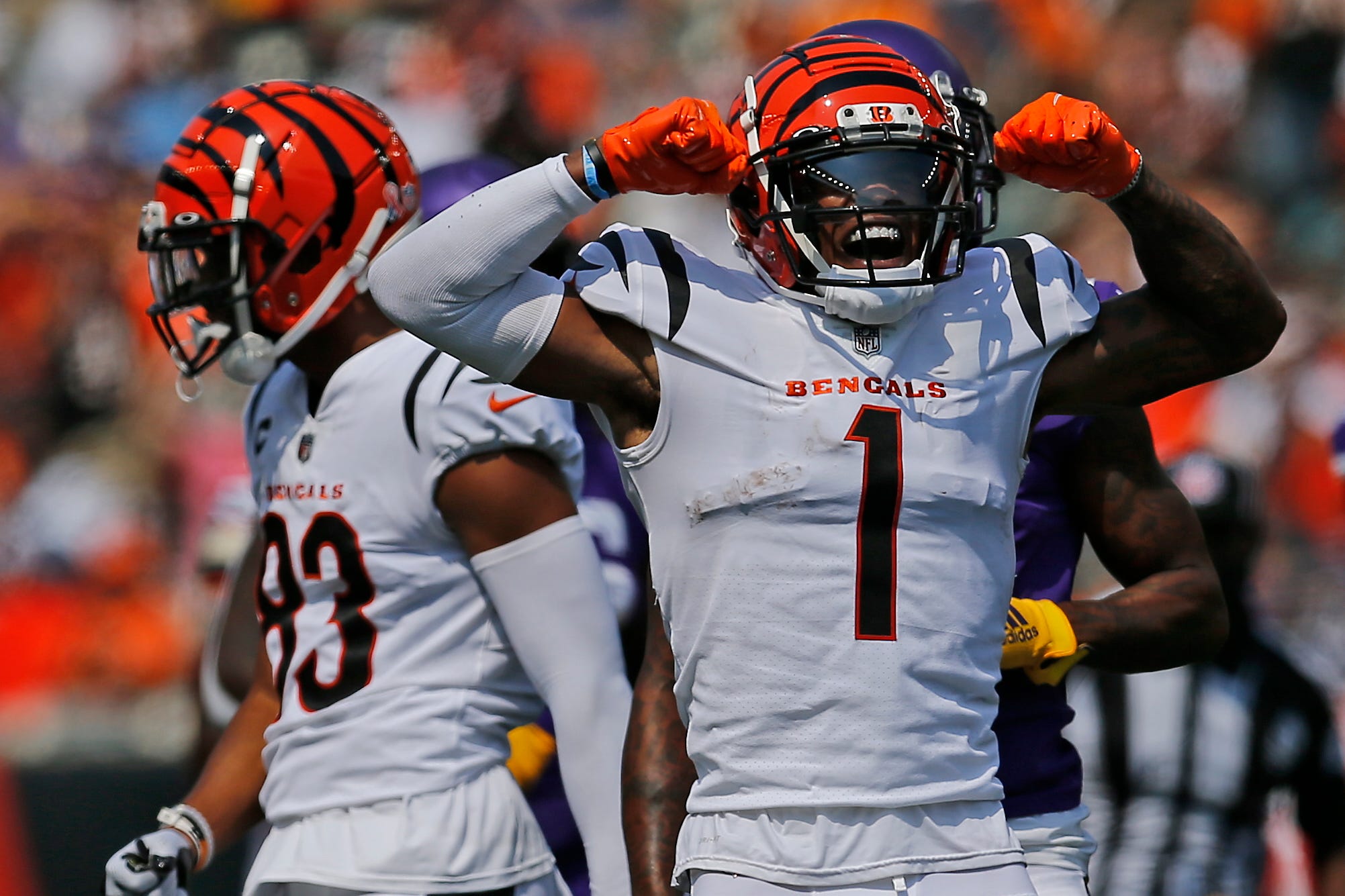 We are off and running in Week 6, as the Tampa Bay Buccaneers have already added to their win total (they improved to 5-1 with a victory over the Philadelphia Eagles on Thursday Night Football). I missed on Chris Godwin as an anytime touchdown scorer but nailed now-former Philadelphia tight end Zach Ertz at +225 (he was traded to the Arizona Cardinals on Friday morning). If you had Leonard Fournette and/or Jalen Hurts as 2+ touchdown scorers, you won big.
Who will have big performances on Sunday, at least in terms of finding the end zone? Here are some of my best touchdown scorer bets.
Favored to score – Jonathan Taylor, RB, Indianapolis Colts (-150)
Taylor has finally been unleashed, which is exactly what Indianapolis needed after losing its first three games with little production from its RB1. In Week 4 Taylor rushed for 103 yards and a touchdown during a win over Miami. Last Sunday he amassed 169 yards from scrimmage and scored twice in an overtime loss at Baltimore. The former Wisconsin star has a favorable matchup on his hands against a Houston Texans defense that is 26th against the run and is tied for the most rushing touchdowns allowed in the NFL (9).
Slight underdog – Ja'Marr Chase, WR, Cincinnati Bengals (+105)
Chase was a big winner for us last week for at +140 and we are rolling with him again despite relatively short +105 odds. The former LSU star has scored in 4 of 5 games so far, including twice against Pittsburgh last month. It's kind of amazing that you can still get him at plus money. Next up for Cincinnati are the Detroit Lions, who are nothing special at defending the pass (bottom half of the league in passing defense, with 8 TDs allowed through the air).
Bigger underdog – Chase Claypool, WR, Pittsburgh Steelers (+140)
Claypool has scored only once this year, but Pittsburgh's offense finally got in a groove last week and a date with Seattle should be just what the doctor ordered. The Seahawks are second-to-last in passing defense and have given up 9 passing TDs. Claypool had 5 receptions for 130 yards and a score in Week 5 against Denver. Look for him to keep the momentum going.
Longshot – Kadarius Toney, WR, New York Giants (+210)
Just about everyone on the Giants' offense has an injury distinction this week. Toney is no exception, as he is questionable with an ankle problem. However, the Florida product practised at least a little bit on Thursday and he could be the main focal point of the offense if he is good to go since Saquon Barkley and Kenny Golladay are doubtful. Expect Toney to be a top target, all over the field but especially in the red zone, against the Los Angeles Rams.
Anytime Touchdown Scorer FAQs
What does "anytime touchdown scorer" mean?
Anytime touchdown scorer is a popular player prop bet that NFL bettors can wager on throughout the season. But what is it, and how do you win?
As the name suggests, placing a wager on the anytime touchdown scorer market is when you tip a particular player to score a touchdown during a game. This can be a rushing or receiving touchdown for an offensive player, or you can wager on a team's defense/special teams to score a touchdown by interception return and fumble return or kickoff and punt returns.
If your player or defense scores a touchdown, you win! The odds will differ from player-to-player depending on the sportsbooks' calculated probability of that player scoring.
Does anytime touchdown scorer include passing touchdowns?
Not for a quarterback, no. A player must get into the endzone, himself, in order to qualify as an anytime touchdown scorer. If a quarterback throws a touchdown pass, only the player who caught it counts as the scorer. If Tom Brady throws a touchdown pass to Rob Gronkowski, wagers placed on Gronkowski as an anytime touchdown scorer will cash. However, those placed on Brady as an anytime touchdown scorer will not. See below for more on what the anytime touchdown scorer market means for quarterbacks.
What does anytime touchdown scorer mean for a QB?
For a wager on a QB to be an anytime touchdown scorer to cash, he must follow the same rules as a running back, tight end, or receiver. He must get into the endzone himself, either as a runner or a pass-catcher.
In the age of the mobile quarterback, QBs such as Lamar Jackson, Patrick Mahomes, Kyler Murray, and Josh Allen are often seen rushing in for a touchdown on any given Sunday. And don't forget the occasional Philly Special, either. QBs can sometimes catch passes for TDs, too.
Pickswise is the home of free NFL Predictions  and NFL Odds. Check out the latest NFL Prop Bets and NFL Parlays as well as expert NFL Underdog Picks and NFL Computer Picks.