NFL Week 7 Anytime Touchdown Scorer Predictions and Prop Bets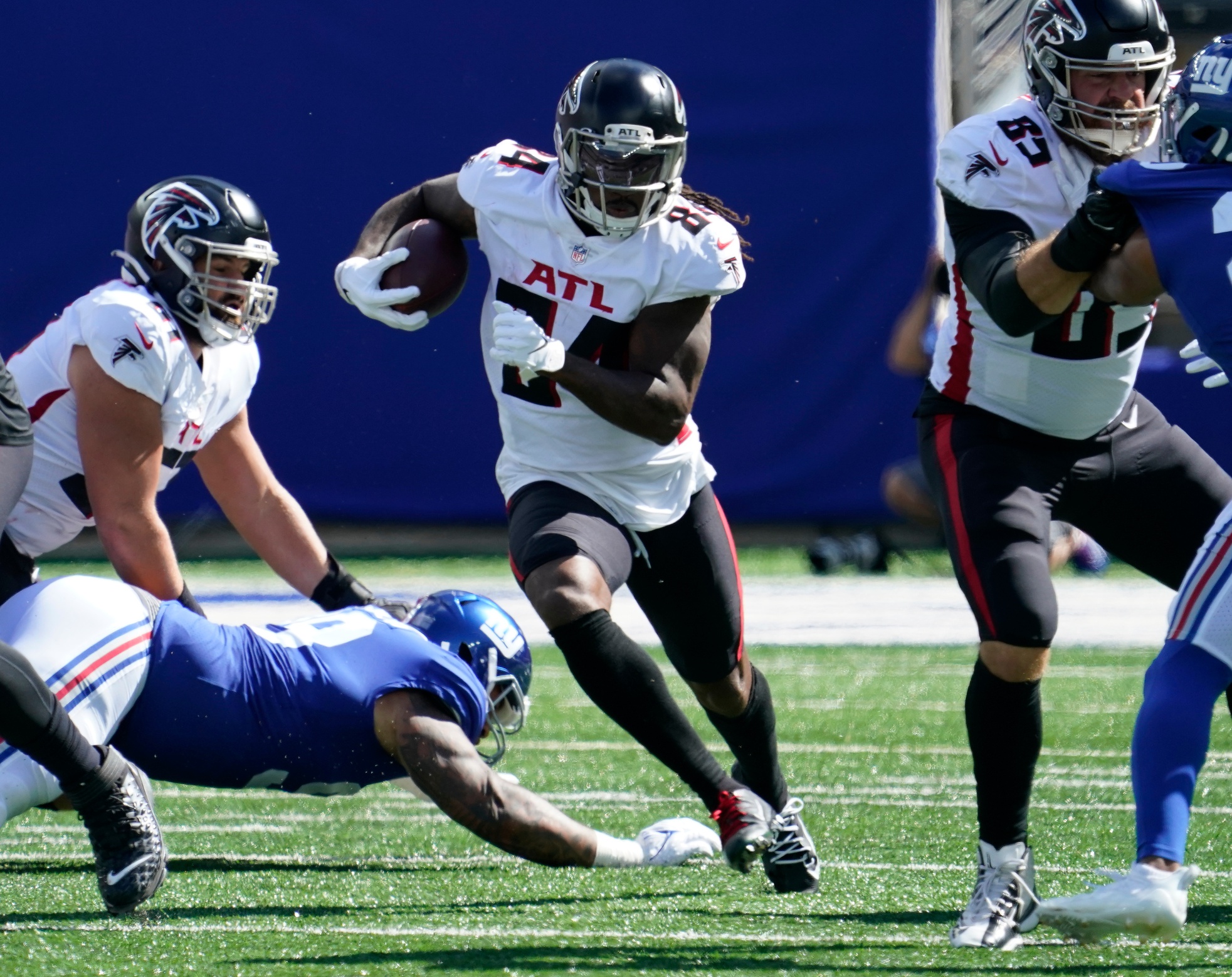 We are off and running in Week 7, as the Cleveland Browns held off the Denver Broncos 17-14 on Thursday Night Football. In fact, the Browns were quite literally running. Without Baker Mayfield, Nick Chubb, and Kareem Hunt, backup running back D'Ernest Johnson rushed 22 times for 146 yards and scored his first career touchdown.
Who else will find the endzone this weekend? Here are some of my best touchdown scorer bets.
Favored to score – Damien Harris, RB, New England Patriots (-110)
Harris has scored in each of the Patriots' last two games, bringing his total to 3 for the season. He also racked up 101 yards on 18 carries during last week's loss to the Dallas Cowboys. Harris has a favorable enough matchup on his hands in Week 7 against the New York Jets, who are in the bottom half of the NFL in rushing defense and are tied for the fifth-most rushing touchdowns allowed (5).
Slight underdog – Josh Jacobs, RB, Las Vegas Raiders (+120)
Jacobs should also feel good about his chances of scoring at least once and being generally productive overall against the Philadelphia Eagles. Philly is in the bottom half of the league in rushing defense, as well, and has surrendered 6 TDs on the ground. Like Harris, Jacobs has found the endzone in each of his past two games and that brings his total to 4 on the season.
Bigger underdog – Cordarrelle Patterson, RB, Atlanta Falcons (+150)
Has there been a better and more surprising free-agent signing than Patterson with the Falcons? The veteran jack of all trades has already delivered 5 touchdowns to go along with 173 rushing yards and 295 receiving yards. Although he did not score against the Jets in London, he got a season-high 14 carries for 54 yards and also caught 7 of 9 targets for 60 yards. Patterson should be extremely productive against the reeling Miami Dolphins, who are 27th in the NFL against the run and have yielded 7 rushing TDs. Their passing defense is just as bad.
Longshot – Brandin Cooks, WR, Houston Texans (+225)
As awful as the Texans are, Cooks can always find a way to come up with some solid numbers. For example, in last week's 31-3 humiliation against the Indianapolis Colts he still hauled in 9 of 13 targets for 89 yards. Up next for Houston is none other than the undefeated Arizona Cardinals. You can be sure that the Texans will be playing from behind the entire way, which means they will have to air it out early and often. At +225, Cooks has great value to score.
Anytime Touchdown Scorer FAQs
What does "anytime touchdown scorer" mean?
Anytime touchdown scorer is a popular player prop bet that NFL bettors can wager on throughout the season. But what is it, and how do you win?
As the name suggests, placing a wager on the anytime touchdown scorer market is when you tip a particular player to score a touchdown during a game. This can be a rushing or receiving touchdown for an offensive player, or you can wager on a team's defense/special teams to score a touchdown by interception return and fumble return or kickoff and punt returns.
If your player or defense scores a touchdown, you win! The odds will differ from player-to-player depending on the sportsbooks' calculated probability of that player scoring.
Does anytime touchdown scorer include passing touchdowns?
Not for a quarterback, no. A player must get into the endzone, himself, in order to qualify as an anytime touchdown scorer. If a quarterback throws a touchdown pass, only the player who caught it counts as the scorer. If Tom Brady throws a touchdown pass to Rob Gronkowski, wagers placed on Gronkowski as an anytime touchdown scorer will cash. However, those placed on Brady as an anytime touchdown scorer will not. See below for more on what the anytime touchdown scorer market means for quarterbacks.
What does anytime touchdown scorer mean for a QB?
For a wager on a QB to be an anytime touchdown scorer to cash, he must follow the same rules as a running back, tight end, or receiver. He must get into the endzone himself, either as a runner or a pass-catcher.
In the age of the mobile quarterback, QBs such as Lamar Jackson, Patrick Mahomes, Kyler Murray, and Josh Allen are often seen rushing in for a touchdown on any given Sunday. And don't forget the occasional Philly Special, either. QBs can sometimes catch passes for TDs, too.
Pickswise is the home of free NFL Predictions  and NFL Odds. Check out the latest NFL Prop Bets and NFL Parlays as well as expert NFL Underdog Picks and NFL Computer Picks.