NFL Week 7 millionaire money line parlay for Sunday's schedule (+72435 odds!)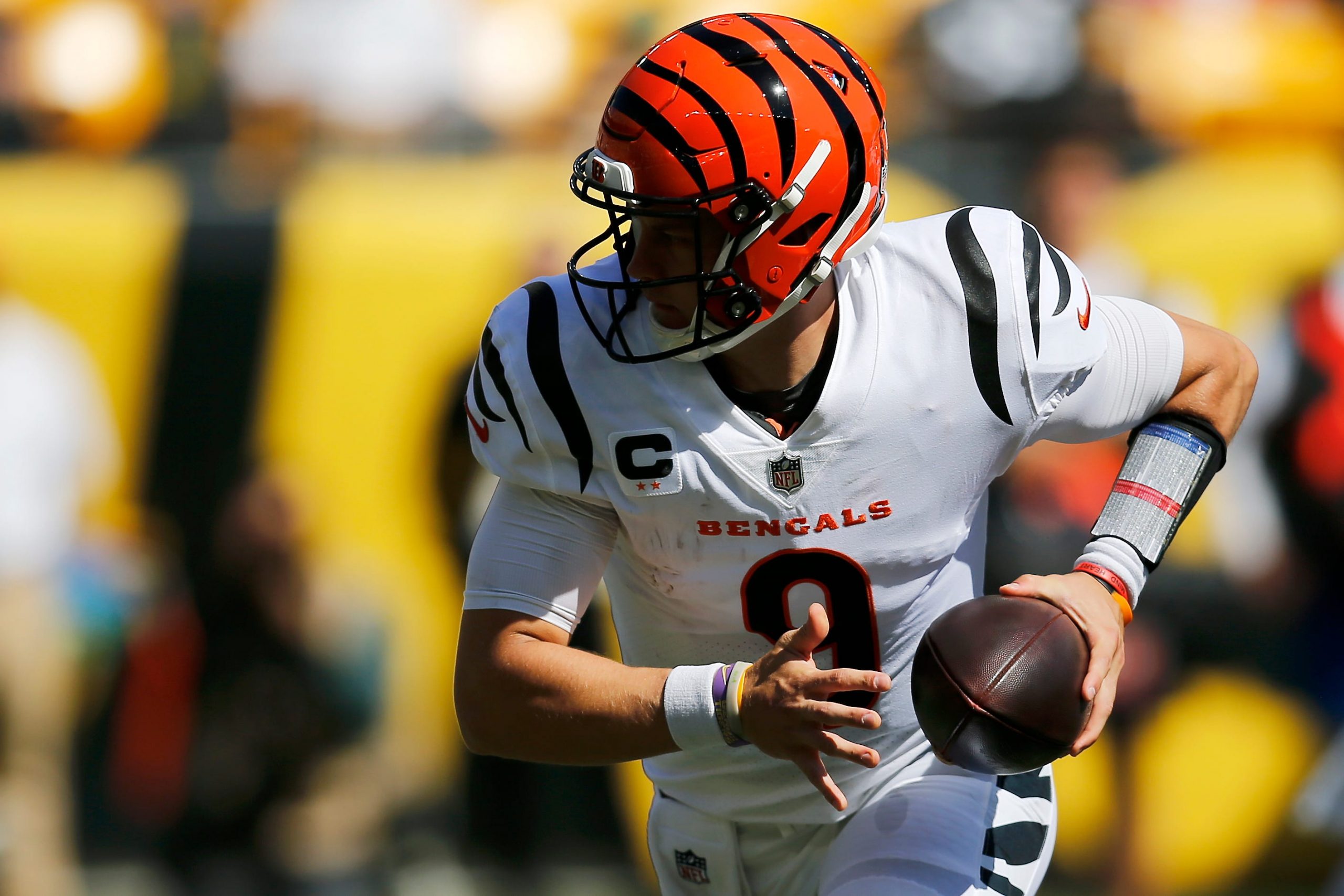 Whew! The first month and a half of the 2021 NFL season sure has been a wild ride. The action has been truly thrilling, and we're still only just getting started. We have a great Week 7 slate on Sunday, which will be highlighted by an AFC North showdown between the Cincinnati Bengals and Baltimore Ravens, and a rematch of last year's great Chicago Bears vs Tampa Bay Buccaneers game. It's an NFL Sunday, we might as well celebrate by trying to hit the jackpot and score a massive payday, right?
Each week we'll be doing a millionaire parlay, picking every Sunday game on the money line for the chance at a ridiculous payday. You never know!
Without further ado, here is our 11-leg Week 7 millionaire parlay.
Cincinnati Bengals (+215) over Baltimore Ravens

To start this millionaire parlay off we've got a money line 'dog. Joe Burrow is rightfully getting a lot of the credit for Cincy's 4-2 start, but their defense has quietly been playing just as well. The Bengals are only allowing 6.5 yards per pass attempt, the third-best mark in the entire league. And they've done well stopping the run too.
Full game preview (we've got a three-star play on the total here)
Green Bay Packers (-425) over Washington Football Team
I don't want any piece of Washington right now with how much their defense has regressed. The Packers have rattled off five straight wins, and I don't see any reason to believe they'll slow down here. Taylor Heinicke has come crashing down to earth, while Washington's secondary has turned into a sieve.
Atlanta Falcons (-135) over Miami Dolphins
Speaking of teams I don't want any piece of, the Dolphins are an absolute dumpster fire right now. Miami has just one win on the season, and that came back in Week 1. If not for a couple of poorly timed Patriots fumbles in that one, the Dolphins would be 0-6. There have been a ton of bad headlines this week, and they're also banged up on defense. The Falcons on the other hand have started to pick up a little momentum.
New York Jets (+270) over New England Patriots
Another big money line 'dog here. This Patriots team hasn't impressed me. Their only recent win took a miraculous comeback to narrowly beat Davis Mills and the Texans by three points. If Houston can play them even, the Jets can too. New England doesn't deserve to be this big of a favorite against just about anybody.
New York Giants (+130) over Carolina Panthers
I'm going with both New York teams in this Week 7 parlay. Gutsy, I know. The Giants are better than their record suggests, and they're starting to get at least a bit healthier. Carolina is in free-fall, and they've now lost three in a row. It's clear their 3-0 start was only the result of playing a ridiculously soft schedule to open the year.
Kansas City Chiefs (-220) over Tennessee Titans
I'm not ready to buy back in on the Titans just because they beat the Bills last week. I'm also not ready to bury Kansas City just because they've lost a few games to elite teams. The Chiefs' offense has still been just as elite as ever, and Tennessee's secondary is one of the worst in the league. Patrick Mahomes should have a field day.
Los Angeles Rams (-1125) over Detroit Lions
I don't see Jared Goff getting his revenge on Sean McVay and his old team this week. In fact, Goff is 0-13 in his career as a starter without McVay as his head coach. That's a pretty damning stat. The Rams just destroyed the Giants last week, and I expect them to do the same to this winless Lions team here.
Philadelphia Eagles (+135) over Las Vegas Raiders
Everyone is praising the Raiders for their win over the Broncos last week, but I'm skeptical. Over their previous two games, they'd mustered only 23 total points. Philly's interior defensive line, led by Fletcher Cox, is a strength, while the Raiders' interior offensive line is a weakness.
Arizona Cardinals (-1500) over Houston Texans
I don't care how steep this line is, there's no way I'm backing Davis Mills over an undefeated Cardinals team here. Arizona just dominated the Browns last week, and the Texans have looked pretty lifeless the past handful of weeks. They just scored a whopping three points against the Colts last time out.
Tampa Bay Buccaneers (-575) over Chicago Bears
Tom Brady wants revenge after the Bears embarrassed him last year, and an angry Brady isn't what any opposing team wants to see. The Bears still have a patchwork offensive line, so I expect Justin Fields to struggle with the pressure that Bucs DC Todd Bowles will be dialing up.
Indianapolis Colts (+170) over San Francisco 49ers
To wrap this millionaire parlay up we've got the Colts on Sunday Night Football. Indy has quietly been playing pretty well lately, and Carson Wentz has been amazing. If they hadn't blown a late lead and lost the Ravens in overtime, we'd all be talking about how this Colts team had won three in a row.
11-team parlay pays out +72435!
Pickswise is the home of free NFL Predictions  and NFL Odds. Check out the latest NFL Prop Bets and NFL Parlays as well as expert NFL Underdog Picks and NFL Computer Picks.