NFL Week 7 reaction: Believe in the Bengals, and not just because of Burrow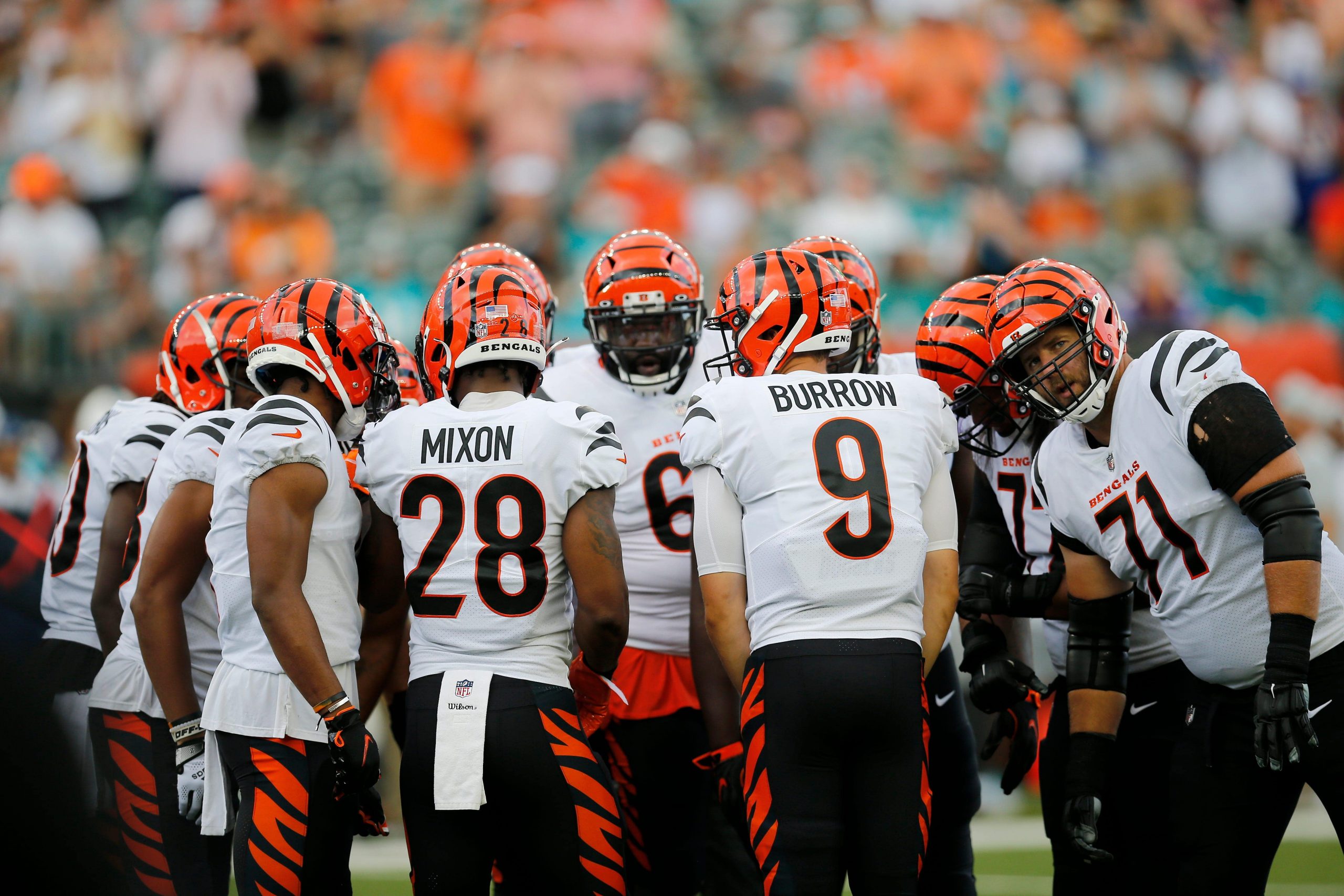 Break up the Bengals!
Cincinnati improved to 5-1 on the season by turning in one of the Sunday afternoon slate's most notable results—a 41-17 rout of Baltimore. And it was on the road, too! In other news, Tennessee destroyed Kansas City, Arizona remained undefeated, and both Tom Brady's new team and his old team won by more than 30 points.
Let's take a look at three things we learned from Week 7 in the NFL.
Take Cincinnati seriously
The old LSU connection between Joe Burrow and Ja'Marr Chase is working incredibly well in the pros—and that's an understatement. Chase torched the Ravens for 201 yards and a touchdown on eight receptions. The No. 5 overall pick in this year's draft now has 27 catches for 553 yards and 5 TDs through the first seven games of his NFL career.
Ja'Marr Chase, you are absolutely ridiculous

Bengals (+240 ML) extend the lead 👀

(via @NFL) pic.twitter.com/JAIgDSLhEZ

— Pickswise (@Pickswise) October 24, 2021
What's really good news for the Bengals is that they will be able to win games even when—or if—opponents hold Burrow and Chase in check. They rushed for 111 yards on 24 attempts on Sunday and their defense continued to quietly impress. Heading into this week, Cincinnati was seventh in the league in yards per rush attempt allowed (3.9) and third in yards per pass attempt allowed (6.5). The visitors held Baltimore to a total of 5.5 yards per play. Playing this kind of well-rounded football, Cincy has a real chance in the AFC North.
Darnold done, and so is Carolina
Once 3-0, the Panthers have lost four games in a row following their ridiculous 25-3 loss to the lowly Giants. Sam Darnold got benched at the start of the fourth quarter (which is why I won my Week 7 fantasy matchup, thank you very much!). He was so bad that he got benched for a backup (P.J. Walker) who went 3-of-14 for 33 yards. There is no recovering—not for Darnold or for his team—from this kind of slump.
On that note, can we talk about how unspectacular the NFC wild-card teams are going to be? If the NFC West representatives behind Arizona can get their acts together, all three could come from that division. And from a competitiveness standpoint, that probably wouldn't be a bad thing. The Panthers seemed to be a wild-card contender when they were 3-0, but now their assumed spot is up for grabs. Could the division-rival Saints grab it? Maybe, but they are nothing special. Everyone other than Dallas in the East is once again terrible. The North behind Green Bay is pretty much dreadful. Heck, the 3-3 Falcons are in total rebuilding mode and even they could be in the mix. It's slim pickings, folks.
What's with the Titans?
Everyone will be talking about the Chiefs following their 27-3 loss to the Titans that dropped the defending AFC champions to 3-4. But everyone knows these aren't the Chiefs of the last two years. Their defense is entirely inept and Patrick Mahomes is being a turnover machine. The more interesting discussion right now surrounds Tennessee. I mean, is this team legit or not?
One of the Titans' two losses has come to the Jets. They boast wins over the Chiefs, Bills, Seahawks, and Colts (and also over the Jags). It's hard to get a read on this squad, but recent returns (three straight victories, including at the expense of Buffalo and Kansas City) suggest the deal is real. A team that can run the football with the best RB in the game (Derrick Henry), stop the run (103.3 yards per game allowed), and has plenty of veteran playoff experience cannot be discounted.
At +800 and +1600, respectively, I'm inclined to sprinkle some on both Tennessee and Cincinnati to win the AFC.


Pickswise is the home of free NFL Predictions  and NFL Odds. Check out the latest NFL Prop Bets and NFL Parlays as well as expert NFL Underdog Picks and NFL Computer Picks.