NFL Week 9 Anytime Touchdown Scorer Predictions and Prop Bets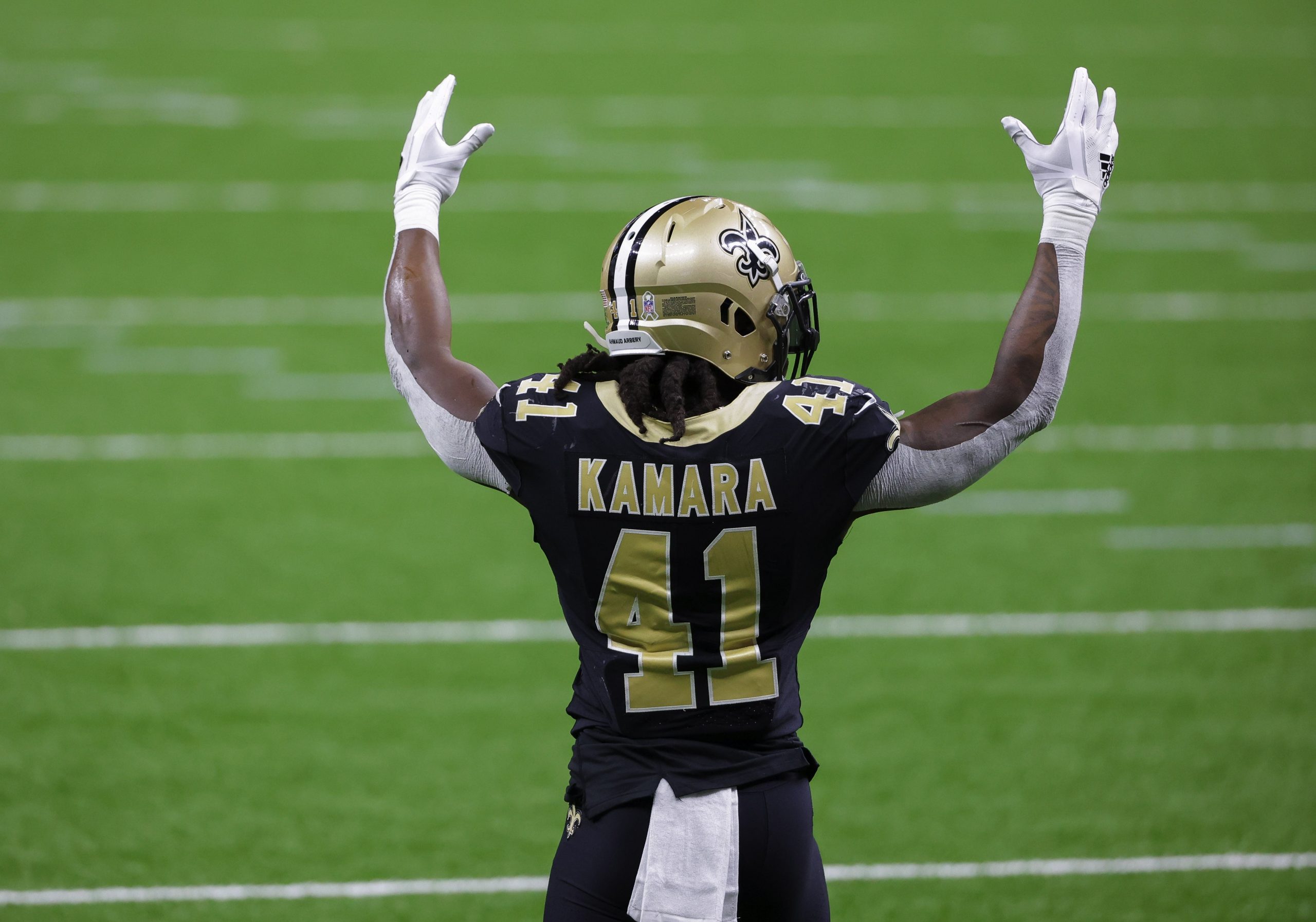 A total of 10 touchdowns were scored on Thursday Night Football between the Colts and Jets. At this rate, the RedZone Channel touchdown montage could last for many minutes on Sunday. But will the rate continue? There will likely be a lot of star power missing from the field this weekend, so that could minimize the production. Then again, unusual suspects have been rising to the occasion time and time again already this season.
So who will find the endzone this weekend? Here are some of my best touchdown scorer bets.
Favored to score – Alvin Kamara, RB, New Orleans Saints (-140)
How is Kamara only -140 to score a touchdown against the Falcons? This seems like lock city to me. Jameis Winston is out for the season with a torn ACL, so Taysom Hill is under center for the Saints. That means a lot of runs for Kamara and even more short dump passes out of the backfield. Heck, the former Tennessee star may score both on the ground and through the air this weekend. He has produced 4 touchdowns in the last 3 games, 2 each rushing and receiving. Atlanta's defense is mediocre at best, so there is no reason to think that Kamara will suddenly slow down.
Slight underdog – Davante Adams, WR, Green Bay Packers (+130)
What do you do if you are a 23-year-old quarterback making his first start in the NFL? You throw it to the best receiver in football, then you throw it to him again, and then you throw it to him some more. No, Jordan Love is not Aaron Rodgers. But Adams is going to have a lot of opportunities on Sunday against Kansas City and at least one of those opportunities should see him to the endzone. The Chiefs rank 26th in the NFL against the pass and they are tied for sixth in most passing touchdowns allowed at 15.
Bigger underdog – James Conner, RB, Arizona Cardinals (+160)
Both Kyler Murray and DeAndre Hopkins are questionable for Sunday's date with San Francisco. The news does not sound especially encouraging for either one, and any absences would mean a more significant workload for Conner. Even if those stars do play, you have to like Conner's chances of scoring at least one touchdown. He has already found the endzone 8 times this year, and all 8 have come in the last 6 games. The former Pittsburgh standout (both college and pro) has delivered 3 TDs in the last 2 outings. He now faces a 49ers defense that is 26th in the league against the run and has yielded 9 rushing scores.
Longshot – Jerry Jeudy, WR, Denver Broncos (+225)
Jeudy came off injure reserve late last month after recovering from an ankle injury and he is ready to go for Sunday's contest against Dallas. With a game under his belt (4 receptions on 4 targets for 39 yards during last week's win over the Football Team), the Alabama product should improve this weekend. Jeudy, who has 10 receptions on 11 targets through two games this season, faces a Cowboys defense that ranks 28th in the NFL against the pass and has surrendered 13 touchdowns through the air. Although the 22-year-old's sample size 2021 sample size is small, you have to like the fact that he came on strong in the final two games of last season. In that pair he hauled in 11 passes on 22 targets for 2021 yards and a score.
Anytime Touchdown Scorer FAQs
What does "anytime touchdown scorer" mean?
Anytime touchdown scorer is a popular player prop bet that NFL bettors can wager on throughout the season. But what is it, and how do you win?
As the name suggests, placing a wager on the anytime touchdown scorer market is when you tip a particular player to score a touchdown during a game. This can be a rushing or receiving touchdown for an offensive player, or you can wager on a team's defense/special teams to score a touchdown by interception return and fumble return or kickoff and punt returns.
If your player or defense scores a touchdown, you win! The odds will differ from player-to-player depending on the sportsbooks' calculated probability of that player scoring.
Does anytime touchdown scorer include passing touchdowns?
Not for a quarterback, no. A player must get into the endzone, himself, in order to qualify as an anytime touchdown scorer. If a quarterback throws a touchdown pass, only the player who caught it counts as the scorer. If Tom Brady throws a touchdown pass to Rob Gronkowski, wagers placed on Gronkowski as an anytime touchdown scorer will cash. However, those placed on Brady as an anytime touchdown scorer will not. See below for more on what the anytime touchdown scorer market means for quarterbacks.
What does anytime touchdown scorer mean for a QB?
For a wager on a QB to be an anytime touchdown scorer to cash, he must follow the same rules as a running back, tight end, or receiver. He must get into the endzone himself, either as a runner or a pass-catcher.
In the age of the mobile quarterback, QBs such as Lamar Jackson, Patrick Mahomes, Kyler Murray, and Josh Allen are often seen rushing in for a touchdown on any given Sunday. And don't forget the occasional Philly Special, either. QBs can sometimes catch passes for TDs, too.
Pickswise is the home of free NFL Predictions  and NFL Odds. Check out the latest NFL Prop Bets and NFL Parlays as well as expert NFL Underdog Picks and NFL Computer Picks.