NFL Week 9 reaction: If the Bills are its best, the AFC has serious problems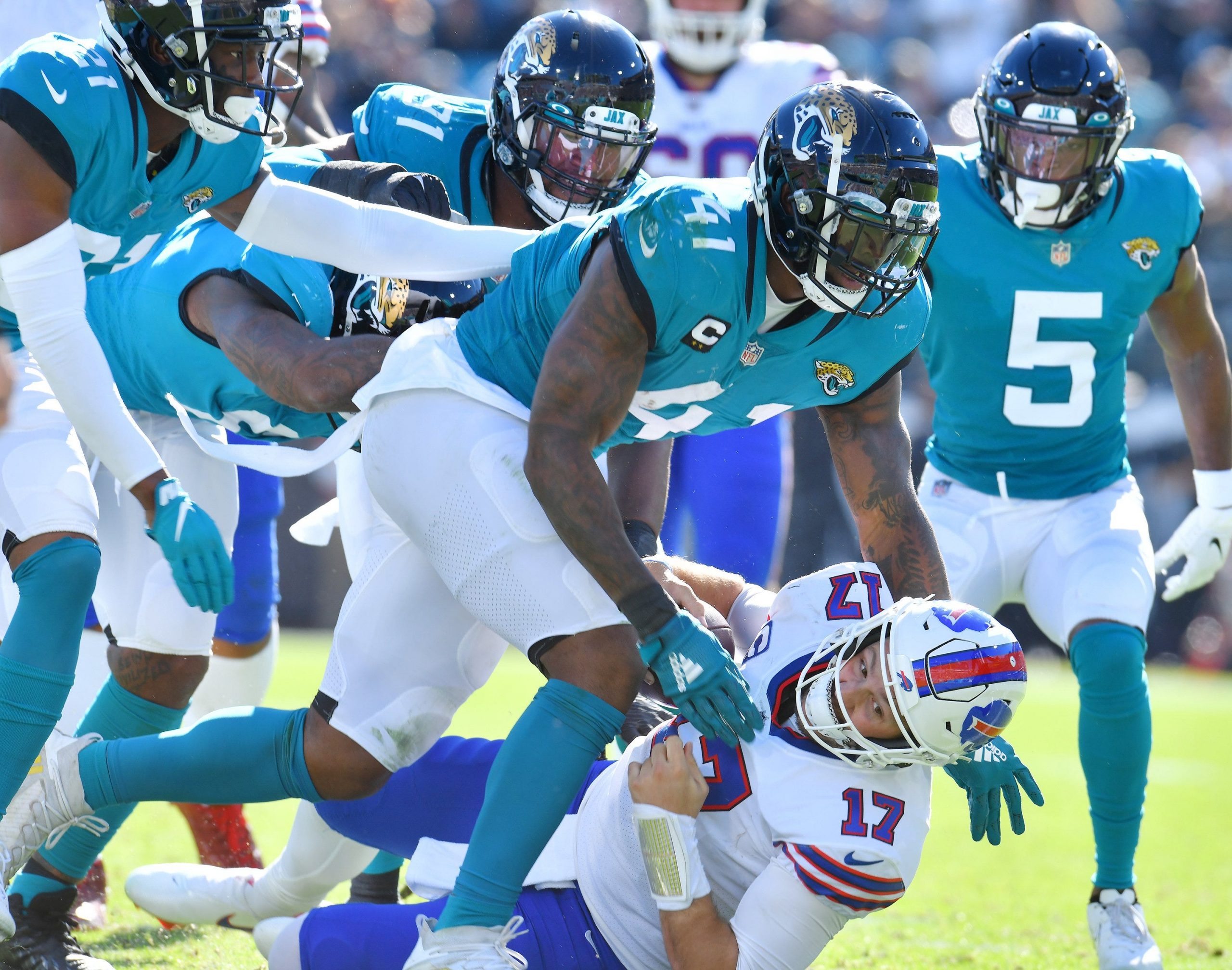 You kind of knew this was going to be a crazy week in the NFL. Long before the games began, now-former Raiders receiver Henry Ruggs III was involved in a DUI-related fatality, Packers quarterback Aaron Rodgers was ruled out because of a positive Covid-19 test and Odell Beckham Jr. found a way to get released by the Browns. Derrick Henry and Kyler Murray were also among those who were unable to suit up on Sunday.
Unsurprisingly, the on-field action produced plenty of head-scratchers. Let's take a look at three things we learned from Week 9 in the NFL.
On any given Sunday…
The occasional dynasty notwithstanding, the NFL has always been marked by parity. It certainly is right now given that the era of Patriots dominance is over and the Chiefs also seem to be relinquishing their stranglehold on the distinction of being the league's best.
Parity means anything can happen on any given Sunday, and "anything" most definitely did happen on this particular Sunday. Buffalo succumbed to lowly Jacksonville 9-6 despite being a massive -16.5 favorite. Dallas got blown out at home by Denver, which was a +10 underdog. New Orleans lost to Atlanta at home as a -6.5 favorite.
I've always avoided lofty spreads like the plague. That isn't about to change considering the current NFL climate, but if anything I'd start thinking about hammering the occasional heavy underdog.
Jaguars were 16.5-point underdogs coming into the game…

They just pulled off the 2nd-biggest home underdog upset in the Wild Card Era 🤯 pic.twitter.com/A8g9CXRSSi

— Pickswise (@Pickswise) November 7, 2021
The AFC is in shambles
One of the main takeaways from the above results is that you really can't feel good about anyone in the AFC. More than halfway through the season, it's basically impossible to even guess which team is going to represent this conference in the Super Bowl. Buffalo had been looking good prior to its disaster against Jacksonville. Cincinnati has slumped to 2 losses since its win over Baltimore. The Ravens are 6-2, but some of their wins have been unimpressive, and that might be putting it generously. Kansas City continues to struggle and remains in last place in the AFC West despite beating the Aaron Rodgers-less Packers. Tennessee would be a factor, but Derrick Henry is probably out for the season and that is a backbreaker.
There are only 2 AFC outright bets I would consider right now: the Ravens at +500 and the Chargers at +900. Both have flat-out winners at the QB position. Baltimore also boasts the best home record in the conference at 4-1 and for the time being is in the mix for home-field advantage throughout the playoffs. In addition to featuring a young quarterback in Justin Herbert, Los Angeles has a young head coach who plays to win in Brandon Staley. I'll roll with those guys now, and I'll roll with them in the playoffs.
All in all, though, I don't think anyone knows that the deal is with the AFC. All I know is I'm not touching a team that just lost 9-6 to Jacksonville. No thank you, Buffalo.
Love is not the answer
A lot of people were saying that Green Bay QB Jordan Love's performance against Kansas City would determine Aaron Rodgers' future with the franchise. I don't agree with that for a second; I think Rodgers is gone regardless. What Love's performance against Kansas City was going to determine was his own future with the franchise.
Assuming Rodgers' isn't the Packers' signal-caller in 2022, who will be? Well, based on Sunday's returns it won't be Love! The former first-round pick out of Utah State completed only 19 of 34 passes for 190 yards with 1 touchdown and 1 interception. Green Bay was shut out through 3 quarters and finished with just 7 points. And it's not like Love and company were facing a good defense.
It's true that Love's NFL sample size is not big. But I don't think it has to be any bigger for us to know that the Packers pretty much wasted their 2020 first-round draft pick.


Pickswise is the home of free NFL Predictions  and NFL Odds. Check out the latest NFL Prop Bets and NFL Parlays as well as expert NFL Underdog Picks and NFL Computer Picks.