NFL Wild-Card Weekend anytime touchdown scorer predictions and prop bets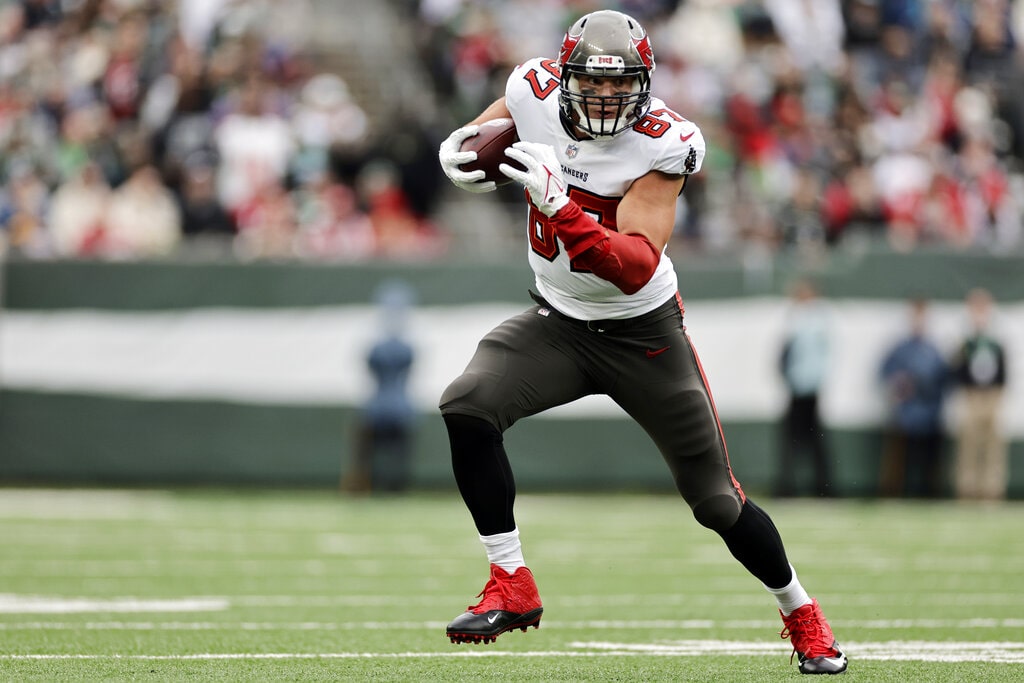 Rejoice, sports fans! The NFL playoffs are here!
Sure it means fewer games, but every game is huge. And the road, of course, ends with the Super Bowl – the biggest betting event on the planet. Even more good news is that we have a record 6 games in the wild-card round spread across 3 days. It's an embarrassment of riches, offering a ton of opportunities for bettors.
For now, it's time to focus on the best touchdown scorer prop bets that should be made on Saturday, Sunday, and Monday.
Favored to score – Elijah Mitchell, RB, San Francisco 49ers (-102)
We at Pickswise are on the over in this matchup, and if a lot of points (more than 50.5 is needed for the over to hit) are scored you have to think Mitchell is going to be part of the party. He has scored touchdowns in 3 of the last 4 games and in the last 5 contests his carries numbers are 27, 27, 22, 21, and 21. Mitchell has turned those into at least 85 yards 4 times, including efforts of 133 yards and 119 yards. He should get his team near the end zone more than a few times against a Dallas defense that ranked 23rd in the NFL in yards per rush allowed (4.5) during the regular season. At least one of those drives should result in another Mitchell TD.
Slight underdog – Rob Gronkowski, TE, Tampa Bay Buccaneers (+130)
It's playoff time, which means the Tom Brady-to-Rob Gronkowski connection can be expected to heat up. Heck, it's already in fine form. In each of the last 2 regular-season outings, Gronkowski caught 7 of 10 targets. That resulted in 115 yards against the Jets and 137 at the Panthers' expense. The veteran tight end did not find the end zone on either occasion, but 3 times during the regular season he scored multiple TDs. There is no reason why he can't deliver at least 1 against a Philadelphia defense that ranked dead last in the NFL in fantasy points allowed to tight ends. Keep in mind that the Bucs are without Chris Godwin and Antonio Brown. Getting Gronkowski at plus money to score a touchdown is an absolute steal.
Bigger underdog – Hunter Renfrow, WR, Las Vegas Raiders (+180)
How can oddsmakers let anyone get Renfrow at +180? He has scored touchdowns in 4 of the last 5 games, with a total of 5 TDs during this hot streak. Next up for Renfrow and the Raiders is a Bengals defense that ranked 26th in the league against the pass during the regular season and surrendered 26 touchdowns through the air. Cincinnati -5.5 is our best bet of the weekend at Pickswise, but that doesn't mean the Raiders' offense will be hopeless. We just think it means they will be playing from behind most of the way – which means more passes and more opportunities for Renfrow.
Longshot – Diontae Johnson, WR, Pittsburgh Steelers (+220)
Johnson reached paydirt when the Steelers just lost to the Chiefs in Week 16. He also scored a week later against Cleveland. Johnson has been targeted in double-digits in 12 of his 16 games, and you know that is going to be the case in the playoffs against an opponent against which you have to think Pittsburgh is going to throw a ton of passes. After all, the visitors are likely to be playing behind from start to finish. Kansas City was 27th in the NFL in passing defense and surrendered 27 passing TDs. His team may lose, but Johnson should have a big day.
Anytime Touchdown Scorer FAQs
What does "anytime touchdown scorer" mean?
Anytime touchdown scorer is a popular player prop bet that NFL bettors can wager on throughout the season. But what is it, and how do you win?
As the name suggests, placing a wager on the anytime touchdown scorer market is when you tip a particular player to score a touchdown during a game. This can be a rushing or receiving touchdown for an offensive player, or you can wager on a team's defense/special teams to score a touchdown by interception return and fumble return or kickoff and punt returns.
If your player or defense scores a touchdown, you win! The odds will differ from player-to-player depending on the sportsbooks' calculated probability of that player scoring.
Does anytime touchdown scorer include passing touchdowns?
Not for a quarterback, no. A player must get into the endzone, himself, in order to qualify as an anytime touchdown scorer. If a quarterback throws a touchdown pass, only the player who caught it counts as the scorer. If Aaron Rodgers throws a touchdown pass to Devante Adams, wagers placed on Adams as an anytime touchdown scorer will cash. However, those placed on Rodgers as an anytime touchdown scorer will not. See below for more on what the anytime touchdown scorer market means for quarterbacks.
What does anytime touchdown scorer mean for a QB?
For a wager on a QB to be an anytime touchdown scorer to cash, he must follow the same rules as a running back, tight end, or receiver. He must get into the endzone himself, either as a runner or a pass-catcher.
In the age of the mobile quarterback, QBs such as Kyler Murray, Lamar Jackson, Patrick Mahomes, and Josh Allen are often seen rushing in for a touchdown on any given Sunday. And don't forget the occasional Philly Special, either. QBs can sometimes catch passes for TDs, too.
Pickswise is the home of free NFL Predictions  and NFL Odds. Check out the latest NFL Prop Bets and NFL Parlays as well as expert NFL Underdog Picks and NFL Computer Picks.