Saturday college basketball five-team mega parlay (+2670 odds)
As March Madness draws closer and closer, we have one last sizable regular-season Saturday slate on our hands. There are couple of all-Top 25 showdowns on offer, including one in the Top 10 (a Big Ten battle between Illinois and Ohio State). And, of course, there is Duke vs. North Carolina.
Here's our five-team parlay for Saturday:
Florida State -6.5 (-110)
Alabama -8 (-110)
Arizona State ML (+140)
Butler +13 (-110)
North Carolina ML (-159)
Parlay odds: +2670
For this parlay we mix in two favorites against the spread, one underdog and the points, and two money line winners (one favorite and one underdog). Let's break down each of the five legs one by one.
Florida State -6.5 over Notre Dame (-110)
Florida State is looking to wrap up the ACC regular-season title. It is 11-3 in the conference, while Virginia is trailing only by percentage points at 12-4. The Seminoles bounced back from a surprising loss to North Carolina by humiliating Boston College 93-64 on Wednesday. They feature nine different players averaging more than 14 minutes per game, so head coach Leonard Hamilton can rotate guys in and out and keep legs fresh. That is bad news for a Notre Dame squad that has lost four in a row and goes only seven deep. FSU will have the two best players on the floor this weekend in M.J. Walker and Scottie Barnes. Florida State is 3-1-1 ATS in its last five overall and 5-2 ATS in its last seven against opponents with losing records. The Fighting Irish are 0-4 ATS in their last four overall and 1-7 ATS in their last eight against opponents with winning percentages over .600.
Alabama -8 over Georgia (-110)
The Crimson Tide have already clinched the SEC regular-season title heading into this matchup that would be more entertaining on a football field. Alabama is not going to rest on its laurels, however, as it has a chance at a No. 1 seed in the NCAA Tournament if it can win its regular-season finale and the SEC Tournament. There is no reason why the Crimson Tide can't accomplish that first take with ease. This is a rematch of Feb. 13 contest at Alabama, where the Tide dominated 115-82. Since then they have gone 3-1 with a loss only to a red-hot Arkansas squad. In other words, they should crush Georgia once again. The Bulldogs have dropped four of their last six games, including by 21 points to South Carolina last weekend. It was tough for the Dawgs to contain an opponent that boasts four players averaging in double-figures and that will likely be the case again on Saturday.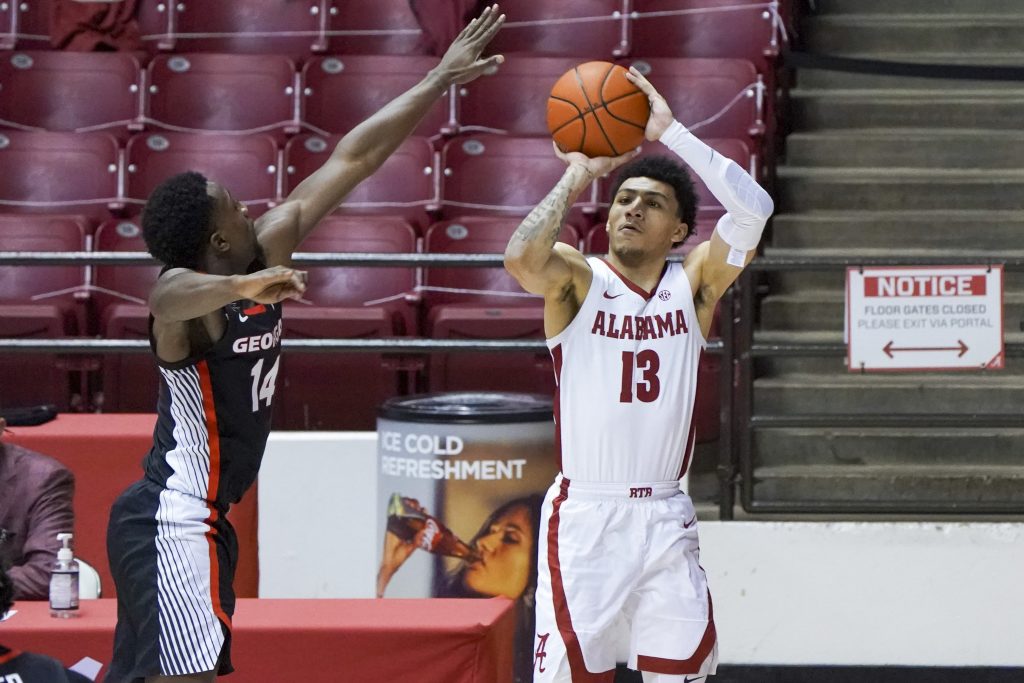 Arizona State ML over Utah (+140)
Neither team will be dancing this March unless one goes on a massive run and ends up winning the Pac-12 Tournament. Now it is actually pretty difficult to find much good about either team here. The Utes have the superior shooting inside the arc, but their defense is a big concern. They have lost five of their last six games, so even with their inside presence their defense is going to be a concern. Arizona State is not exactly shooting teams out of the gym, but they do have an edge in reducing turnovers. The Sun Devils have the best offensive turnover rate in the conference while also turning their opponents over the second-most times. Arizona State also gets to the free-throw frequently and has the fourth best free-throw shooting numbers. Both teams have clearly lacked consistent play all season, although the Sun Devils have been a little better of late—and they also have far more talent.
Butler +13 over Creighton (-110)
This is not the Butler teams of old, but these Bulldogs often seem to do well when the expectations are lowest. For example, they Villanova as +11.5 underdogs. That's not to say they are going to upset Creighton, but they should at least be competitive. Creighton is experiencing some turmoil at the worst possible time. On the court, the Bluejays have lost their last two games and did not look very good when falling by 12 points at Villanova earlier this week. Off the court, the school has suspended head coach Doug McDermott for his recent controversial comments. Even though a win still seems likely, in these circumstances you can make the argument that now is a perfect time to fade the Bluejays. The 'Jays have not been covering a ton this season, and in conference games they are below .500 at 8-11 ATS.
North Carolina ML over Duke (-159)
North Carolina took the first meeting 91-87 at Duke exactly one month ago in a game that the visitors pretty much led from start to finish. Jalen Johnson (opted out of the season) has not been a huge loss for the Blue Devils, but he came off the bench to score 14 points against UNC. Obviously the Devils will not have him at their disposal this time around. They briefly got hot following Johnson's exit, but now they are coming off back-to-back overtime losses to Louisville and Georgia Tech. North Carolina isn't exactly on fire either, but it has at least won two of its last three ACC games–losing only via a 72-70 decision to Syracuse on Monday. This stretch includes a 78-70 defeat of conference leader Florida State. The Blue Devils are 3-10 ATS in their last 13 on the road and 4-9 ATS in their last 13 against opponents with winning records.
Pickswise is the home of March Madness Predictions. Check out all of our March Madness Picks, including daily March Madness Parlays throughout the NCAA Tournament.