Sunday NBA five-team mega parlay (+1739 odds)
For the first time in 21 weeks, there are no NFL games to watch on Sunday. That means it is the NBA's time to shine—even though there are only a modest six games on the schedule. Still, there is plenty of intriguing hardwood action on offer. Among the teams taking the court are the Los Angeles Clippers, Denver Nuggets, Utah Jazz, Philadelphia 76ers, and Brooklyn Nets.
Here's our five-team parlay for Sunday:
Clippers -8 (-110)
Nuggets -1 (-110)
Pacers ML (+110)
Nets ML (-370)
Cavaliers -3.5 (-110)
Parlay odds: +1739
For this parlay we mix in three favorites against the spread and two outright winners (one favorite and one underdog). Let's break down each of the five legs one by one.
Los Angeles Clippers -8 over New York Knicks (-110)
The Clippers are one of the best teams in the NBA when Kawhi Leonard and Paul George healthy. In their last game—which was the first game with those two back—they dominated Orlando on both ends of the court en route to a 116-90 victory. The Knicks are coming off of a solid win against Cleveland. However, the Cavaliers are nothing like the powerhouse that is the Clippers. L.A. has dominated the Knicks in recent years, covering in six of the last eight head-to-head meetings. The Clippers have also covered six of their last seven at Madison Square Garden. While the Knicks have been a nice surprise this year, they will likely have a tough time hanging with the Clippers' high-powered offense.
Denver Nuggets -1 over Utah Jazz (-110)
The Jazz have won 11 games in a row, all but one of which have come by double-digits. So, no, it's never a slam dunk to bet against the hottest team in the NBA. However, there are some reasons to like Denver's chances on Sunday. The only competitive game Utah has encountered during its steak has come against none other than the Nuggets, who succumbed 109-105 on Jan. 17. Nikola Jokic and company out-rebounded Utah 63 to 50 and took 24 more attempts from the floor. You can be sure if that happens again, Denver will at least shoot well enough to find the win column. And the Nuggets are hot, too; they are 5-1 in their last six overall.
Indiana Pacers ML over Philadelphia 76ers (+110)
Twenty years after Allen Iverson led Philadelphia to an NBA Finals berth, it looks like this team is a contender again. They own the best record in the Eastern Conference with 14 wins and just five losses, and they've won five of their last six. That's the good news for the 76ers. The bad news is they have lost their last three at Indiana and they are just 4-5 on the road this season. Meanwhile, the Pacers are tied with the Milwaukee Bucks for first place in the Central Division at 11-8. Domantas Sabonis has gone up a level this season, averaging 20.5 points, 12.2 rebounds, and 5.8 assists per game while shooting 54.8 percent from the field. Malcolm Brogdon leads the team in both scoring at 22.7 ppg and assists at 7.2 apg. They are good enough to compete with—and beat—the best in the business.
Brooklyn Nets ML over Washington Wizards (-370)
Kevin Durant is expected to return to the Nets' lineup as they face a struggling Washington squad. Durant took the night off against Oklahoma City on Friday and it hardly mattered, as Brooklyn rolled by 22 points. James Harden (thigh injury) may sit this one, but it also shouldn't matter against this particular opponent. Nobody has been hit harder by the NBA's health and safety protocols than the Wizards, who are a disastrous 3-12. The Russell Westbrook experiment just hasn't worked and Bradley Beal is unhappy. Brooklyn will likely win, but without Harden we will make this the safe play of the parlay and take the money line instead of the spread.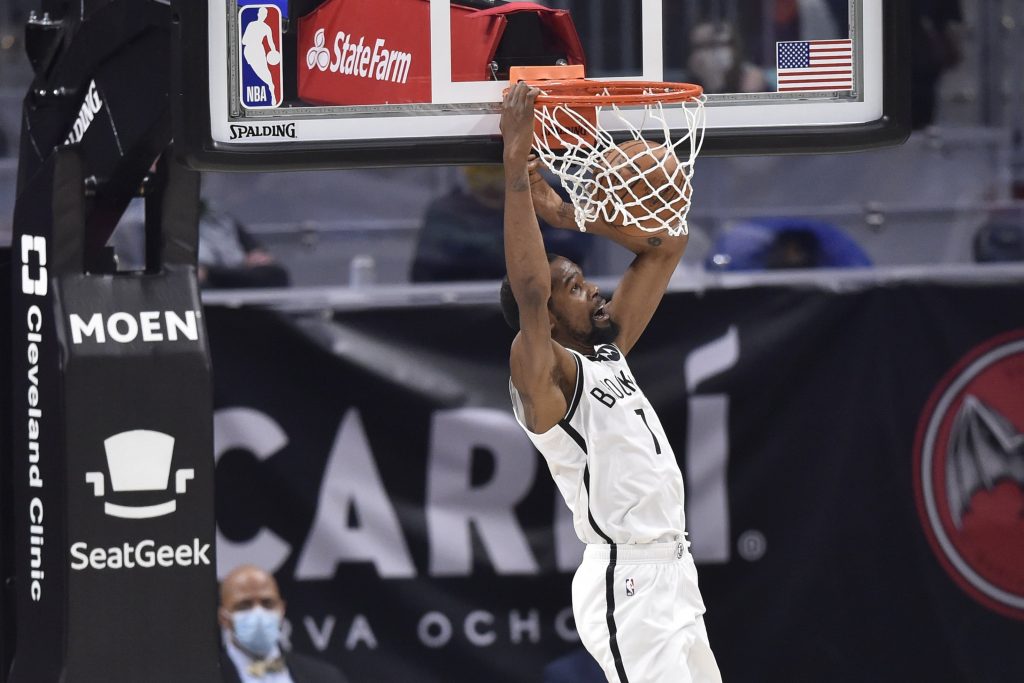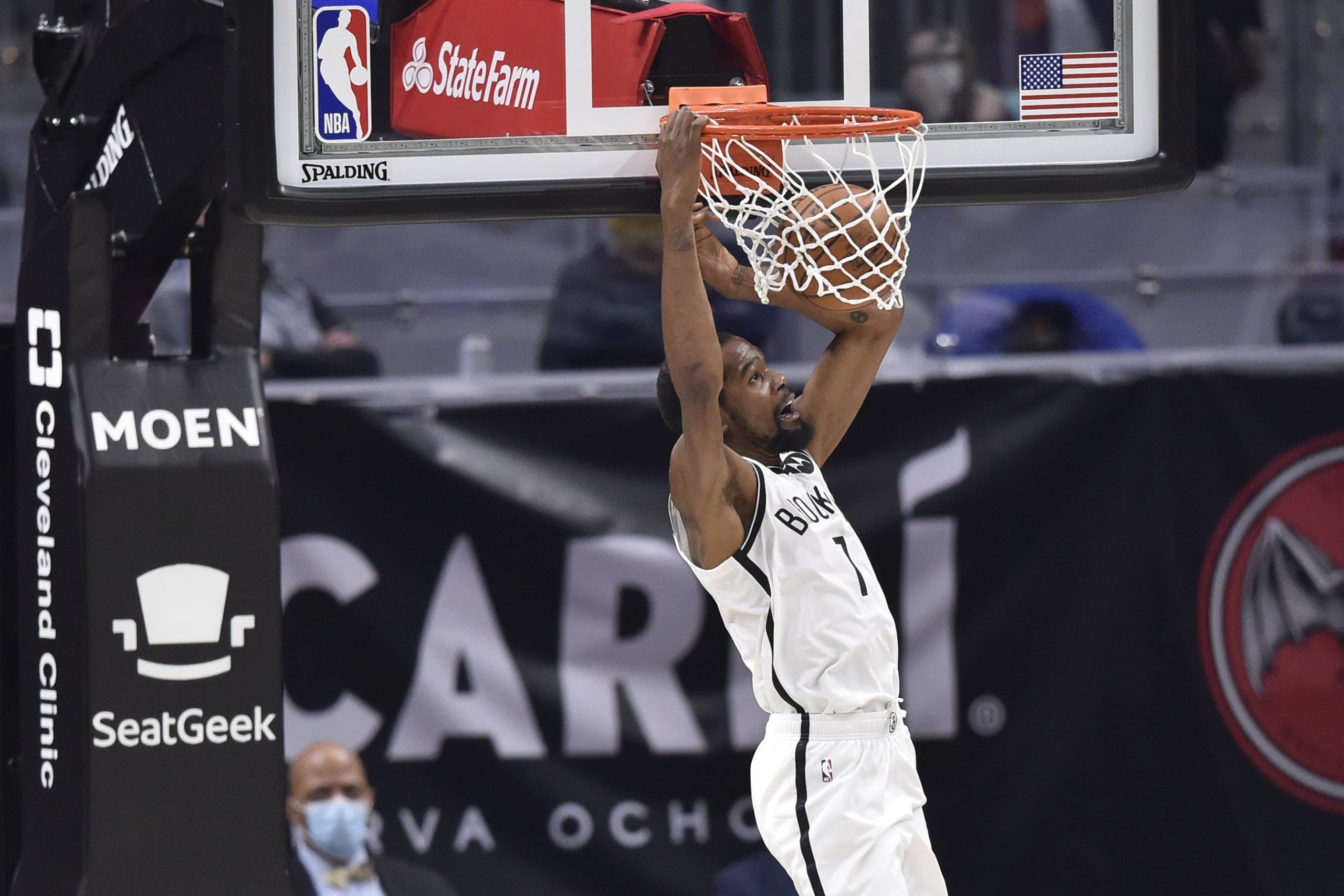 Cleveland Cavaliers -3.5 over Minnesota Timberwolves (-110)
One team laboring almost as much as Washington is Minnesota, which has also been hit hard by Covid-19. The Timberwolves are still without their best player, Karl-Anthony Towns. They have managed to pick up just two wins over their last 10 games and have had major issues containing opposing big men. Joel Embiid dropped 37 on them in the last game they played and they have also given up 25 and 28 scoring nights to James Wiseman and Nikola Vucevic, respectively. Minnesota's depleted front line will not find things any easier tonight against Cleveland's rotation of Andre Drummond and Jarrett Allen.
Pickswise is the home of free NBA picks and predictions. We will cover all the big offseason news before making picks for every game during the 2021 season.