Sunday Night Football reaction: Bucs get the win, but it's Patriots who impress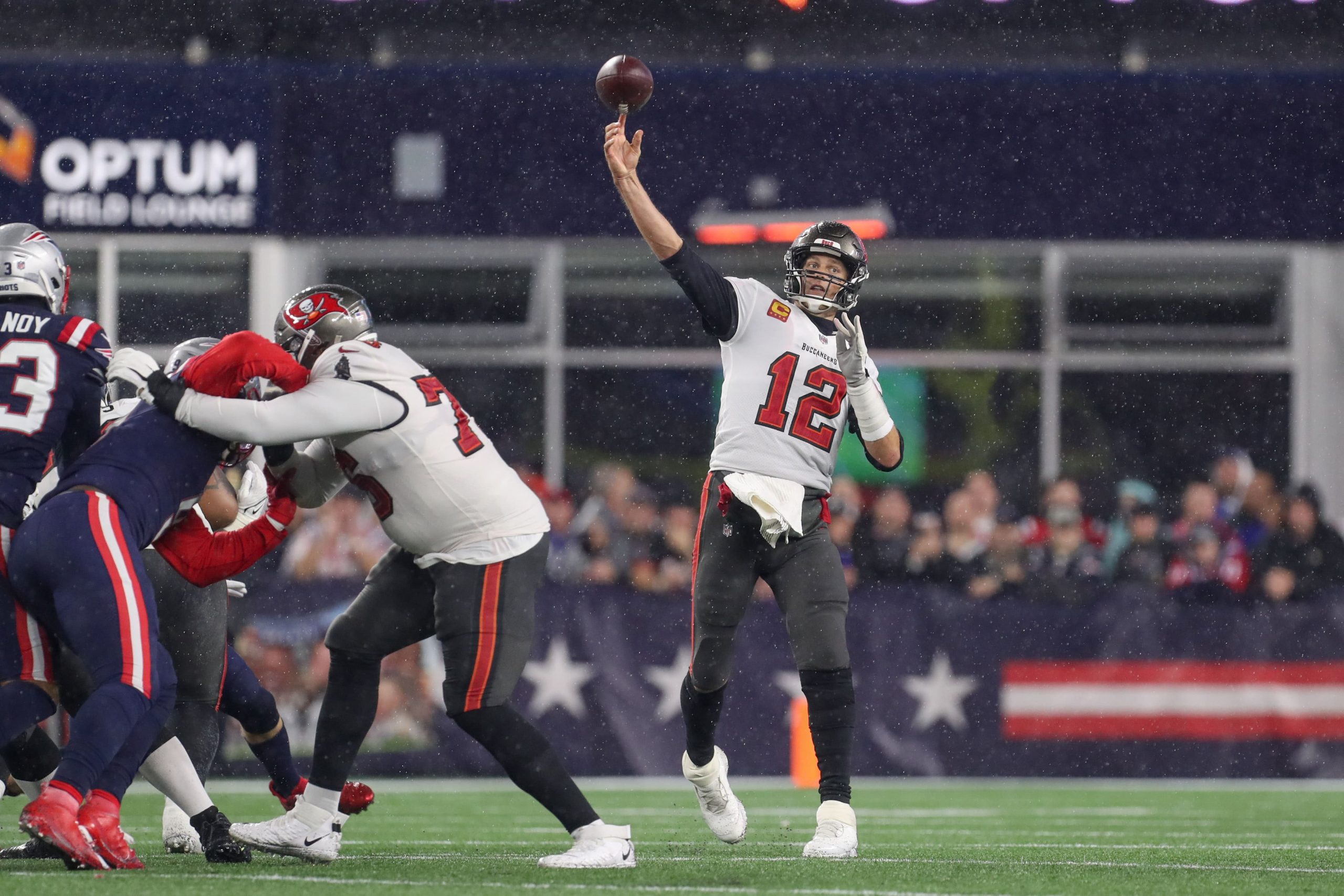 It's not often that someone can break the NFL's all-time passing record and have the moment go pretty much unnoticed. But here we are.
That is the feat Tampa Bay Buccaneers quarterback Tom Brady accomplished on Sunday Night Football against the New England Patriots. For multiple reasons, though, it was basically swept under the rug. One, Brady went into Sunday's contest only 67 yards behind Drew Brees, making such history inevitable. Two, it happened on a play of which the yardage gained was unclear. Nobody in the booth, in the seats, or watching on TV really knew if it happened or not. Three, this game was all about Brady vs Bill Belichick; Brady vs his former team that he led to 6 Super Bowl victories. Who has time for NFL records when you have soap operas?!?!
Let's recap what happened in New England on Sunday night and break down what it means.
A win is a win
The Bucs won't get any style points, but a win is all you can ask for on the road in the NFL, especially in an emotionally-charged atmosphere and after suffering a loss the week before. New England simply needed to win in Brady's return to Foxborough. The visitors got it, surviving 19-17 in an entertaining and mostly high-quality affair.
Brady played mistake-free football, going 22-of-43 for 269 yards with no touchdowns or interceptions. His numbers should have been even better, but Antonio Brown dropped an absolutely perfect pass that would have gone for a 30-yard score with 2:02 remaining (Tampa Bay settled for what proved to be a game-winning field goal by Ryan Succop).
The Bucs are banged up right now at tight end, offensive line, linebacker, and especially in the secondary. They just need to stay afloat at the moment by any means necessary. It wouldn't have been time to panic if they had dropped to 2-2, so there certainly isn't cause for concern at 3-1. Keep in mind Tampa Bay was a modest 7-5 through 12 weeks last year and went on to win the Super Bowl. A 3-1 record will do just fine for now.
Jones, Patriots hang tough
The Patriots covered as +6.5 underdogs and almost won outright. Close losses are only of use to against the spread bettors; they don't mean anything for teams that actually lose the game. But the Pats have a lot to like about their performance.
Not too surprisingly, New England's defense came up with a lot of answers for Brady and the Tampa Bay offense as a whole. More notable, and more encouraging, was the play of rookie QB Mac Jones.
In rainy, windy conditions, Jones completed 31 of 40 passes for 275 yards with 2 TDs and 1 INT. During one stretch he had 19 consecutive completions. He handled the blitz like a seven-year veteran. The No. 15 overall pick made one mistake: a terrible across-his-body throw around the 10-yard line that should have been picked off by linebacker Devin White and probably would have been returned for a touchdown. Yes, Jones got lucky when White couldn't bring it in. But when you make only one mistake instead of five, you minimize your chances of being victimized.
And when you make only one mistake, you give your team a chance to win. That is exactly what Jones did, as he led the Pats on a go-ahead drive (the White near-INT drive) resulting in a 17-16 advantage thanks to a Nick Folk field goal with 4:34 remaining. The former Alabama standout also led them on another go-ahead drive, but Belichick went for a field-goal attempt from 56 yards away in pouring rain with a kicker (Folk) who wasn't 100% and when even a make would have left almost a minute on the clock for Brady with 2 timeouts left and needing only a field goal. Yes, hindsight is 20/20 (Folk missed it wide left off the upright). But that was a terrible decision even prior to the outcome. That Belichick didn't go for it on 4th-and-3 from the Bucs' 37-yard line is baffling.
The Patriots were THIS CLOSE to taking the lead 😱

Buccaneers (-290 ML) survive 19-17.pic.twitter.com/8R8kJADMQg

— Pickswise (@Pickswise) October 4, 2021
The good news for New England is that Belichick is going to make a decision that costs his team a game about once every decade. That means the next time he does it may not be until 2030. Between now and then, this franchise should be in good hands with Belichick at the helm and Jones under center.
Pickswise is the home of free NFL Predictions  and NFL Odds. Check out the latest NFL Prop Bets and NFL Parlays as well as expert NFL Underdog Picks and NFL Computer Picks.