The Burning Question: Are the Chiefs done, or do they have value with longer futures odds?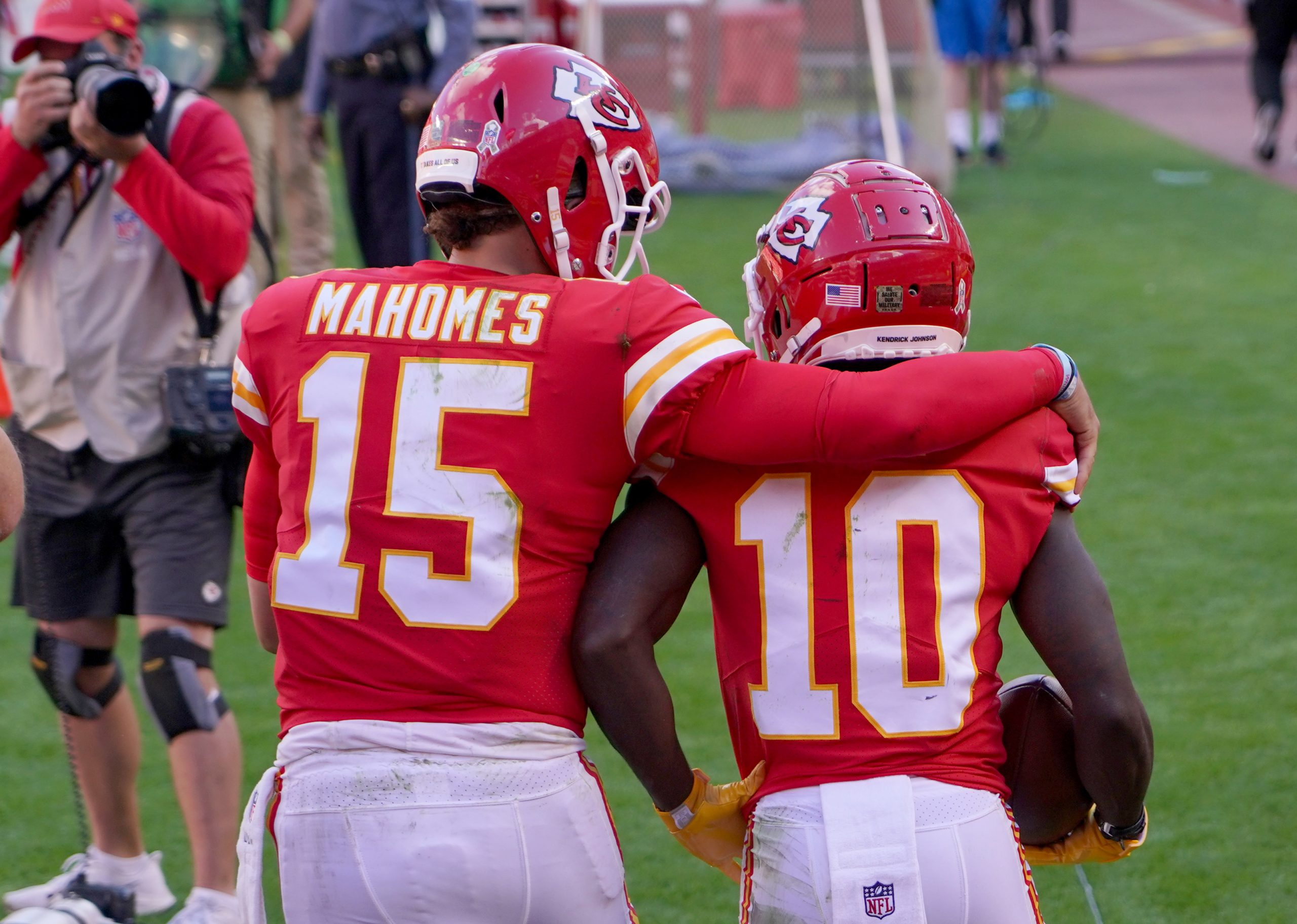 Welcome to The Burning Question, where three of our NFL experts give their thoughts on a big talking point coming out of the past week's football action.
Seven weeks into the 2021 NFL season, the Kansas City Chiefs are under .500. That's right, folks; the Chiefs are 3-4. The defending AFC champions are 2 games behind the Las Vegas Raiders in the AFC West and 1.5 back of the second-place Los Angeles Chargers. Kansas City is 28th in the NFL in total defense and Patrick Mahomes has already committed 10 turnovers. So, are the Chiefs done following their 27-3 loss to the Tennessee Titans in Week 7? Or is it time to buy low when you can get them at +1400 (DraftKings Sportsbook) to win the Super Bowl?
Our NFL experts — Jared Smith, Andrew Ortenberg, and Ricky Dimon — give their thoughts on whether the Chiefs have value in an ever-changing futures market.
Jared Smith: Considering their preseason price, I'm definitely buying

In my humble opinion, there is only one proper way to bet the preseason favorites in the NFL futures market, and that's to wait for them to not be favorites anymore. The Chiefs find themselves in the unenviable and unusual position of looking up at several teams on the board this week, which means now is the right time to start building a case for why they can't get back to the Super Bowl for a third straight year. Sure, the defense is looking historically bad, and that's the one reason why this could all blow up in my face. However, I'm willing to look past the ungodly amount of turnovers by Patrick Mahomes so far this season as a cosmic fluke, and the odds say they will get back on track this week in a big way against the Giants.
The best price I could find on Chiefs futures was +1600 to win the Super Bowl and +700 to win the AFC at BetMGM. I grabbed a slice of both, and I recommend all of you doing the same. If and when Kansas City meanders their back way into the playoffs and they get another crack at the Ravens, or it's Mahomes vs. Joe Burrow, Justin Herbert, or Derek Carr in the Wild Card round, there's a decent chance the Chiefs could be road favorites in those matchups, and you'll be sitting pretty with some generously-priced futures tickets in your back pocket.
Find out more NFL futures insight from Jared Smith in his Back to the Futures column!
Andrew Ortenberg: Now's the time
In my opinion, now is the time to buy the Chiefs if you're so inclined. They were as low as +550 at many shops at the beginning of the season, and now we can get 15/1 or better. Everything is still wide open for this Kansas City team. The only thing it looks like they won't be able to get is home-field advantage in the playoffs (and even that isn't *completely* off the table). But that doesn't mean as much as it used to.
If one thing has become clear this NFL season, it's that home-field advantage ain't what it used to be. Road teams are winning outright and covering spreads at historic clips, so if there were ever a year for a team to sneak in as a wild card and blitz through their conference, it would be this one. It doesn't matter if he's a 1 seed or a 7 seed, nobody is going to want to face Patrick Mahomes in the playoffs. Assuming they can get into the postseason (which isn't a guarantee), I think they'll have just as good of a chance of winning it all if they're 10-7 than they would if they're 13-4.
You can throw all that out the window once the playoffs start. If they can just get in, I think all of the mental miscues which have caused their current struggles will go away. The loss to the Titans was ugly, but before that game this offense was still putting up record-shattering numbers.
Ricky Dimon: Chiefs worth a play in wide-open AFC
A 3-4 record was never bad enough to write teams off even when there were only 16 games in the NFL season and two wild-card spots per conference. Now there are 17 games and three wild-card spots. There is plenty of time to turn things around–especially for a team as offensively talented as Kansas City.
They are just one game out of playoff position and even another AFC West title is not out of the question. Nobody is going to confuse the Raiders or Chargers with being unbeatable. The Chiefs just need to get in the playoffs; once there, anything can happen. Most of the players on this roster have Super Bowl-winning experience or at the very least AFC championship-winning experience. They would be a tough out in the playoffs. And it's not like any AFC team is dominant; heck, everyone in the conference already has at least two losses! By comparison, five teams in the NFC have no more than one loss.
Another thing you have to like is that the Chiefs are embarking on an unheard of stretch of home games. They play an incredible five of their next six at Arrowhead Stadium. Sure two of those are against Green Bay and Dallas, but that is still a favorable schedule. There is no reason why Mahomes and company shouldn't be several games over .500 going into Week 15 at the Chargers. At that point, there is no way you'll still be able to get K.C. at +650 (AFC) and +1400 (Super Bowl).
Pickswise is the home of free NFL Picks and NFL Odds. Check out the latest NFL Prop Bets and NFL Parlays as well as expert NFL Underdog Picks and NFL Computer Picks.