The Pickswise NFL Power Rankings: Chiefs on top after Week 2 despite loss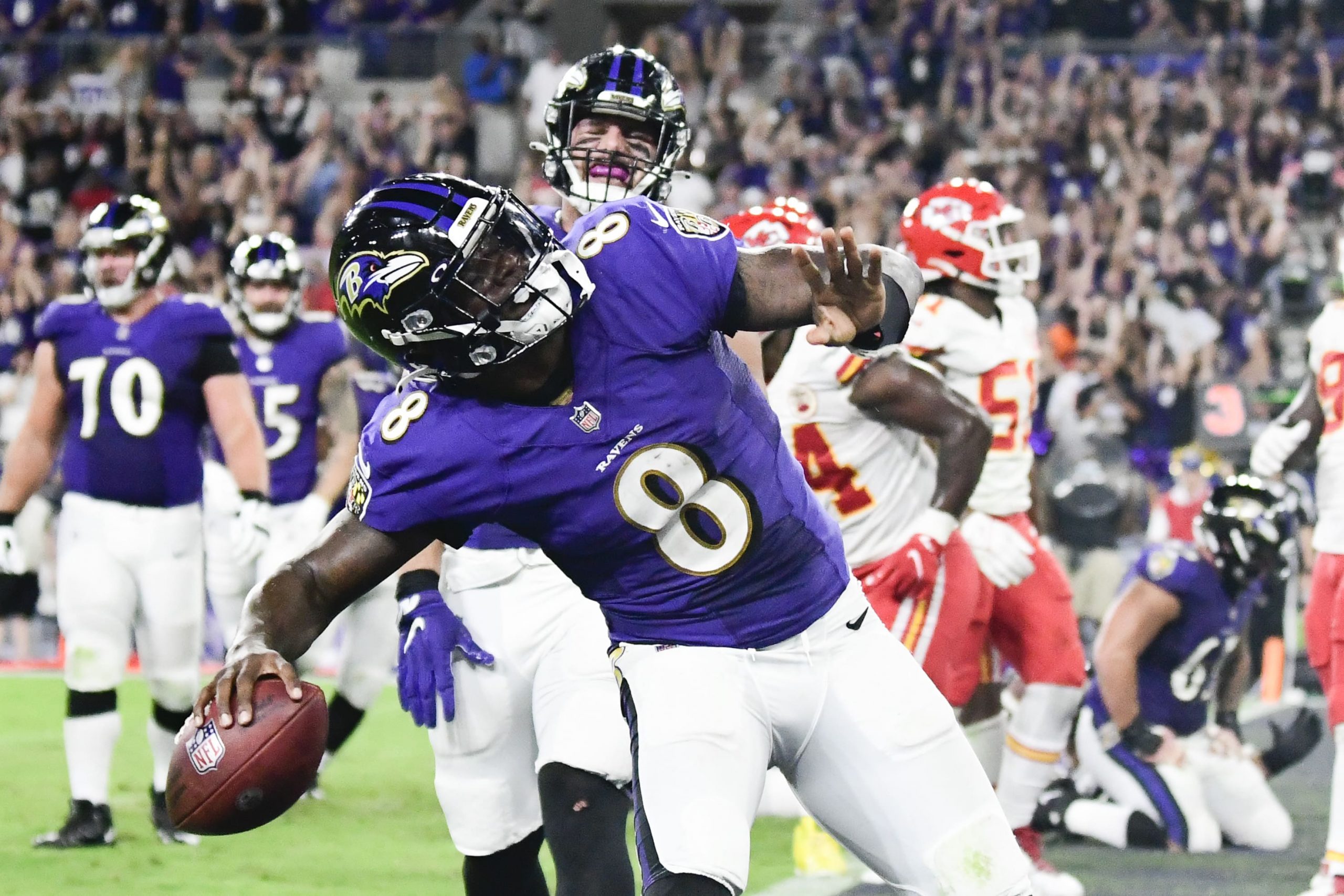 Do you like arguing with machines? Or maybe you admit that maybe they are better at calculating things logically and staying unemotional about issues, so could come to a more valid conclusion than you? Either way, the Pickswise Power Rankings are for you.
We've handed over control of our NFL power rankings to the Pickswise supercomputer. Our data science team has created a predictive machine learning model that makes use of a proprietary dynamic rating system. As well as analyzing in-house derived metrics, the model also adapts to situational factors such as rest weeks, home advantage, and time-zone differentials.
Humans and computers can work hand in hand — think Michael Knight and KITT — so I'll be here to talk through the computer's verdict on all 32 teams and maybe even raise a hand when I suspect it may need a valve polishing. That said, there's just a chance it's a lot smarter than all of us.
Let's see what it makes of the state of play heading into Week 3.
1 Kansas City Chiefs (1-1)
We had the Buccaneers at the top last week with the Chiefs at 2, but we're not going to have our first argument with the computer (do you think it needs a name? Watch this space) just because it has the Chiefs on top, even though they lost to the Ravens by 1 point on Sunday night.
2 Tampa Bay Buccaneers (2-0)
It won't take much for the Bucs to claim top spot if they carry on like this. If they can win at the Rams this week, they'll be knocking on the door.
3 New Orleans Saints (1-1)
You remember I said I'd raise my hand when us humans might disagree? I'm going in here… We had the Saints at 11 last week, which one Twitter follower met with a raised eyebrows emoji. I'm not sure what emoji they would have gone with after the Saints were whacked by the Panthers. This rating probably has a lot of carryover from the Drew Brees era, but you never know.
4 Seattle Seahawks (1-1)
I was thinking we had the Seahawks high at No. 3 last week when they threw away that big lead against the Titans, but the computer still has faith.
5 Los Angeles Rams (2-0)
The Rams got into a bit of a struggle against the Colts but emerged on top. Their game against the Bucs this week should tell us plenty about both teams.
6 Green Bay Packers (1-1)
The computer picked the Packers for the Super Bowl before the season started, so it was no doubt relieved to see them come back to beat Detroit on Monday after losing to the Saints. If it has a relief chip, of course.
Check out our MNF reaction, where red flags remain for the Packers despite win over Lions
7 Baltimore Ravens (1-1)
The Ravens could claim to be worthy of a slightly higher slot after beating the Chiefs, but probably not for their opening loss to the Raiders — the computer remembers.
8 Buffalo Bills (1-1)
The Bills might also be higher, but their beatd0wn of Miami did follow a home loss to the Steelers, who let down the form of that win in Week 2.
9 Pittsburgh Steelers (1-1)
Last season's 11-0 start may still be keeping the Steelers in the top 10 here, because they didn't look great against the Raiders. The news that Diontae Johnson looks to have avoided a major injury is a boost for them, though.
10 San Francisco 49ers (2-0)
The 49ers are still unbeaten despite their annual injury epidemic. All the running backs who replaced the injured running backs last week are now injured, so expect more new running backs this week.
11 Cleveland Browns (1-1)
We had the Browns a little higher, but it's not surprise that supercomputers would have a 'Browns is the Browns' algorithm. The Cleveland D has yet to really show up in their first two games and they would have been pretty relieved when Tyrod Taylor didn't come out to the second half as the Texans had looked a danger early on.
12 Indianapolis Colts (0-2)
The Colts are the computer's highest-rated winless team after they went down to two decent teams in the Seahawks and Rams, but it doesn't get much easier for them with the Titans up next and Carson Wentz nursing a pair of sprained ankles.
13 Arizona Cardinals (2-0)
After thrashing the Titans in Week 1, the Cardinals got a little lucky against the Vikings thanks to a late field-goal miss. You get the impression that Arizona games are never going to be dull with Kyler Murray doing his stuff.
14 Miami Dolphins (1-1)
Miami came back down to earth after beating the Patriots when they were shut out by the Bills. They meet the Raiders, who also have a banged-up quarterback, this week.
15 Los Angeles Chargers (1-1)
The Chargers have looked decent in facing two NFC East teams so far but now they get a chance to really put themselves on the map as they face their first divisional matchup of the year with the Chiefs.
16 Las Vegas Raiders
The Raiders are the final team in the top half of the rankings, which is probably the least they'd expect after their impressive 2-0 start. There are certainly some teams in the bottom half of the rankings that some humans would have put in the top 16, but he key number in the NFL is not 16 anyway, it's 14…
17 New England Patriots (1-1)
Middle of the table with potential to improve is not a bad spot for a team led by a rookie QB. There will be a lot of fans reminiscing about their past quarterbacks when they meet the Saints this week in a game that used to be billed as Brady vs Brees.
18 Tennessee Titans (1-1)
The Titans looked good in the second half of their comeback win over Seattle, but they needed to after looking nothing like the team we expected in their first 6 quarters of play this season. Even so, they've got one more win than AFC rivals Indianapolis, who they meet this week.
19 Dallas Cowboys (1-1)
The Cowboys have a case to be higher after mixing it with the champions and winning at the Chargers. Maybe the computer is reserving judgement because it thinks they need to start Tony Pollard ahead of Zeke Elliott?
20 Denver Broncos (2-0)
The Broncos have made a fine start with two road wins, and you'd think they would move higher once they start to play some stronger teams. That's not happening just yet, though, as they have the Jets this week.
21 Minnesota Vikings (0-2)
The Vikings must be scratching their heads about how they're still winless when they might easily be 2-0, but neither man nor machine could have them much higher than this after Greg Joseph's field-goal miss handed victory to the Cardinals.
22 Philadelphia Eagles (1-1)
The excitement of the Eagles' opening win was tempered by the Week 2 loss to San Francisco and this looks about the right spot for the Eagles as things stand.
23 Chicago Bears (1-1)
Things are looking up for Da Bears — you can tell the computer just does the rankings, not the words, as it wouldn't know to call them that. They have a win on the board and Justin Fields may be starting at quarterback soon. It's open to question whether facing Myles Garrett on your first start is ideal, though.
24 Washington Football Team (1-1)
The Football Team have not done much wrong this season, playing the Chargers tough and getting the win against the Giants, but Taylor Heinicke and friends have a tougher test against Buffalo this week.
25 Carolina Panthers (2-0)
Here's one that will have Panthers fans rapping on the side of the computer yelling "Hello, we just beat your No. 3 team on Sunday!" Maybe the clever old thing has just marked them down for beating the Jets by only 5 the week before.
Be sure to check out our full game preview for TNF Carolina Panthers vs Houston Texans
26 Cincinnati Bengals (1-1)
The good news for the Bengals is that Joe Burrow was not one of the quarterbacks injured this week. The question is how long that can remain the case given the lack of protection from his offensive line. Never mind, it's only the *checks notes* Steelers pass-rush to worry about this week.
27 Atlanta Falcons (0-2)
For a little while on Sunday, the Falcons appeared to be making a decent recovery against the champions, and there were positive signs from rookie Kyle Pitts, too. But they do have two losses by 23+ points now, so the bottom 6 is no surprise.
28 Houston Texans (1-1)
Not only did the Texans win in Week 1, they gave the Browns a bit of a scare on Sunday until losing QB Tyrod Taylor at halftime. Rookie Davis Mills will likely struggle to keep them competitive, but the Texans have at least shown they have plenty of heart so far.
29 New York Giants (0-2)
The Giants got much closer to a win on Thursday Night Football than they had managed in Week 1, and they have a real chance to get it when they meet the Falcons this week.
30 New York Jets (0-2)
Does 30 seem a bit high for the Jets? It may well do after they've faced the Broncos and Titans in their next two games. Good luck, Zach Wilson.
31 Detroit Lions (0-2)
The Lions have flashed ability in two tough games against the 49ers and Packers, but the schedulers are still on their case with the Ravens up this week.
32 Jacksonville Jaguars (0-2)
All agreed? Good. Computers, people, animals — everyone can see the Jags are bad.
Pickswise is the home of free NFL Predictions  and NFL Odds. Check out the latest NFL Prop Bets and NFL Parlays as well as expert NFL Underdog Picks and NFL Computer Picks.