The Pickswise NFL Power Rankings: Green Bay leads the pack after Week 8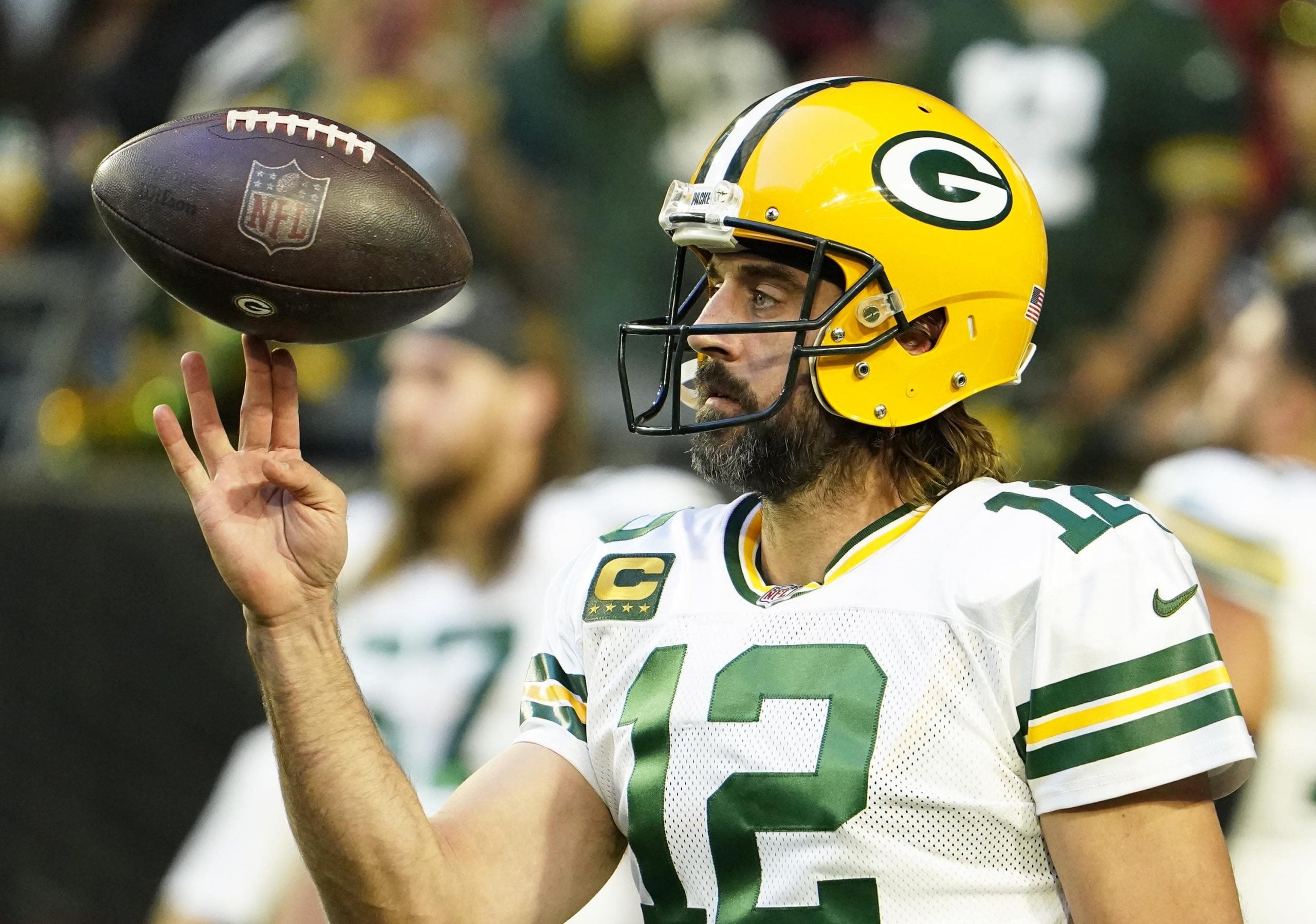 The Pack are back! After ending the Cardinals' unbeaten start to the season, and joining them with a 7-1 record, Green Bay have become the latest leaders of the Pickswise NFL Power Rankings.
This season, we've handed over control of our NFL power rankings to the Pickswise supercomputer. Our data science team has created a predictive machine learning model that makes use of a proprietary dynamic rating system. In addition to analyzing in-house derived metrics, the model also adapts to situational factors such as rest weeks, home-field advantage, and time-zone differentials.
Let's take a look at how the computer ranks all 32 teams heading into Week 9.
1 Green Bay Packers (7-1)
The Packers have the NFC North at their mercy with a huge lead over 3-4 Minnesota and 3-5 Chicago, but with only one first-round bye available they can't afford to ease up yet. Will they still be No. 1 after facing the Chiefs, Seahawks, Vikings and Rams in their next 4 games? The chances of that have taken a step back with the news of Aaron Rodgers' testing positive for Covid and being ruled out of the Chiefs game.
2 Buffalo Bills (5-2)
There's not much between the top 4 teams in the rankings, and Buffalo might have done enough to go top if they hadn't had such a slow start against the Dolphins on their return from their bye. It's the Jaguars and Jets next, so it will be a while before we see them seriously tested.
3 Tampa Bay Buccaneers (6-2)
Last week's leaders slip to No. 3 (and almost No. 4) after their sloppy performance in a divisional defeat to New Orleans. You don't deserve to be No. 1 if you can't make a QB battle between Tom Brady and Trevor Siemian (who looked pretty good, to be fair to him!) work for you.
4 Los Angeles Rams (7-1)
The Rams were no doubt called a few interesting names by bettors holding spread tickets with their name on as they went 38-0 up on Houston only to let the Texans win the 4th quarter 22-0. Still, they're 7-1 and officially all-in on a Super Bowl bid after trading for Von Miller. Draft picks? We don't need no stinkin' draft picks.
5 Arizona Cardinals (7-1)
The Cardinals stay in the top 5 as one of 3 1-loss teams in the league. A 3-point defeat to the Packers should not sink their season and they get a chance to respond with a divisional game against the 49ers. They won a physical battle 17-10 in their first meeting with San Francisco this season.
6 New Orleans Saints (5-2)
Just as the Saints landed a notable blow to make the league take notice, by beating the Super Bowl champions for the 3rd time in 2 years, they lost their starting quarterback Jameis Winston to injury. Who leads them the rest of the way — Taysom Hill, Trevor Siemian or even Philip Rivers?
7 Tennessee Titans (6-2)
Our injury update continues with the hammer blow to Tennessee's chances of losing star running back Derrick Henry in the wake of their crucial AFC South win over the Colts. Will Mike Vrabel turn to Adrian Peterson or Jeremy McNichols to carry the load and try to replace the irreplaceable rushing star?
Read this week's Burning Question debate, where our experts discuss what Henry's injury means for the Titans' prospects.
8 Dallas Cowboys (6-1)
The Cowboys will be delighted to have got past a tricky visit to Minnesota with a win despite holding out Dak Prescott and starting Cooper Rush. National Tight End Day got tons of publicity in Week 7, but why were we not even told in advance that Week 8 would bring National Backup Quarterback Day?
9 Kansas City Chiefs (4-4)
Well they won. They almost didn't. But they did. Patrick Mahomes' quest to throw the interceptions no other QB can, as well as the TDs that no other passer can make, continued with his 10th INT of the season coming via his receiver's face mask. You don't see that kind of creativity everywhere. Also notable in the win over the Giants on Monday was the emergence of Derrick Gore, who sounds like a lazily-generated RB name on an NFL video game.
Read John Hyslop's verdict on what we saw on Monday Night Football
10 Baltimore Ravens (5-2)
The Ravens sat out Week 8, and won't have been too upset by sitting on their couches watching AFC rivals the Bengals and Browns losing in rather unimpressive fashion.
11 Los Angeles Chargers (4-3)
There's quite a big gap between the top 10 and the Chargers in 11th after Bill Belichick got the better of Justin Herbert as if he was still a rookie. Everyone in the AFC has at least 2 losses now, so 4-3 is not yet a major problem for the Chargers.
12 Indianapolis Colts (3-5)
The Colts are two games below 0.500 and lost a crucial tiebreaker to the Titans, but they showed up well in that game and if Tennessee can't cope with losing Henry, Indy could soon be back in the hunt for the AFC South title. They could start to increase the pressure by beating the Jets on Thursday.
Be sure to check out our full game preview for TNF Jets vs Colts
13 Seattle Seahawks (3-5)
The Seahawks were another beneficiary of Backup QB Week as Geno Smith helped them to stomp the sorry Jaguars 31-7. They might not be so happy after facing the Packers and Cardinals next.
14 Las Vegas Raiders (5-2)
It will be a tough week for the Raiders coming out of their bye given the emerging news on Tuesday concerning Henry Ruggs III.
15 Pittsburgh Steelers (4-3)
The Steelers got a measure of revenge for last year's playoff defeat with a 15-10 victory over a lackluster Browns team. The failed fake field goal that got Steelers kicker Chris Boswell knocked out of the game inadvertently helped Pittsburgh in a way, as with no kicker they had no option but to go for it on 4th downs and Pat Freiermuth made a ridiculous catch that ended up being the game-winning touchdown on one of them.
16 Cleveland Browns (4-4)
That was a terrible loss for the Browns as they got Nick Chubb and Baker Mayfield back from injury but turned in a limp display with receivers dropping passes all over the field. Odell Beckham Jr.'s father releasing videos presumably aimed at getting him a trade isn't going to help either.
17 San Francisco 49ers (3-4)
We should know if the 49ers have realistic hopes of getting something out of this season after their 2-game divisional homestand against the Cardinals and Rams. If they can win at least 1, it would keep things interesting.
18 New England Patriots (4-4)
The computer has done a pretty solid job with the rankings this week if you ask me, but it might be getting a few emails about this one after the Patriots got back to .500 with a road win over the Chargers. They've still got 2 head-to-heads with the Bills to come, too.
19 Cincinnati Bengals (5-3)
Everyone will say it looked like a trap game, everyone will say the Bengals thought they were better than they are. Many will say the Bengals got hosed by some officiating decisions. But very few will say they expected Mike White to throw for 400+ yards against Cincinnati in a 34-31 Jets win. This (like the Jets' other win this season over the Titans) looks like "one of those games" that just makes no sense.
20 Minnesota Vikings (3-4)
The trouble with teams who "should be better than their record" but haven't been getting the results is they keep doing it. The Vikes had a golden chance when Dallas decided not to risk Dak Prescott and they blew it.
21 Denver Broncos (4-4)
The Broncos ended their own losing streak by extending Washington's, but it wasn't must-see football. Some might see trading Von Miller as giving up on the season, others will see it as acquiring some useful draft assets and being realistic about their prospects. Who ya got there?
22 Carolina Panthers (4-4)
I don't know which of these clubs is going to file stalking charges against the other, but something's going on with the Broncos and Panthers, who continue to have identical records after going WWWLLLLW in their first 8 games. The Panthers have the Patriots, and the Broncos play the Cowboys this week — see you both this time next week at 4-5, guys?
23 Philadelphia Eagles (3-5)
Who knows what to make of the Eagles, who beat the Lions by 38 points pretty much out of nowhere. It was the Lions, but maybe the Boston Scott-Jordan Howard-Kenny Gainwell backfield is what they've been missing all this time.
24 Chicago Bears (3-5)
It's 3 losses in a row now for the Bears and with AFC North pair Pittsburgh and Baltimore up next, things aren't looking great.
25 New York Giants (2-6)
Talking of not looking great, here are the Giants. As usual, there were again indications that things could improve at some point as they covered against the Chiefs, but they also had a chance to win and didn't take it.
26 Miami Dolphins (1-7)
Oh boy was that gap between the Giants and Dolphins tiny in the computer's assessments, almost nothing. Pretty much the same as the Dolphins' win total, which remains only 1 above nothing. Number 2 could be coming very soon though… it's Texans week!
27 Atlanta Falcons (3-4)
One step forward, two steps back seems the way for the Falcons, who were underwhelming against the Panthers and are now without top receiver Calvin Ridley. It's probably not the best time to be heading out on the road to face the Saints and Cowboys, either.
28 Washington Football Team (2-6)
Washington's slow start has turned into a real crisis after 4 straight defeats and their tough schedule doesn't relent yet with a bruised Tampa Bay team heading their way next. Still, we know Taylor Heinicke can play well against the Bucs from last year's playoffs.
29 New York Jets (2-5)
No, I don't know why the Jets can't beat average or bad teams, but have beaten two pretty good ones (Tennessee and Cincinnati) for their only wins. If the Jets had known Mike White would be their savior, they could have taken Ja'Marr Chase or Kyle Pitts with the second pick. Just saying…
30 Houston Texans (1-7)
Carolina and Denver aren't the only schedule twins in the league – Houston and Miami both won in Week 1 before 7 successive losses. They play each other on Sunday, so expect lots of comical failures in overtime before they tie.
31 Jacksonville Jaguars (1-7)
The highlight of the Jaguars' week was probably that brilliant Hallowe'en costume of Urban Meyer and friend. It was certainly more entertaining than their 31-7 loss to the Seahawks.
32 Detroit Lions (0-8)
The Lions won a lot of admirers in Week 7 for emptying the playbook in a valiant effort against the Rams. Not so many new fans were attracted after they got hammered by the Eagles this week. The good news for the Lions is they can't go 0-16 this year like they did in 2008. The bad news is there are 17 games this year.
Pickswise is the home of free NFL Predictions  and NFL Odds. Check out the latest NFL Prop Bets and NFL Parlays as well as expert NFL Underdog Picks and NFL Computer Picks.