The Pickswise NFL Power Rankings: Love isn't all you need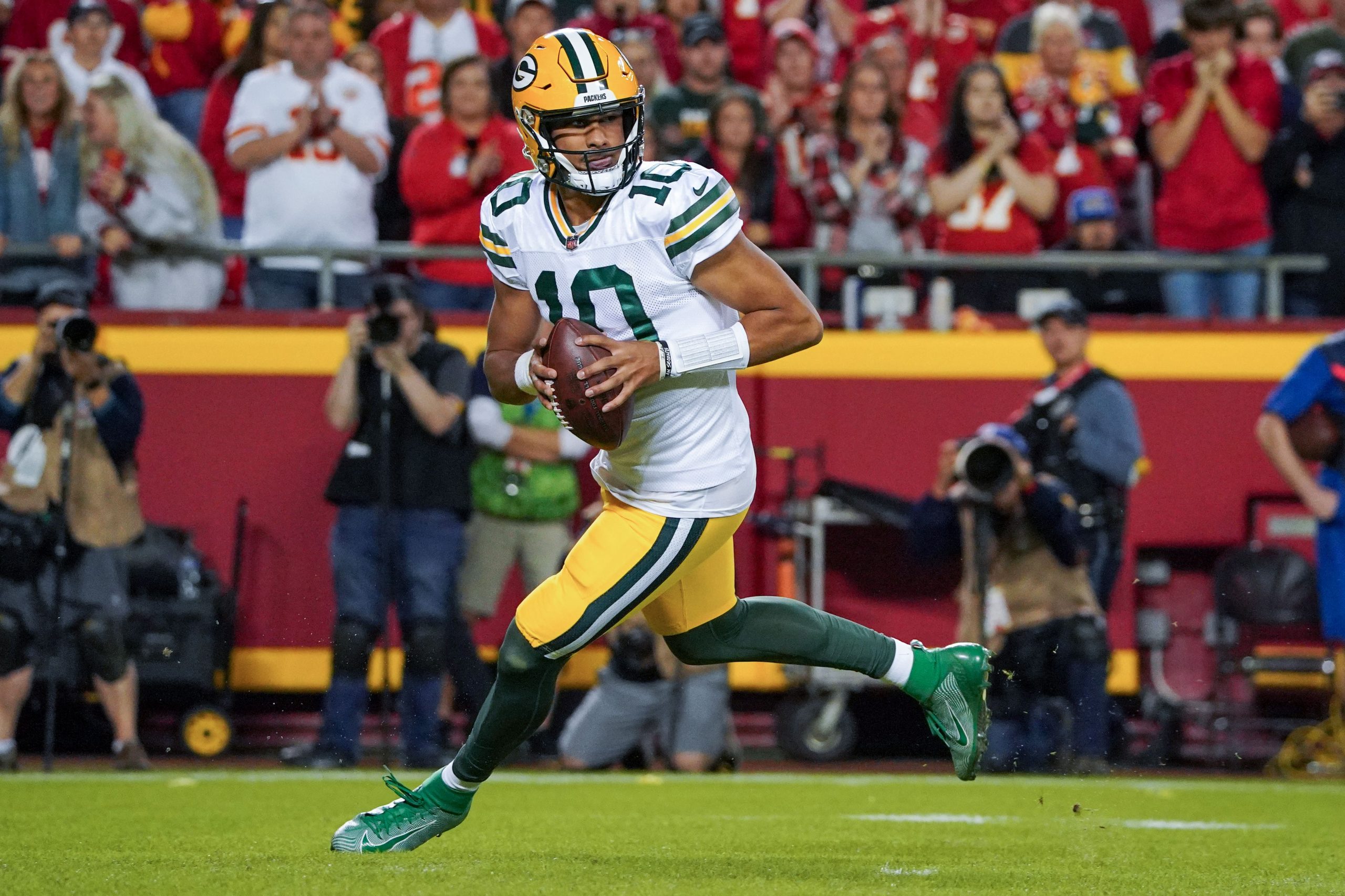 All you need is Love? Try telling that to the Green Bay Packers, who have lost top spot in the Pickswise NFL Power Rankings after being forced to start Jordan Love instead of Aaron Rodgers in Week 9.
The Packers had hit No. 1 for the first time last week, but drop back to 3rd this week after a lame defeat to Kansas City, who are no great shakes themselves at present.
This season, we've handed over control of our NFL power rankings to the Pickswise supercomputer. Our data science team has created a predictive machine learning model that makes use of a proprietary dynamic rating system. In addition to analyzing in-house derived metrics, the model also adapts to situational factors such as rest weeks, home-field advantage, and time-zone differentials.
Let's take a look at how the computer ranks all 32 teams heading into Week 10.
1 Tampa Bay Buccaneers (6-2)
As we learned in the stone-cold classic 1983 movie WarGames (check it out, kids) *spoiler alert* "sometimes the only winning move is not to play". So it proved for the Bucs this week as they have bounced up from No. 3 to No. 1 during their bye week thanks to last week's top 2 — Green Bay and Buffalo — turning in shameful performances undeserving of the honor.
2 Arizona Cardinals (8-1)
The Cardinals went close to snatching top spot after improving their record to a league-leading 8-1 and few would have said they aren't worthy as they continue to impress.
3 Green Bay Packers (7-2)
The computer doesn't read too much into one performance, otherwise the Packers might have fallen further. The Chiefs were still not looking like themselves, but they looked a lot better than the Love-led Packers.
4 Buffalo Bills (5-3)
Another consider-yourselves-lucky ranking here as the Bills just hang on in the top 4 despite a major flop in Jacksonville.
5 Tennessee Titans (7-2)
The Titans are pushing for an even higher ranking after knocking off the Bills, Chiefs, Colts and Rams in successive weeks. Adrian Peterson, Jeremy McNichols and D'Onta Foreman didn't exactly make up for Derrick Henry's absence and spark the victory over the Rams, but their much-improved defense turning Matthew Stafford back into his Lions level of performance did.
6 Los Angeles Rams (7-2)
Yeah, that wasn't it, Sean McVay. Had the Rams grown complacent after a soft run against the Giants, Lions and Texans? It sure looked like it.
7 Kansas City Chiefs (5-4)
The computer seems to be a big fan of the Chiefs, and a road win over the Packers looks better on paper, or rather a spreadsheet, than it did on TV. The score might have been very different if Aaron Rodgers had been available.
Read this week's Burning Question debate, where our experts discuss who will win the AFC West
8 New Orleans Saints (5-3)
The Saints are probably lucky to drop only 2 places for losing to the Falcons. Now they have to worry that Alvin Kamara's knee injury doesn't cause further problems.
9 Baltimore Ravens (6-2)
Not for the first time this season, the Ravens looked like they were going to lose a game, but won it. This time they were lucky to be playing a team who have an unfortunate habit of losing games they looked like they were going to win in the Vikings.
Be sure to check out our full game preview for TNF Ravens vs Dolphins
10 Cleveland Browns (5-4)
That was a lot better from the Browns, who said farewell to Odell Beckham Jr. and promptly thrashed Cincinnati by 25 points. The good news this week is that they signed elite guard duo Joel Bitonio and Wyatt Teller to extensions, but the bad news is a Covid outbreak that looks likely to rule out Nick Chubb for their visit to the Patriots.
11 Los Angeles Chargers (5-3)
The Chargers halted their losing run at 2 games, but only just, as they beat the Eagles at the buzzer. The rest of their schedule still looks pretty conducive to a strong playoff run, though.
12 Dallas Cowboys (6-2)
Another one of those how-far-could-you-drop-them issues here, as the Cowboys put in a miserable effort in a fully deserved home loss to the Broncos. The answer was 4 places in this case, but they couldn't have complained if it was more.
13 Indianapolis Colts (4-5)
It seems a long time since the Colts beat the Jets on Week 9 Thursday Night Football, but they scored 45 points, which is never a bad thing.
14 New England Patriots (4-4)
*Darth Vader entrance music plays* Yes, the Patriots are on the march again after 3 straight wins, but they get a tougher test this week with the Browns in town.
15 Seattle Seahawks (3-5)
The Seahawks could have QB Russell Wilson, RB Chris Carson and rookie WR Dee Eskridge available again as they return from their bye against the Packers, which could make for a great game if they all get there.
16 Pittsburgh Steelers (5-3)
It's 4 wins in a row for the Steelers but you don't have to search for long on social media to find Bears fans with largely justified grievances about their Monday Night Football defeat. There are no pictures on the scorecards though, as they say.
Read Ricky Dimon's verdict on what we saw on Monday Night Football
17 Las Vegas Raiders (5-3)
That was really a week to forget for the Raiders, with off-field issues leading to the release of not one but two first-round picks in Henry Ruggs III and Damon Arnette before 3 turnovers sent them spinning to defeat at the New York Giants. They're still potentially awkward opponents for the Chiefs this week, though.
18 San Francisco 49ers (3-5)
Things aren't going great for the 49ers, with injuries continuing to dog them. And after 5 defeats in their last 6 games, a Rams team with a point to prove is probably not what they wanted to see this week.
19 Denver Broncos (4-4)
Just when you thought they were out, they pull themselves back in. Denver looked to have put up the white flag when they traded Von Miller, only to head to Dallas and trounce the Cowboys. Impressive.
20 Minnesota Vikings (3-5)
We said last week that the Vikes should have a better record than they do, but keep failing to close the deal, and then they did it yet again in Baltimore. With the Chargers and Packers up next, they need to get over the line soon to keep their season alive.
21 Cincinnati Bengals (5-4)
The Bengals head into their bye on a bit of a downer after back-to-back losses to the Jets and Browns. This might be a good time for them to have a break and regroup.
22 New York Giants (3-6)
That was better from the Giants against the Raiders, and they're finally starting to get some of their offensive players back on the field, which sure helps. They should be even healthier after their bye, which is just as well as they face the Super Bowl champions in Week 11.
23 Chicago Bears (3-6)
The Bears can take the positives out of their narrow loss to the Steelers. They showed character, RB David Montgomery is back in action and QB Justin Fields looks to have what it takes.
24 Philadelphia Eagles (3-6)
The Eagles are clearly better now than they were earlier in the season despite their loss to the Chargers. A 0-4 home record has to be a worry, however.
25 Atlanta Falcons (3-4)
The Falcons didn't "Falcon hard" against the Saints and merely went close to throwing away a big lead, which has to be called progress. At 4-4 there's plenty still to play for in the second half of the season.
26 Miami Dolphins (2-7)
The Dolphins ended their 7-game losing run even without QB Tua Tagovailoa against Houston. The game was played at a standard you would have expected from a pair of 1-win teams, though, and they need a lot more against the Ravens this week.
27 Carolina Panthers (4-5)
The good news for Carolina is that they have finally ended their run of having the same result as Denver every week of the season. The bad news is that it happened by them losing while the Broncos won. That's 5 losses in their last 6, with the Cardinals up next.
28 Washington Football Team (2-6)
Washington lost 4 in a row before their bye and we can only hope that their defense finally shows up when they return. It's a tough test for them against Tampa Bay, though.
29 New York Jets (2-6)
Mike White gets the start again for the Jets this week (he started, but couldn't finish, against the Colts) even though Zach Wilson is on his way back from injury. They are getting a 13-point start against a team (Buffalo) that scored only 6 points last week, incidentally.
30 Jacksonville Jaguars (2-6)
The Jags get only a 1-place raise from the cold-hearted computer despite a sensational win over the Bills. Who knows how far they could go if they do the same against the Colts this week?
31 Houston Texans (1-8)
There's not much to say at this stage about Houston. They played another 1-7 team last week with their own starter back, against a backup QB, and lost again. Expect the drawing board to be in constant use over their bye week.
32 Detroit Lions (0-8)
It was a good week for the Lions at last — the first one this season in which they didn't lose. They return from their bye week against Pittsburgh on Sunday.
Pickswise is the home of free NFL Predictions  and NFL Odds. Check out the latest NFL Prop Bets and NFL Parlays as well as expert NFL Underdog Picks and NFL Computer Picks.