Thursday Night Football reaction: For various reasons, it's time to start taking the Colts seriously again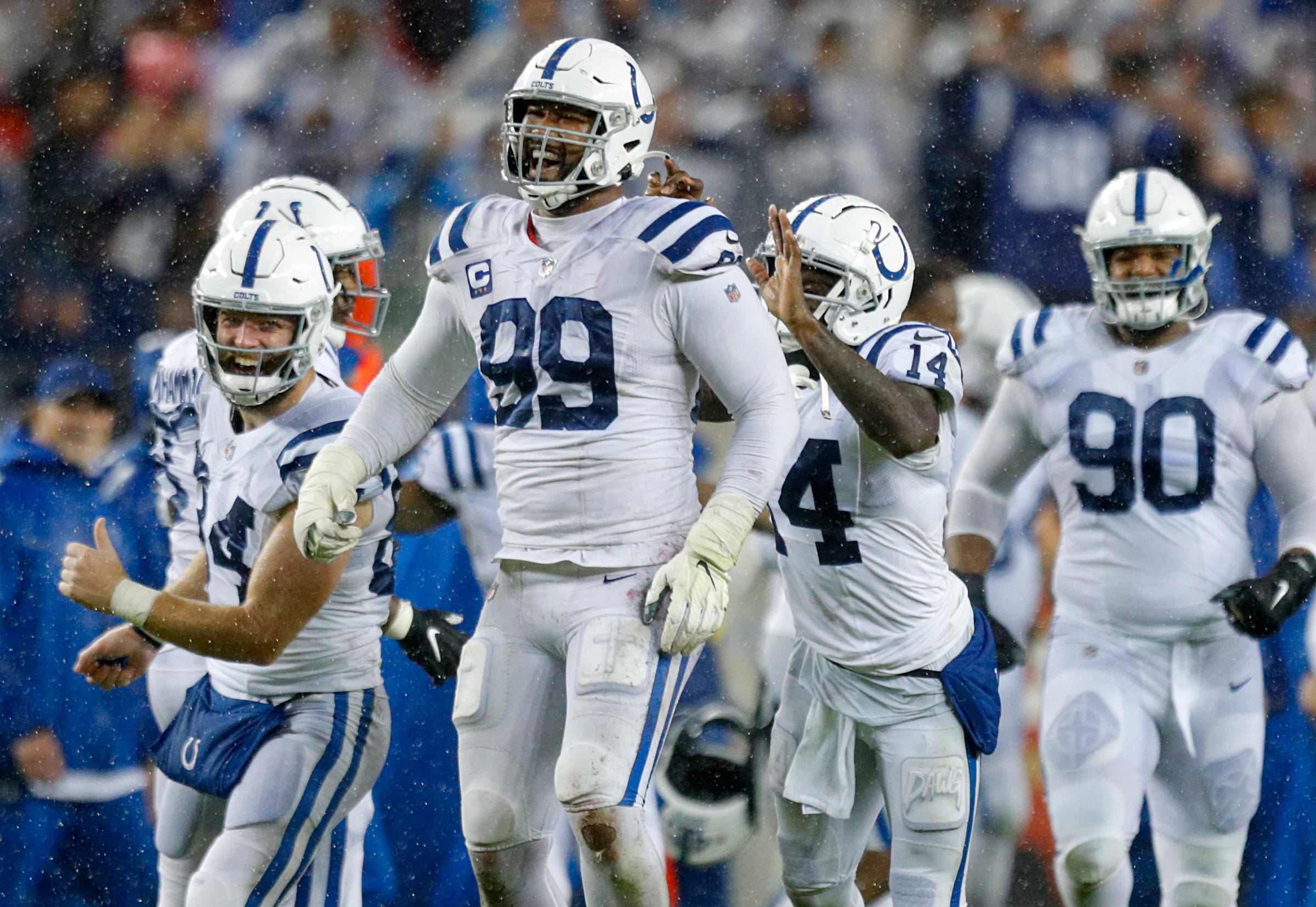 If you like points (and we certainly do, because we hammered the over in the Week 9 Thursday Night Football showdown between the Indianapolis Colts and New York Jets), then the opening game of this week's NFL slate was one for you. The Colts took care of business as -10.5 favorites to keep their playoff hopes alive, defeating the Jets 45-30.
Let's recap what happened in Indianapolis on Thursday night and break down what it means.
It's all working for Wentz
Carson Wentz may not be quite at the MVP level he was showcasing in 2017 before sustaining a season-ending torn ACL, but the former North Dakota State standout is invoking memories of that time. After completing 22 of 30 passes for 272 yards with 3 touchdowns and no interceptions on Thursday, Wentz now has 2198 yards, 17 TDs, and 3 INTs so far this year. Because running back Jonathan Taylor (19 carries, 172 yards, 2 scores on Thursday) is the focal point of the offense, Wentz rarely—if ever—has to do too much.
BIG MAN TD

Even the offensive linemen are scoring on this Jets defense 😭

(via @NFL)

— Pickswise (@Pickswise) November 5, 2021
A week 11 date at Buffalo will be a true measure of Wentz's worth. If he can continue to play at this rate against that kind of defense, it will be confirmed that the Wentz of old is back.
As for the Colts as a whole, their 4-5 record may not be great but it's good enough to be in the mix. Even an AFC South title isn't out of the question despite Tennessee's 6-2 record since Derrick Henry is out for the foreseeable future. Indy still plays Jacksonville twice (including next week) and Houston one more time, so the schedule allows for a move to be made in the division and/or the wild-card race.
Jets QBs continue to compete
Entering Thursday just a half-game behind the Colts, the Jets would have engineered a reversal in the wild-card standings with a win. Instead, falling to 2-6 pretty much marks the end of the road for this club in 2021.
Of course, the Jets were never expected to compete for a playoff berth this season and their apparent failure to do so is no real fault of their own. They were already down one quarterback with Zach Wilson sidelined and backup Mike White (forearm) exited early on Thursday. White had been the star of Week 8 in the NFL, throwing for 405 yards and 3 touchdowns during an upset of Cincinnati. After the Western Kentucky product was forced out of Thursday's contest, third-stringer Josh Johnson replaced him to the tune of 317 yards and 3 TDs. Johnson's only INT came on a deflected pass as desperation time engulfed the visitors.
Say what you will about New York's offensive line (which, admittedly, is far from good), but the front five is doing its job. The Jets' backup QBs have been getting rid of the ball quickly and short passes have been resulting in big success. Thirty points—even without Michael Carter doing a whole lot—should be enough to win in the NFL, so don't blame the offense for Thursday's 'L'.
As expected, this Jets team isn't going anywhere in 2021. But unlike in 2020, they're actually somewhat fun to watch.
Pickswise is the home of free NFL Predictions  and NFL Odds. Check out the latest NFL Prop Bets and NFL Parlays as well as expert NFL Underdog Picks and NFL Computer Picks.