Thursday Night Football reaction: Rams beat Seahawks, both teams in trouble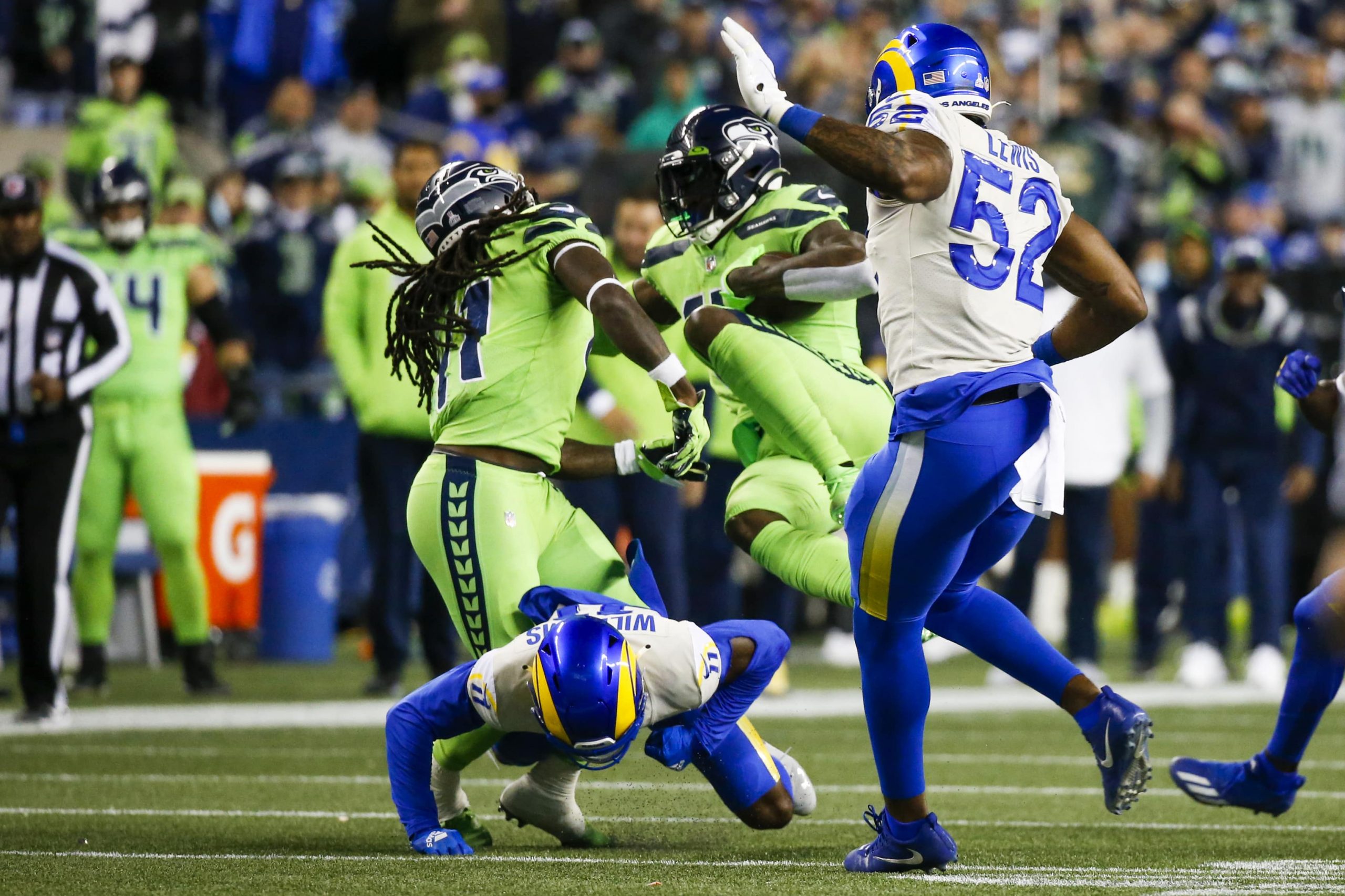 The 2021 NFL primetime games continue to be exciting if nothing else. We got another highly entertaining standalone contest for Thursday Night Football as the Los Angeles Rams took on the Seattle Seahawks to begin the Week 5 slate. Los Angeles emerged with a 26-17 victory, but the biggest story was the finger injury to Russell Wilson that sidelined him in the second half.
Regardless of the outcome, both teams have major causes for concern for the weeks and months ahead. Seattle's are more alarming for sure, but the Rams didn't exactly look like a well-oiled machine in their win. Let's digest what we just saw, and what it means for the betting landscape moving forward:
Stick a fork in the Seahawks?
I've been skeptical of this Seahawks team the whole year. The defense is a mess once again, with guys routinely running wide open in the secondary. They were never going to be able to count on Wilson to do it all by himself, and now it looks like they might not even have him at all. Wilson jammed his middle finger on Aaron Donald after a throw, and eventually had to leave the game due to the nasty dislocation.
Wilson has carried the team on his shoulders for years now, and it would be hard to overstate the impact of his loss if they have to play any amount of games without him. Geno Smith did an admirable job filling in for Wilson on Thursday night, but that was quite clearly a flash in the pan.
The Seahawks have Wilson, a very solid receiving duo in Tyler Lockett and D.K. Metcalf, and not much else. They're now 2-3, and are lucky to be that. In their 'win' over the 49ers last week, they gained only 234 total yards of offense (San Francisco had 457). The final score there was very misleading, so I was already expecting regression before the Thursday night debacle.
If the Cardinals win on Sunday, Seattle will be three games back of the division after only five weeks, with their star quarterback injured. It just looks bleak right now, and I don't want any part of the team moving forward.
Read our picks and predictions for EVERY NFL Week 5 matchup!
LET GENO COOK ♨️

GENO SMITH ➡️ DK METCALFpic.twitter.com/dq50CMvkeL

— Pickswise (@Pickswise) October 8, 2021
Rams win, but don't impress
This game was one of the sloppiest of the season. We had multiple missed kicks, the double-punt, and a whole bunch of bizarre plays. Neither side brought their A-game, and despite their victory, I wasn't impressed with the Rams. It's the NFL, you'll take a road division win whenever you can get one, but this was hardly an inspiring effort.
Matthew Stafford finished with 365 yards, but a large chunk of those came on a few blown coverages from the Seahawks' aforementioned sieve of a secondary. In the first half, Stafford was erratic, missing a bunch of easy throws and tossing a truly mind-boggling interception.
He made some mistakes you'd expect from a rookie, and he hurt his finger as well. Fortunately, he was able to play through his injury, unlike Wilson, but I have some concerns. It was the second week in a row that Stafford struggled for long stretches, after his poor performance against the Cardinals in Week 4.
The Rams' defense also continues to look vulnerable after defensive coordinator Brandon Staley left for the Chargers. The secondary gave up several big plays. They replaced the struggling David Long Jr with rookie Robert Rochell at cornerback, and Rochell promptly got torched multiple times.
Like I mentioned above, they let Geno Smith look pretty good in his first regular-season action in years. That says it all. The Rams are 4-1, and are capable of being a very good team. But it's important not to get swept up in the hype that caused their futures odds to shorten dramatically after a couple of early wins. At their current price in the market, I don't want any piece of their futures.
Make sure you find out Jared Smith's NFL Week 5 best bets!
Pickswise is the home of free NFL Picks and NFL Odds. Check out the latest NFL Prop Bets and NFL Parlays as well as expert NFL Underdog Picks and NFL Computer Picks.