Thursday Night Football touchdown scorer predictions and prop bets for Dallas Cowboys vs New Orleans Saints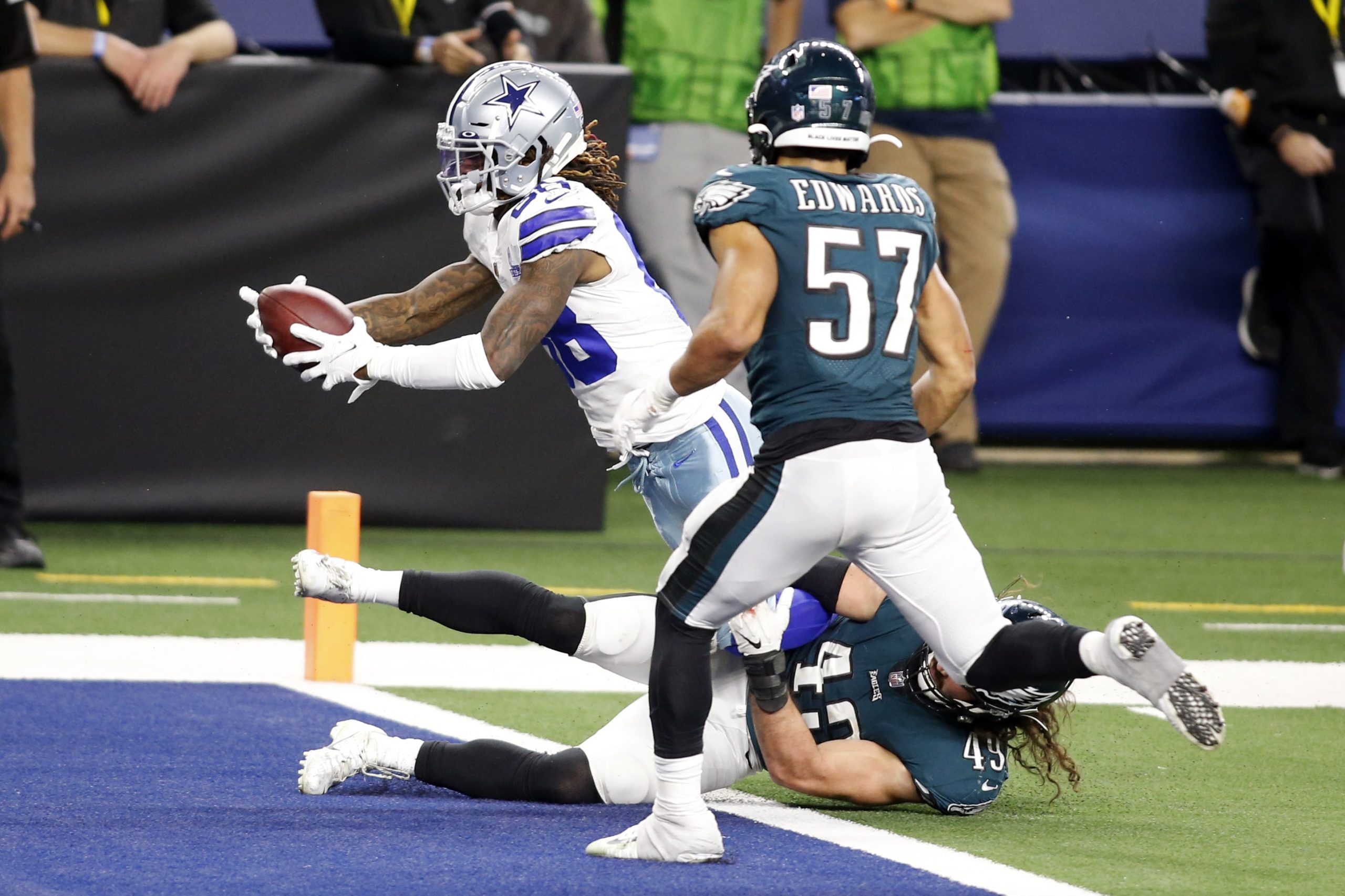 For the second time in as many weeks, the New Orleans Saints are playing on Thursday. New Orleans also got primetime billing last week, when it followed up the first two Thanksgiving games with a 31-6 loss to the Buffalo Bills. The Saints and Dallas Cowboys have Thursday all to themselves this time around, of course.
Will things go better for head coach Sean Payton's squad than they did against Buffalo? Or will Dallas – which also lost on Thanksgiving – be the team to get back on track? For now, though, we are focusing on the individual aspect of Thursday Night Football. Who is going to find the end zone? Let's take a look at some of the best touchdown scorer bets for this all-NFC showdown.
First touchdown scorer: Marquez Callaway, WR, Saints (+1800)
I'm not big on favorites in this market, because the first touchdown scorer is generally a crapshoot (there are some exceptions, such as Derrick Henry, when he was healthy). You can almost always find better value with longer odds, and I think that is once again the case this time around. I'm not going to bite on Saints running backs Alvin Kamara (the favorite at +700) and Mark Ingram (+750). When you can get more than double the number on Callaway, it's a chance you have to take.
I rolled with Callaway last week, too, and that obviously didn't pay off as the Saints laid an egg. But there is no reason to not go right back to the well. Callaway has emerged as a reliable red-zone target, to the extent that he has a 2-touchdown lead among New Orleans pass catchers with 6 on the season (Kamara is next with 4 and no other wide receiver has more than 2). The University of Tennessee product has scored in 3 of the last 4 games and all 6 of his TDs have come in the past 9 outings. With the Saints playing in the Mercedes-Benz Dome in a night-game atmosphere and the Cowboys defense reeling from last week's effort, the home team should be able to get off to a hot start. Don't be shocked if it's Callaway who is responsible for it.
Be sure to check out our full game preview for Dallas Cowboys vs New Orleans Saints
Anytime touchdown scorer: CeeDee Lamb, WR, Cowboys (+130)
It was silence of the Lamb last week, as the Cowboys' electric receiver out of Alabama missed the Thanksgiving game while in the NFL's concussion protocols. He was cleared on Monday and should be good to go for Thursday. Lamb has scored 6 touchdowns this season and 5 have come in his last 6 games. Amari Cooper (Covid-19 protocols) has still not been cleared, so Lamb is likely to be Dak Prescott's primary weapon against New Orleans. Whereas the Saints are third in the NFL against the run, they are 23rd in passing defense. At +130, Lamb has good value to add another TD to his 2021 total on Thursday.
Anytime Touchdown Scorer FAQs
What does "anytime touchdown scorer" mean?
Anytime touchdown scorer is a popular player prop bet that NFL bettors can wager on throughout the season. But what is it, and how do you win?
As the name suggests, placing a wager on the anytime touchdown scorer market is when you tip a particular player to score a touchdown during a game. This can be a rushing or receiving touchdown for an offensive player, or you can wager on a team's defense/special teams to score a touchdown by interception return and fumble return or kickoff and punt returns.
If your player or defense scores a touchdown, you win! The odds will differ from player-to-player depending on the sportsbooks' calculated probability of that player scoring.
Does anytime touchdown scorer include passing touchdowns?
Not for a quarterback, no. A player must get into the endzone, himself, in order to qualify as an anytime touchdown scorer. If a quarterback throws a touchdown pass, only the player who caught it counts as the scorer. If Tom Brady throws a touchdown pass to Mike Evans, wagers placed on Evans as an anytime touchdown scorer will cash. However, those placed on Brady as an anytime touchdown scorer will not (unless he also runs for a TD). See below for more on what the anytime touchdown scorer market means for quarterbacks.
What does anytime touchdown scorer mean for a QB?
For a wager on a QB to be an anytime touchdown scorer to cash, he must follow the same rules as a running back, tight end, or receiver. He must get into the endzone himself, either as a runner or a pass-catcher.
In the age of the mobile quarterback, QBs such as Lamar Jackson, Patrick Mahomes, Kyler Murray, and Josh Allen are often seen rushing in for a touchdown on any given Sunday. And don't forget the occasional Philly Special, either. QBs can sometimes catch passes for TDs, too.
Pickswise is the home of free NFL Predictions  and NFL Odds. Check out the latest NFL Prop Bets and NFL Parlays as well as expert NFL Underdog Picks and NFL Computer Picks.