Top 10 most INSANE moments of the 2021 NFL regular season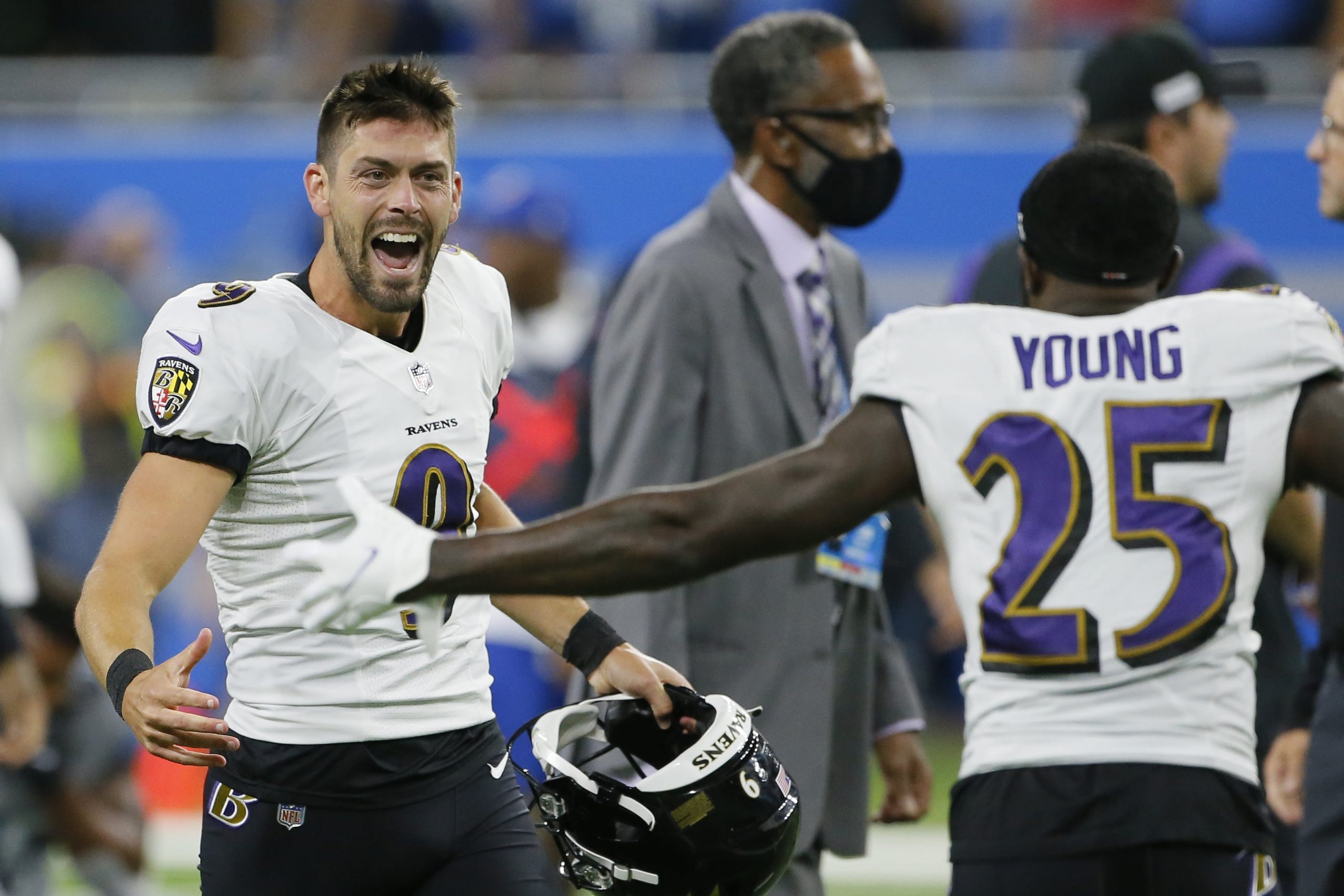 Before we look ahead to the playoffs, it's time to take a look back on a 2021 NFL regular season that had absolutely everything. There was good (thrilling games, dramatic division races), bad (Covid-19 issues, a crushing injury to Derrick Henry), and ugly (New York teams attempting to play football, the end of Antonio Brown's Tampa Bay tenure).
It was tough to narrow it down to just 10 on the following list, but here are our most insane moments of the regular season.
10) Big OL TD that didn't count

Robert Hunt is a hero
1) He decides the screen is meant for him
2) Catches the ball and directly heads to the end zone with purpose
3) He makes an amazing effort to "score"
4) While knowing the play is illegal, he celebrates like it should be a TD
5) All of the above pic.twitter.com/8oyt0DfBYp

— Geoff Schwartz (@geoffschwartz) November 12, 2021
The craziest touchdown of the season did not even count. But who cares! Minor details, folks; minor details! What matters is that Miami Dolphins offensive guard Robert Hunt delivered one of the most memorable — and certainly one of the most improbable — plays of the year. In Week 10 against the Baltimore Ravens, Hunt hauled in a wayward dump pass from Tua Tagovailoa at the 12-yard line, weaved his way inside the 5, and then barreled over and around two defenders on a head-over-heels trek to the endzone. Hunt extended the ball over the goal line before losing control of it, such that it would have been ruled a touchdown…if not for the entirely insignificant detail that he was not an eligible receiver on the play and therefore couldn't be the first one to touch Tua's pass. No matter. Still epic.
9) WTF was that WFT sideline fight?!
The Washington Football Team is the only franchise in football that does not have a permanent nickname. It is also the only franchise that threw hands – at each other! – on the sideline during a game in 2021. In the process of a 56-14 humiliation at the hands of the Dallas Cowboys in Week 16, defensive linemen Daron Payne and Jonathan Allen started jawing on the bench. Payne put a finger right in Allen's face, to which Allen responded by throwing a punch. It – much like everything about the Football Team's season – did not connect.
8) Jalen Hurts pens letter to WFT after railing collapses
One week following the Payne-Allen incident, Washington lost at home to the Philadelphia Eagles 20-16. As Philly QB Jalen Hurts was leaving the field, Eagles fans were leaning over the railing that separated them from the field – trying to give Hurts high-fives. The railing promptly collapsed, sending multiple fans tumbling onto the turf. It wasn't a particularly notable incident since thankfully no one was hurt, but the way that Hurts responded made it memorable. Before exiting through the tunnel he stopped and posed for photos and selfies with his new friends. Two days later, the second-year player out of Alabama sent a letter to the WFT organization inquiring about what kind of safety measures would be taken to prevent similar incidents in the future.
Philadelphia Eagles QB Jalen Hurts sent a letter to the Washington Football Team and the NFL today asking "what follow-up action is being considered" after a railing at FedEx Field collapsed Sunday night, sending fans tumbling and nearly hitting him. pic.twitter.com/97LdY814KS

— Nicki Jhabvala (@NickiJhabvala) January 4, 2022
7) Jon Gruden gets the boot
We have already seen a few head-coaching ousters at the end of the regular season, most notably the stunner of Miami's Brian Flores. None will be more shocking and unexpected than Jon Gruden's midseason exit from the Las Vegas Raiders. From completely out of nowhere, on Oct. 11 Gruden resigned instead of waiting to be fired after a history of racially-charged e-mails was uncovered.
Seriously, how did the Raiders survive this incident – and others – to eventually make the playoffs? Well, you will find out one of the answers to that question at the end of this piece…
6) Colts (-14) miss playoffs by losing to Jaguars on final day
Jaguars at home since 2015:

vs Colts: 7-0
vs everyone else: 15-35 pic.twitter.com/mWZAe5LC6D

— NFL on CBS 🏈 (@NFLonCBS) January 9, 2022
All that stood between the Indianapolis Colts and the playoffs in Week 18 was the Jacksonville Jaguars. That's right; all Indy had to do was beat 2-14 Jacksonville to keep its season alive. Carson Wentz and company were -14 favorites; only the Buffalo Bills (-16 vs the New York Jets) were bigger favorites on the final weekend. But the Colts didn't come close to covering; they didn't even come close to winning outright! The Jaguars, who could have tanked to guarantee the No. 1 pick in the draft, led from start to finish en route to a 26-11 victory. Jacksonville still ended up getting No. 1 since the Detroit Lions also won, beating the disinterested Green Bay Packers 37-30. Now, the Jags and Lions have unexpected offseason company on the golf course in the form of the Colts.
5) Aaron Rodgers shares his thoughts on Covid-19
"If science can't be questioned it's not science anymore it's propaganda." -Aaron Rodgers pic.twitter.com/Zn9q9bz0Qw

— Hunting Wolf In PA🍊 (@SlayerWolf11) December 29, 2021
Aaron Rodgers is going to win another NFL MVP (he is a -500 favorite). That doesn't mean the 2021 calendar year was smooth sailing for the veteran QB. It started with him threatening to sit out the entire season instead of playing again for the Green Bay Packers. It continued with him missing a game because he got Covid-19 and is unvaccinated, after which he admitted to lying about his vaccination status. Rodgers had previously said he was "immunized" from the virus. The 38-year-old then went on "The Pat McAfree Show," questioning the validity of science and referring to it as propaganda.
Welp, at least he's good at football!
4) Urban Meyer gets hired (for some reason), and fired (for obvious reasons)
Honestly, the simple fact that Jacksonville even hired Urban Meyer in the first place should go down as one of the most insane moments of 2021. That it ended in complete disaster is not at all surprising. But the exact fashion and the swiftness with which it ended could not have been predicted even by those who are extremely familiar with the charade that is Meyer.
The downfall started with him getting cozy with a woman who wasn't his wife at a bar in Ohio, when he should have been flying back to Jacksonville with his team following a Week 4 loss to the Cincinnati Bengals. On the heels of additional alleged incidents like calling his assistant coaches "losers" and kicking kicker Josh Lambo, the plug was pulled on Dec. 16 with the Jaguars sitting at 2-13.
3) Justin Tucker's field goal
66 YARDS. GAME-WINNER. NFL RECORD.

Justin Tucker is CLUTCH!@Ravens @JTUCK9 pic.twitter.com/K4j3GgyAxg

— NFL UK (@NFLUK) September 27, 2021
If you're going to break the all-time record for longest field goal, why not do it in dramatic fashion? That is exactly what Justin Tucker did, as his 66-yard boot came with the Ravens trailing the Detroit Lions by 1 point with 3 seconds remaining in their Week 3 contest. It sailed through as time expired for a 19-17 victory, made all the more amazing by a bounce off the crossbar that left fans on the edge of their seats – waiting for seconds that must have felt like minutes to see if it would go through. It did, which not only won the game but also broke Matt Prater's 64-yard record that had stood since 2013.
2) Antonio Brown
Video of Antonio Brown leaving the field after taking off his jersey and shirt and throw it into the stands. pic.twitter.com/1hwNYei5Fq

— Field Yates (@FieldYates) January 2, 2022
When the Tampa Bay Buccaneers signed Antonio Brown during the 2020 season, they said he was on a zero-tolerance policy. With one strike, he would be gone. Well, maybe winning the Super Bowl last season bought him an extra strike – because when Brown was reported to have used a fake vaccination card to avoid NFL Covid-19 protocols earlier this season, the Bucs didn't release him.
Brown survived strike one, but he didn't survive strike two. The exact order of events of Jan. 2 may never be confirmed, but during Tampa Bay's come-from-behind win at the New York Jets, Brown refused to go in the game because of what he claimed was an injury. He proceeded to take off his jersey and pads, toss them into the stands, and run off the field. He was also told – either before or after his premature exit – that he was off the team. That became official a few days later. Good riddance!
1) Raiders vs Chargers
This isn't a projected outcome of the Chargers/Raiders game: This is an EKG of every single person in Pittsburgh.

Someone better check on them for tachycardia. pic.twitter.com/Ali7D6MyQD

— Schlasser (@UrinatingTree) January 10, 2022
The NFL saved the best game of the regular season for last. Even without playoff implications, Sunday Night Football in Week 18 between the Las Vegas Raiders and Los Angeles Chargers was incredible. Trailing by 15 points in the fourth quarter, the Chargers converted a total of six fourth downs, scored twice, and tacked on one 2-point conversion to force overtime. The Raiders eventually won it on a 47-yard field goal by Daniel Carlson as the OT clock expired.
Throw some absolutely ridiculous postseason scenarios into the mix and the game was even more absurd. You see, this was a win-and-in, lose-and-go-home situation for each team — unless it ended in a tie. A tie would have sent both to the playoffs while knocking out the Pittsburgh Steelers. Anything other than a tie would have been enough for the Steelers to clinch a spot. Disaster almost struck for Pittsburgh when the game not only went into overtime but was also still tied with 2 seconds remaining. For a moment it seemed like Las Vegas would be content to run out the clock and settle for a tie, but a late timeout by Los Angeles may have changed the Raiders' decision and they ultimately decided to go for the knockout punch. Carlson delivered, kicking his way onto the Christmas card lists of Steelers fans in 2022.
Pickswise is the home of free NFL Picks and NFL Odds. Check out the latest NFL Prop Bets and NFL Parlays as well as expert NFL Underdog Picks and NFL Computer Picks.