NFL's Carbon Penalty Flag: Unsustainable Private Jet Use Raises Environmental Alarms
With player contracts hitting over $50 million per year and state-of-the-art stadiums totaling close to $5 billion, the NFL has long been synonymous with opulence and excess. And while paying players for bringing in crowds is one thing, spending money on things like private transportation—which affects our environment—is another.
We looked at the private jet usage of every NFL team owner to see which ones put the most strain on our ecosystem and which deserve a penalty flag for CO2 emissions.
The NFL Owners Whose Private Jets Have the Highest Carbon Footprint
Of every team owner in the league, Arthur Blank, chairman of the Atlanta Falcons, is the biggest offender. One of his privately owned jets (tail number N62LV) produces nearly 2,000,000 kg of carbon dioxide each year. According to the Environmental Protection Agency (EPA), that's the equivalent of nearly 450 passenger cars driving for an entire year, and it consumes the equivalent of nearly a quarter of a million gallons of gasoline annually.
Amazingly, Blank owns ANOTHER private jet, which produces an additional 1.6 million kg of CO2 schlepping him and his team around. That's a total of 3.6 million kg of CO2 every year, the equivalent of just over 800 passenger cars driving for an entire year.
Second place goes to Jim Irsay, owner of the Colts, who has four private jets. The two he uses most frequently produce just over 3,000,000 kg of CO2 each year.
Only four other team owners produce over 900,000 kg of CO2 annually, which is still outlandish:
Shahid Khan, owner of the Jacksonville Jaguars: 2,450,000 kg
Stephen Ross, owner of the Miami Dolphins: 976,000 kg
Jerry Jones, owner of the Dallas Cowboys: 972,000 kg
Jimmy and Susan Haslam, owner of the Cleveland Browns: 971,000 kg
What's even more incredible is the number of miles these jets are flying annually:
Arthur Blank, tail numbers N62LV and N611BF: 372,000 miles
Shahid Khan, tail numbers N919FG and N511FG: 372,000 miles
Jerry Jones, tail number N1DC: 175,000 miles
Jimmy and Susan Haslam, tail number N715CB: 175,000 miles
To put those numbers into perspective, you could hit every single NFL stadium in the U.S. once in a route that's just 28,840 miles long, according to NFL.com. Arthur Blank's jets traveled the equivalent of taking that entire route 13 times last year…considering that most NFL private jets operate four to five times as much during the seasons as they do in the off-season, this is baffling.
The Cost of Luxury: How Much NFL Owners Spend on Private Jet Travel
While the environmental toll from NFL private jet use is insane, the cost is perhaps the only thing more outlandish. Arthur Blank spent over $3.7 million dollars operating his two primary jets: tail numbers N62LV and N611BF. That included maintenance costs, crew salaries, hangar fees, and insurance.

Keep in mind: those numbers DON'T include fuel, which, for Blank, totals close to $1.2 million annually. That's a total operating cost of close to $5 million—higher than the salary of almost every player on the team.
And luxury isn't just reserved for the Falcons…the next eight team owners that spend beaucoup bucks on private jets each rack up totals over $1 million per year, excluding fuel prices:
Jimmy and Susan Haslam, owners of the Cleveland Browns: $1,800,000
Shahid Khan, owner of the Jacksonville Jaguars: $1,700,000
Jim Irsay, owner of the Indianapolis Colts: $1,700,000
Michael Bidwell, owner of the Arizona Cardinals: $1,700,000
Jerry Jones, owner of the Dallas Cowboys: $1,500,000
Stephen Ross, owner of the Miami Dolphins: $1,400,000
Stan Kroenke, owner of the LA Rams: $1,400,000
Robert Kraft, owner of the New England Patriots: $1,300,000
Luxury Meets Sustainability… Sometimes
These private jets aren't all about luxury and opulence, though. Several NFL team owners donate their aircraft to non-profit companies and use them for other worthy purposes from time to time.
Jim Irsay notably used one of his jets to reward contest winners in 2022 with a private flight to see a Colts vs. Giants game, all expenses included. Is it still a major strain on the environment? You bet. Is it a little more justifiable than flying players who earn tens of millions per year to games? Eh. Maybe.
Irsay also had vegan leather seats and vegan wool installed on one of his jets, the "Blue Vegan." Sustainable? Well…no, because he had the real leather and wool ripped out first, but it does help raise awareness for sustainable practices.
The New England Patriots' private jet is large enough to hold the entire team, plus crew members, making it overall a more sustainable way to get around between games. And according to Business Insider, the team owner, Robert Kraft, has used the plane for worthy causes in the off-season, like shipping N-95 masks to China during the COVID-19 pandemic.
And on the other side of the sustainability complex, Shahid Khan, owner of the Jaguars, uses a separate private jet to fly back and forth to London, where he also owns a soccer team. The jet can only hold a handful of passengers, essentially minimizing sustainability. But don't worry…it has a private bedroom, a shower, and a conference room on board.
NFL Opulence: Time for a Change?
Somewhere around 60% of Americans are concerned that climate change will have a personal impact on them, which begs the question: is it time for NFL team owners to be a bit more responsible with their private jet usage? Probably. Or…you know…maybe stoop to the level of us lowly layfolk and hop on a commercial flight instead. Not to say that using more sustainable travel options is the be-all-end-all solution, but in today's world, not being on a jet with a private bedroom and bathroom seems like a step in the right direction.

Full Data Table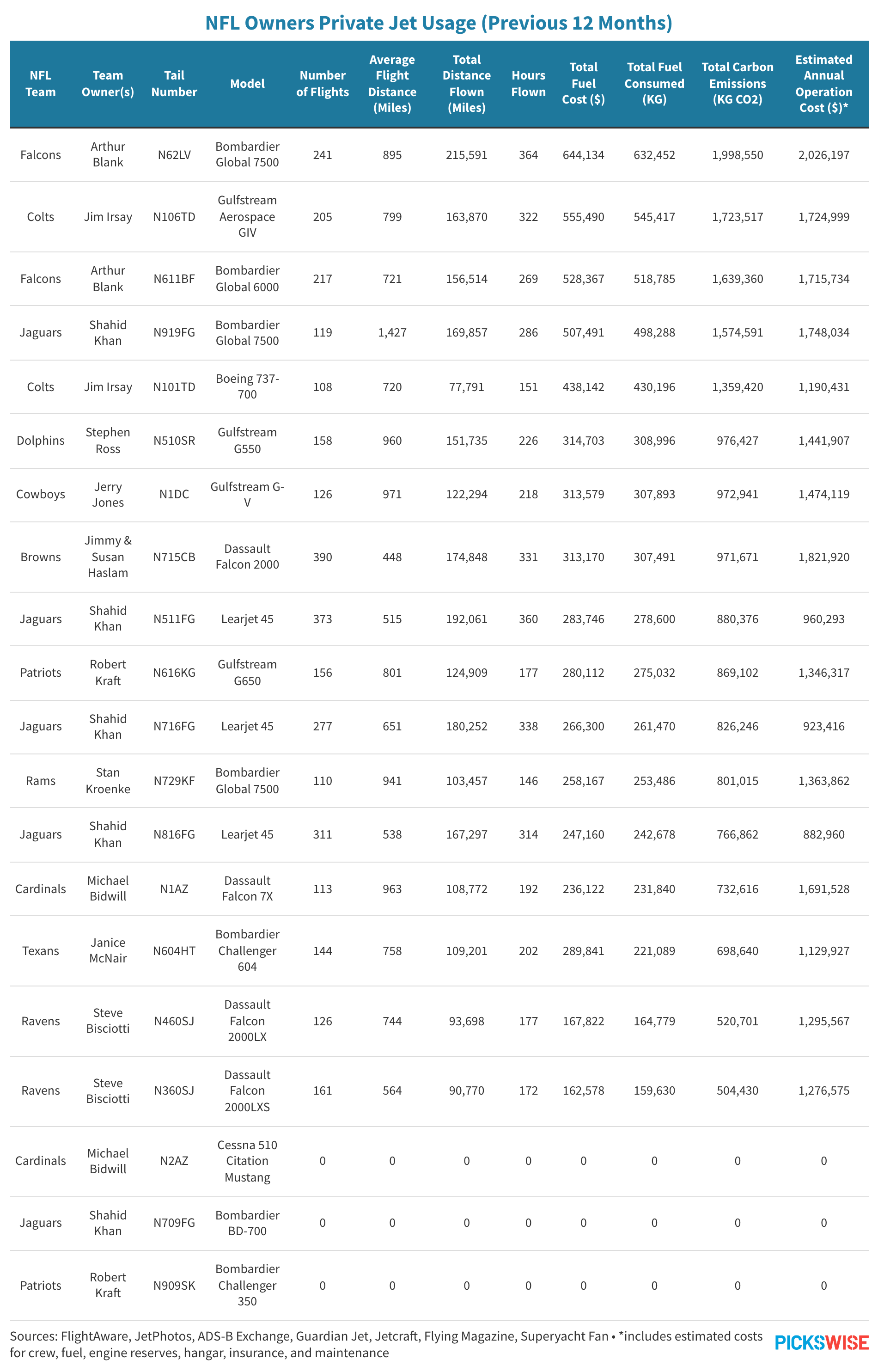 Methodology
To conduct this study, we first sourced data about private jet ownership from jet enthusiast sites and discussion forums. We searched the sites for the names of each of the 32 NFL team owners, took tail numbers where possible, and crosschecked the information using FlightAware and other sources. We then used the ADS-B Exchange to track those tail numbers. Data was pulled for every day from October 2022 through October 2023 and estimated upkeep costs and fuel consumption for each.
Sources
Fair Use
If you'd like to share this data, you are welcome to utilize any of the information or graphics above for non-commercial use. Just make sure to include a linked attribution to this page in your article.