2021 NFL futures, worst regular-season record: Houston has major problems, but how about this +5000 pick?
The Draft is done and the mandatory minicamps are in the books — what better way to fill the gap before training camp starts (July 21 for Hall of Fame game teams Pittsburgh and Dallas, July 27 for everyone else), than to take a look at the NFL 2021 futures markets?
At Pickswise we have a host of great content planned for the 2021 season leading up to Super Bowl 56 and you can already check out articles on everything from teams to make/miss the playoffs in the NFC to who will win Comeback Player of the Year. When the preseason starts, we'll have free picks on the side and total of every game.
But for now, we're still concentrating on the futures markets and, after looking at who will have the best regular-season record earlier this week, it's only natural that now we're considering the teams who may be heading for trouble and could have the worst regular-season record.
Everyone gets a prize here if we get this right — bettors get a nice payout and the teams are 'rewarded' with the first pick in next year's draft (if they haven't traded their choice away already…).
Worst NFL regular-season record odds
So, to business, let's start with the odds on the team with the worst 2021 NFL regular-season record, courtesy of FanDuel Sportsbook (FD) and DraftKings Sportsbook (DK):
Houston Texans +225 (DK)
Detroit Lions +400
New York Jets +1000
Cincinnati Bengals +1100 (FD)
Jacksonville Jaguars +1300 (FD)
Philadelphia Eagles +1500 (FD)
Las Vegas Raiders +1600
New York Giants +2000 (FD)
Carolina Panthers +2500 (DK)
Denver Broncos +2500 (DK)
Chicago Bears +3200 (FD)
Washington Football Team +4000 (DK)
Atlanta Falcons +5000 (FD)
Every other team is 55/1 or greater with one of the two sportsbooks.
This market last season went down to the wire, with the New York Jets leading the way thanks to an 0-13 start, only to throw away the chance of the first pick by winning back-to-back games in Weeks 15 and 16 — on the road to the Los Angeles Rams and then at home to a Cleveland Browns team missing its entire receiving corps due to COVID protocols.
That left the stage clear for the hard-charging Jacksonville to storm home and claim the worst record by losing 15 straight games after a Week 1 win over Indianapolis.
The Cincinnati Bengals (2-14), Arizona Cardinals (3-13), and Cleveland Browns (0-16) and (1-15) had owned the worst regular-season record in the previous four seasons.
So a team can still win a few games and pick up this honor, and remember there are 17 chances to win this season instead of the usual 16, but it's no surprise to see the Houston Texans as the favorite, which we'll discuss in more depth below.
Among the market leaders are last season's worst teams, now equipped with rookie quarterbacks, in Jacksonville (Trevor Lawrence) and the New York Jets (Zach Wilson), plus largely a group of teams with the least convincing QB situations in the league in Detroit, Philadelphia, Carolina, Denver and the New York Giants.
The Lions may well have their supporters in this market after the wild press conferences from rookie head coach Dan Campbell, but there is talent on the roster, and criticism of QB Jared Goff towards the end of his time with the Rams has arguably been over the top — he's still a former first overall draft pick and has a point to prove.
The New York Jets now have a lot of high-end talent on both sides of the ball and look in safe hands with new head coach Robert Saleh, while the Jacksonville Jaguars must still be a potential contender here despite the addition of veteran college coach Urban Meyer and QB Trevor Lawrence, but they are at least surely past their lowest point now.
So now let's look at our suggested best bets for this market:
Check out the rest of our 2021 NFL futures picks
NFL worst regular-season record: Texans +225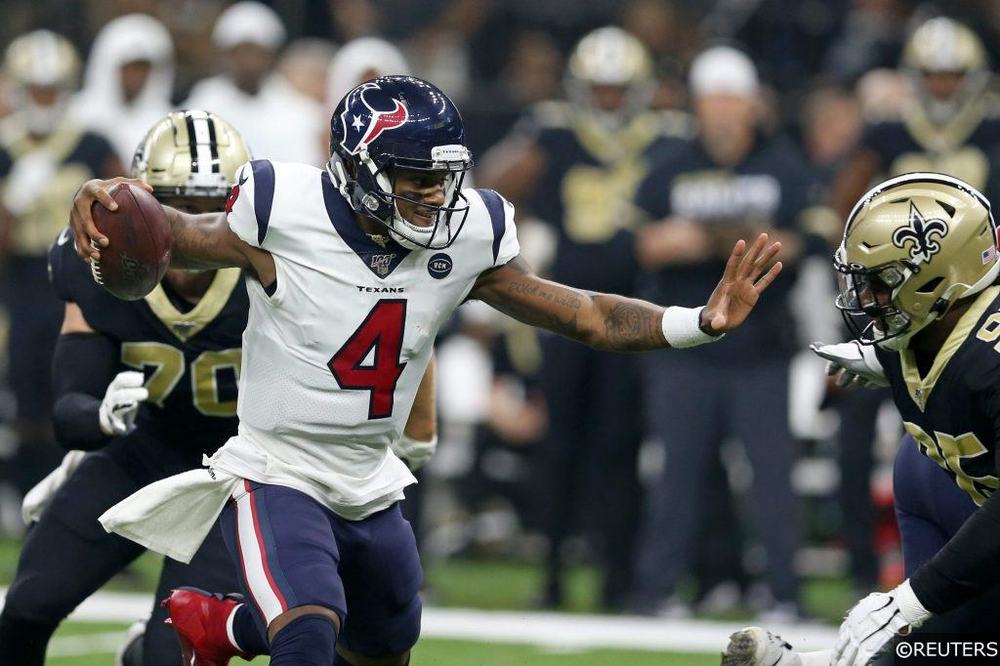 The one scenario in which the Houston Texans are not top contenders for the worst record in the NFL — the one in which Deshaun Watson is on the Texans' roster, allowed to play for the Texans by the NFL, and wants to play for the Texans — has to be ranked less likely than the ones in which he holds out, is suspended by the NFL for off-field reasons, or is traded to another team.
Watson's standoff with the Texans' hierarchy seems well-entrenched, and even if he has a change of heart, there's the prospect that the NFL won't allow him to play anyway.
The fact that the Houston franchise has signed free agents Tyrod Taylor and Jeff Driskel and drafted Davis Mills with its first pick in the draft (albeit in the third round) certainly suggests they aren't banking on having Watson around this season.
Consider that the Texans won only four games last season and that they have potentially lost a top-five quarterback in Watson, plus JJ Watt from their defense, and they have to be in the mix for the worst record. Head coach David Culley — a 65-year-old who has spent the majority of his career at position-coach level — looks to be facing an extremely tough task.
Be sure to read our picks and best bets for which AFC teams will make/miss the playoffs
Longshot bet: Falcons +5000
When you're looking for a big-priced candidate in this market, be aware that a quarterback injury to a team that looks well set could bring a surprise candidate into the mix, but otherwise you're looking for organizational dysfunction as a key factor in the search for a franchise where things could go downhill fast.
Step forward the Atlanta Falcons, who have totally failed to give the impression that they know what they're doing with their planning for the short or long-term.
Landing the fourth pick in this year's draft through a 4-12 record should have been the signal for the Falcons to either blow it all up and start again or fully commit to one last blast behind Matt Ryan and Julio Jones. Instead, they've done neither — retaining the 36-year-old Ryan and not drafting a successor, but also trading away Jones, one of the best receivers in the game over the last decade.
The Falcons didn't seem to know whether to stick or twist and instead dropped their cards on the floor. Rookie tight end Kyle Pitts is an immense talent, but other great players have endured tough first seasons and he could be another.
Atlanta's offensive line has a soft center after losing center Alex Mack and an injury to either starting tackle — these things can happen — could put them in big trouble there. Their defense is young and largely untried in several spots — it could go either way but at these odds, it's worth a small bet to find out.
Some will peg the Falcons as candidates for positive regression after they lost six games by four or fewer points last season but they might not even be good enough to keep games close this time. The five games before their early bye will tell us a lot — if they can't win two out of three against the Eagles, Giants, and Jets, they could be in trouble.
Find out our picks for which team will have the best regular-season record, including a +2800 longshot!