Best Monkey Knife Fight picks for Thursday Night Football: Broncos vs Browns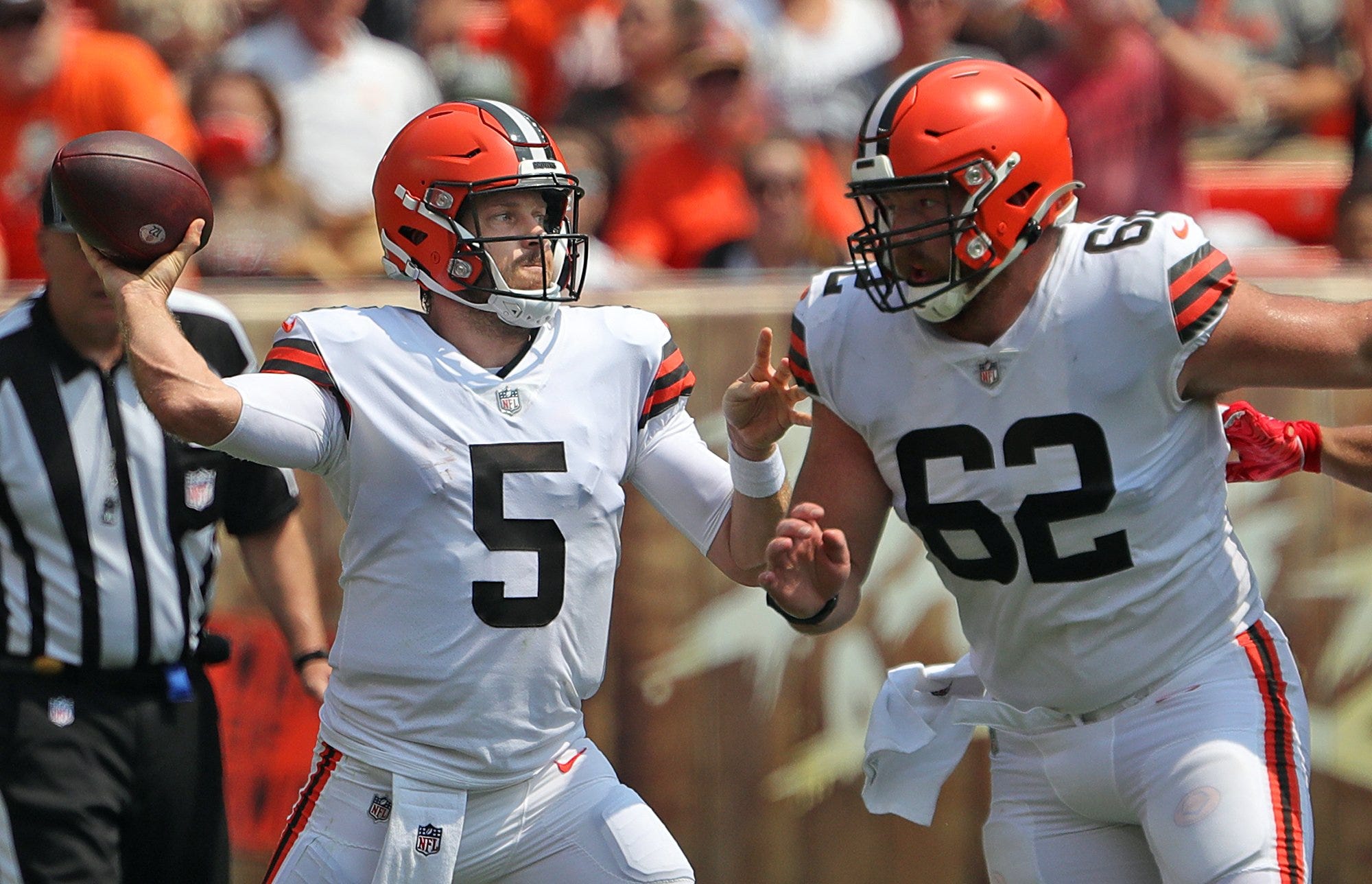 Thursday Night Football is back for Week 7. The NFL's primetime standalone games have been awesome so far, and hopefully that can continue as the Cleveland Browns host the Denver Broncos. Both teams are really banged up, so it looks like it could be a sloppy game. That doesn't mean it won't be plenty exciting. Will Case Keenum once again deliver some magic off the bench for the Browns, or do Von Miller and the Broncos have other ideas?
This spread has moved significantly since Baker Mayfield was ruled out, and we of course have our own thoughts on the side and total, as well, but right now we're talking Monkey Knife Fight and the games they have available to play for TNF.
MKF is one of the fastest-growing daily fantasy sports sites in the U.S. with a unique offering of player props games. You don't have to play against a bunch of professionals with algorithms and it's super easy to use.
Here are my favorite couple of plays for Thursday Night Football, one More or Less, and one Rapid Fire.
Don't forget to check out our free NFL picks on the side and total for every game in Week 7!
New Monkey Knife Fight customers can take advantage of the promotion below and claim their 100% deposit match up to $100!
More or Less – Teddy Bridgewater less than 230.5 passing yards, Case Keenum more than 220.5 passing yards
Looking at this passing yards more or less, I'm going more for Teddy Bridgewater but less for Case Keenum. Let's start with Bridgewater. He's declined sharply over the past few games, and some Broncos fans are beginning to call for Drew Lock. He still doesn't have Jerry Jeudy at his disposal, and has been under heavy pressure recently. Those protection issues should get even worse here against an intimidating Browns pass-rush. Making this even more appealing is the fact that Bridgewater is now dealing with multiple health issues. He's got both foot and quad injuries, so it wouldn't be surprising if he has to leave this game at some point.
Keenum is being underrated. He's shown in the past that he's more than capable of coming in and playing well in a spot start. What's promising here is that Keenum has history with Browns head coach and play-caller Kevin Stefanski. Stefanski was on Minnesota's staff when Keenum had his legendary run with the Vikings to the NFC Championship Game. The Broncos' vaunted defense has also struggled mightily recently, particularly in the secondary. Derek Carr averaged 12.6 yards per attempt against them last week, and they got torched by Ben Roethlisberger the week before. Need I say more?
What is More or Less?
One of MKF's most popular games, More or Less gives you a list of players and their yardage lines, and you simply have to choose More if you think they'll go over, or Less if you think they'll go under. It can include two or more selections, and if you get them all right you win! The more selections there are, the better the payout.
Don't forget to read our touchdown scorer prop bets for Thursday Night Football!
Rapid Fire – Case Keenum +10.5 over Teddy Bridgewater, Odell Beckham +14.5 over Courtland Sutton
For this Rapid Fire we have the choice of Bridgewater vs Keenum +10.5 bonus yards, and Sutton vs Beckham +14.5 bonus yards. I like the Browns players on this one, and it correlates heavily with our More or Less. I just laid out why I'm optimistic about Keenum, and that extends to Beckham. OBJ is questionable for this one with a shoulder issue, but if he doesn't play then this contest will void and we'll get our money back. No harm no foul.
If he does play, I think he's in for a big night. Nick Chubb and Kareem Hunt are both out for this one, meaning the Browns will be passing more than usual. Jarvis Landry is also banged up, which could help Beckham even more. Denver's secondary has been getting burned, and I think Beckham is being underrated. He's been a bit of a disappointment stat-wise this season, but I think that has more to do with Mayfield than anything else. For whatever reason Mayfield has had trouble finding Beckham even though he's been open, and that won't be an issue with Keenum.
What is Rapid Fire?
Similar to More or Less, Rapid Fire is an either/or game, where you choose players at certain positions, with one getting a headstart over the other (eg Tom Brady +35.5 passing yards vs Aaron Rodgers at quarterback), and you decide who you think will come out on top. It can include two or more selections, and again, the more selections there are, the better the payout.
We've hit our last two TNF same game parlays, so make sure you read our picks for Broncos vs Browns (+1450 odds!)