Thursday Night Football Touchdown Scorer Predictions and Prop Bets for Broncos vs Browns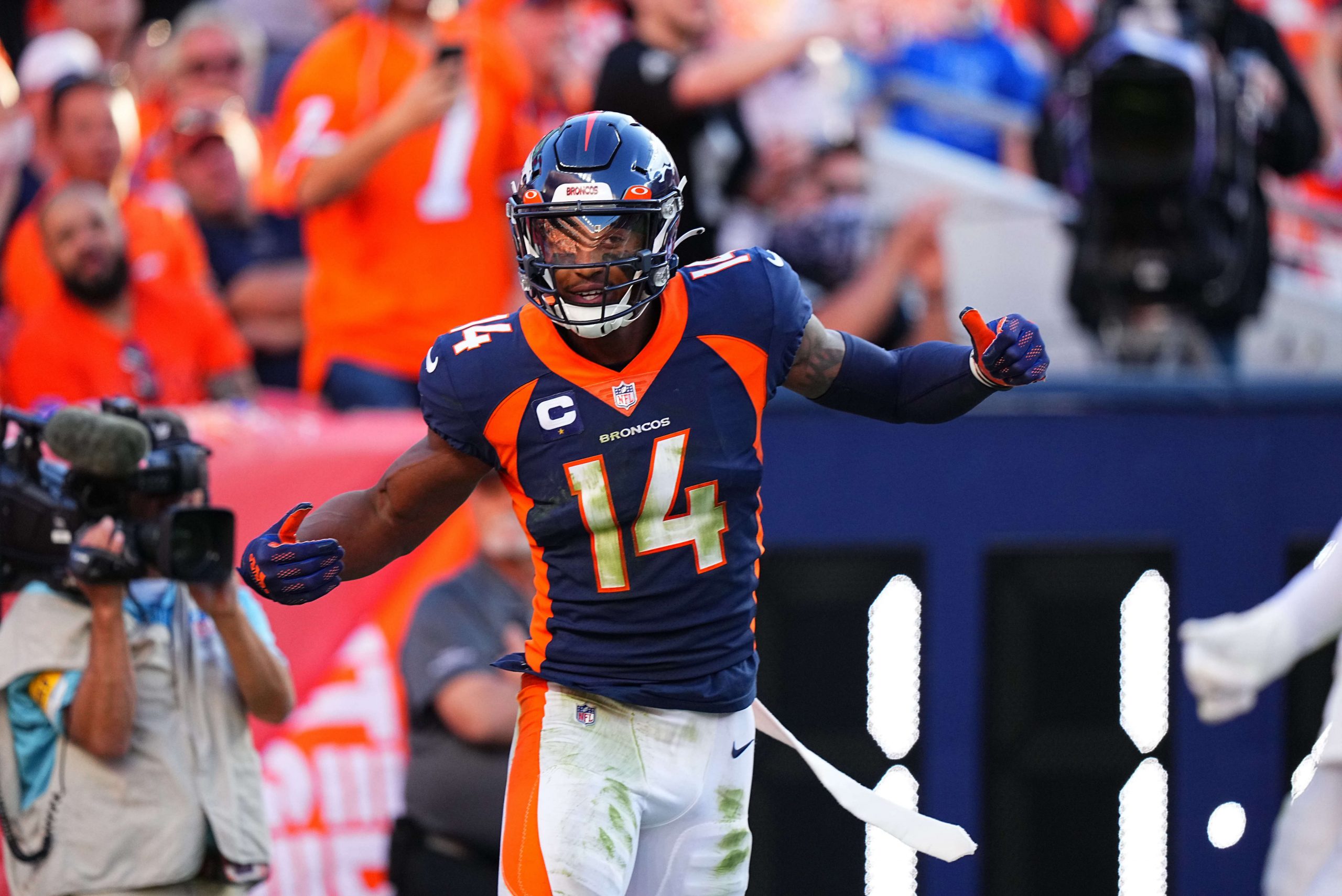 Week 7 of the NFL season gets underway with Thursday Night Football between the Denver Broncos and Cleveland Browns. However, a whole host of stars will be absent. Cleveland quarterback Baker Mayfield (shoulder) is out along with running backs Nick Chubb (calf) and Kareem Hunt (calf). Denver receiver Jerry Jeudy (ankle) is also expected to be sidelined.
Who will pick up the slack and find the endzone on Thursday? Here are some of our best touchdown scorer bets.
First touchdown scorer: Donovan Peoples-Jones, WR, Browns (+1300)
The first touchdown scorer is generally a crapshoot (unless someone like Derrick Henry is involved), and the odds suggest as much. Nobody in this game other than Browns running back D'Ernest Johnson has better than a +1000 chance to find the endzone first. An element of luck is involved whenever a first touchdown scorer bet is cashed. That's not to say that you can't make picks that are smart on paper; it just means that skill isn't the entire equation. That's why I think going big—sometimes really big—is the way to go. Favorites like Johnson (+700) don't entice me much in this market.
But +1300 odds? Now we're talking! That is where you can get Peoples-Jones, who is coming off a 2-touchdown performance in Cleveland's Week 6 loss to Arizona. He caught 4 of 5 targets for 101 yards, too. He preceded that effort with 5 receptions on 6 targets for 70 yards against the Chargers. With both Chubb and Hunt hurt, the Browns will have to take to the air early and often on Thursday night.
Be sure to check out our full game preview for Denver Broncos vs Cleveland Browns
Anytime touchdown scorer: Courtland Sutton, WR, Broncos (+200)
Sutton is also in good standing to have a big day since Jeudy likely won't play. Jeudy has not taken the field since Week 1, and to say that Sutton has stepped up in the former Alabama star's absence would be a gross understatement. Sutton has 15 catches on 25 targets for 214 yards over the past two weeks and he scored against both Pittsburgh and Las Vegas. After being targeted just 3 times in the season opener, the former Oklahoma State standout is averaging 10 targets over the last 5 contests. Meanwhile, the Browns have allowed 14 passing touchdowns—tied for the third most in the NFL.
Don't forget to read our same game parlay for Broncos vs Browns (+1450 odds!)
Anytime Touchdown Scorer FAQs
What does "anytime touchdown scorer" mean?
Anytime touchdown scorer is a popular player prop bet that NFL bettors can wager on throughout the season. But what is it, and how do you win?
As the name suggests, placing a wager on the anytime touchdown scorer market is when you tip a particular player to score a touchdown during a game. This can be a rushing or receiving touchdown for an offensive player, or you can wager on a team's defense/special teams to score a touchdown by interception return and fumble return or kickoff and punt returns.
If your player or defense scores a touchdown, you win! The odds will differ from player-to-player depending on the sportsbooks' calculated probability of that player scoring.
Does anytime touchdown scorer include passing touchdowns?
Not for a quarterback, no. A player must get into the endzone, himself, in order to qualify as an anytime touchdown scorer. If a quarterback throws a touchdown pass, only the player who caught it counts as the scorer. If Matt Ryan throws a touchdown pass to Calvin Ridley, wagers placed on Ridley as an anytime touchdown scorer will cash. However, those placed on Ryan as an anytime touchdown scorer will not (unless he also runs for a TD). See below for more on what the anytime touchdown scorer market means for quarterbacks.
What does anytime touchdown scorer mean for a QB?
For a wager on a QB to be an anytime touchdown scorer to cash, he must follow the same rules as a running back, tight end, or receiver. He must get into the endzone himself, either as a runner or a pass-catcher.
In the age of the mobile quarterback, QBs such as Lamar Jackson, Patrick Mahomes, Kyler Murray, and Josh Allen are often seen rushing in for a touchdown on any given Sunday. And don't forget the occasional Philly Special, either. QBs can sometimes catch passes for TDs, too.
Pickswise is the home of free NFL Predictions  and NFL Odds. Check out the latest NFL Prop Bets and NFL Parlays as well as expert NFL Underdog Picks and NFL Computer Picks.