Best Monkey Knife Fight picks for Thursday Night Football: Buccaneers vs Eagles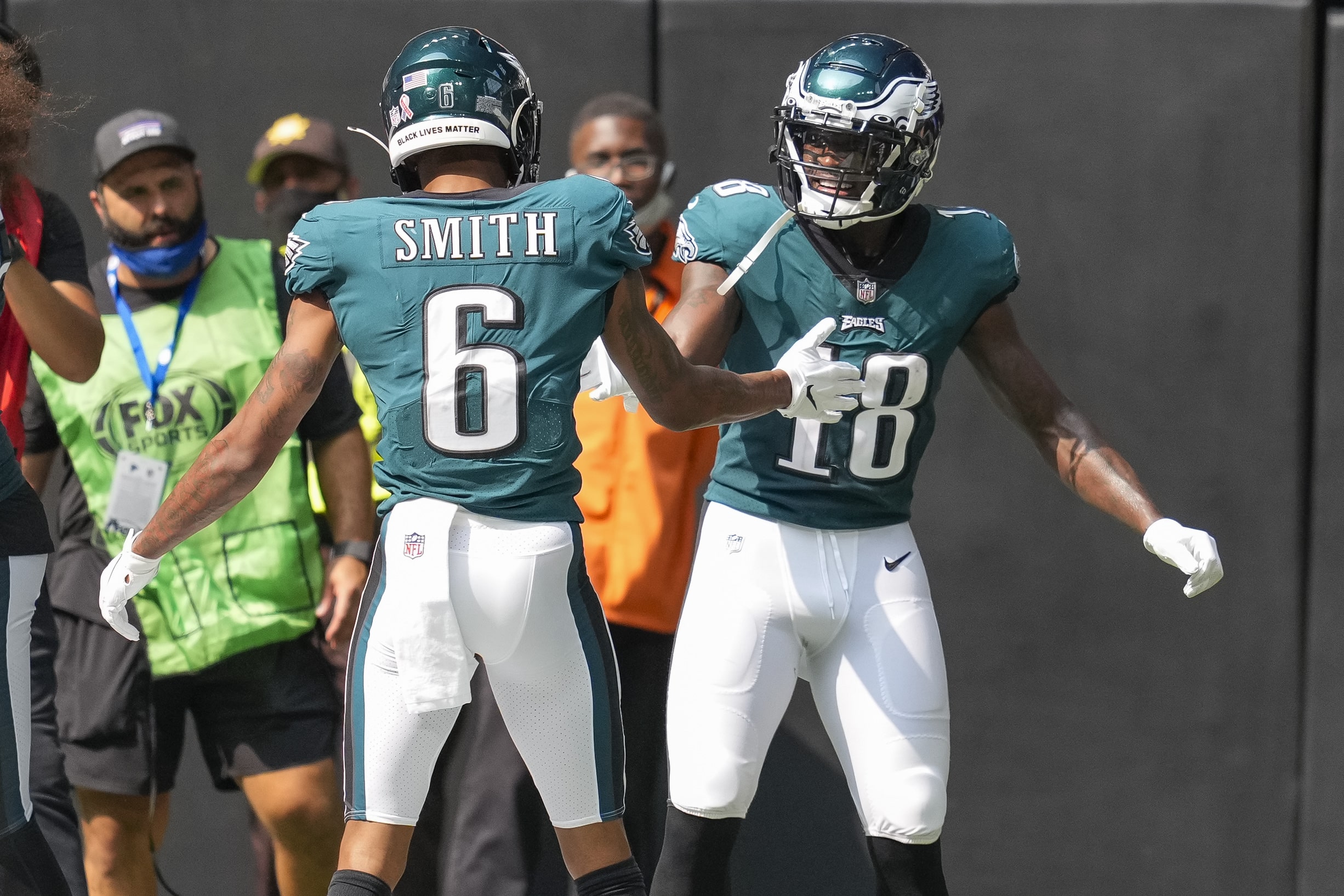 Thursday Night Football is back for Week 6. The NFL's primetime standalone games have been awesome so far, and hopefully that can continue as the Philadelphia Eagles host the Tampa Bay Buccaneers. Tampa Bay is coming off a lopsided victory over the Dolphins, while the Eagles just pulled off a heck of a comeback over the Panthers. Will Philly emerge with another upset win, or does Tom Brady have other ideas?
The public is betting the Bucs heavily here and we of course have our own thoughts on the side and total, as well, but right now we're talking Monkey Knife Fight and the games they have available to play for TNF.
MKF is one of the fastest-growing daily fantasy sports sites in the U.S. with a unique offering of player props games. You don't have to play against a bunch of professionals with algorithms and it's super easy to use.
Here are my favorite couple of plays for Thursday Night Football, one More or Less, and one Rapid Fire.
Don't forget to check out our free NFL picks on the side and total for every game in Week 6!
New Monkey Knife Fight customers can take advantage of the promotion below and claim their 100% deposit match up to $100!
More or Less – Mike Evans less than 74.5 receiving yards, DeVonta Smith more than 74.5 receiving yards
Looking at this receiving yards more or less, I'm going more for DeVonta Smith but less for Mike Evans. Let's start with Evans. The big Bucs receiver cracked 75 yards only 5 times in 16 games last year. He's been a little more productive this season, but I'm not overreacting. The Eagles have a top corner in Darius Slay, who will be paying lots of attention to Evans to help slow him down. Tampa also has a lot of mouths to feed, with Chris Godwin and Antonio Brown competing for Brady's attention. The Bucs are a large favorite of around 7 points, so the game-script favors Smith. If Tampa is up big, the Eagles will be throwing a lot more than the Bucs.
I like the more on Smith for several reasons. The rookie first-round pick sure hasn't had a difficult time adjusting to the NFL. He's recorded 7 catches in back-to-back games, racking up 199 yards over those 2 contests. Smith is a legit deep threat, and the Bucs are burnable over the top right now given all the injuries in their secondary. Tampa Bay is allowing the most passing yards per game of any team in the league, and their defense is ravaged. Just last week, the Bucs let Jacoby Brissett look by far the best he has all season. Smith should have a big day.
What is More or Less?
One of MKF's most popular games, More or Less gives you a list of players and their yardage lines, and you simply have to choose More if you think they'll go over, or Less if you think they'll go under. It can include two or more selections, and if you get them all right you win! The more selections there are, the better the payout.
Don't forget to read PropBetGuy's best player prop for Bucs vs Eagles!
Rapid Fire – Jalen Hurts +20.5 over Tom Brady, DeVonta Smith +0.5 over Mike Evans
For this Rapid Fire we have the choice of Brady vs Hurts +20.5 bonus yards, and Evans vs Smith +0.5 bonus yards. I like the Eagles players on this one, and it correlates heavily with our More or Less. Philly has actually been pretty good at defending the pass this year. It doesn't hurt that Brady is dealing with a thumb injury that has caused him to be limited in practice this week, and Tampa will also be playing without Rob Gronkowski again.
Eagles coach Nick Sirianni has leaned heavily on his passing game this season, usually opting not to run the ball much. So I barely expect him to run the ball at all here against the Bucs' league-best run defense. Tampa Bay simply doesn't allow anything on the ground, and Sirianni of all people will respect that. This Bucs defense has been plagued by injuries, and star linebacker Lavonte David was the latest to go down last week. Hurts has thrown for 326 yards or more in 2 of his past 3 games. I think he'll be able to keep within 20 of Brady.
What is Rapid Fire?
Similar to More or Less, Rapid Fire is an either/or game, where you choose players at certain positions, with one getting a headstart over the other (eg Tom Brady +35.5 passing yards vs Aaron Rodgers at quarterback), and you decide who you think will come out on top. It can include two or more selections, and again, the more selections there are, the better the payout.
Check out our same game parlay for Buccaneers vs Eagles (+782 odds), we hit three NFL SGPs last week!