Super Bowl 55 Trends: A look back at the last five meetings between the Chiefs and Buccaneers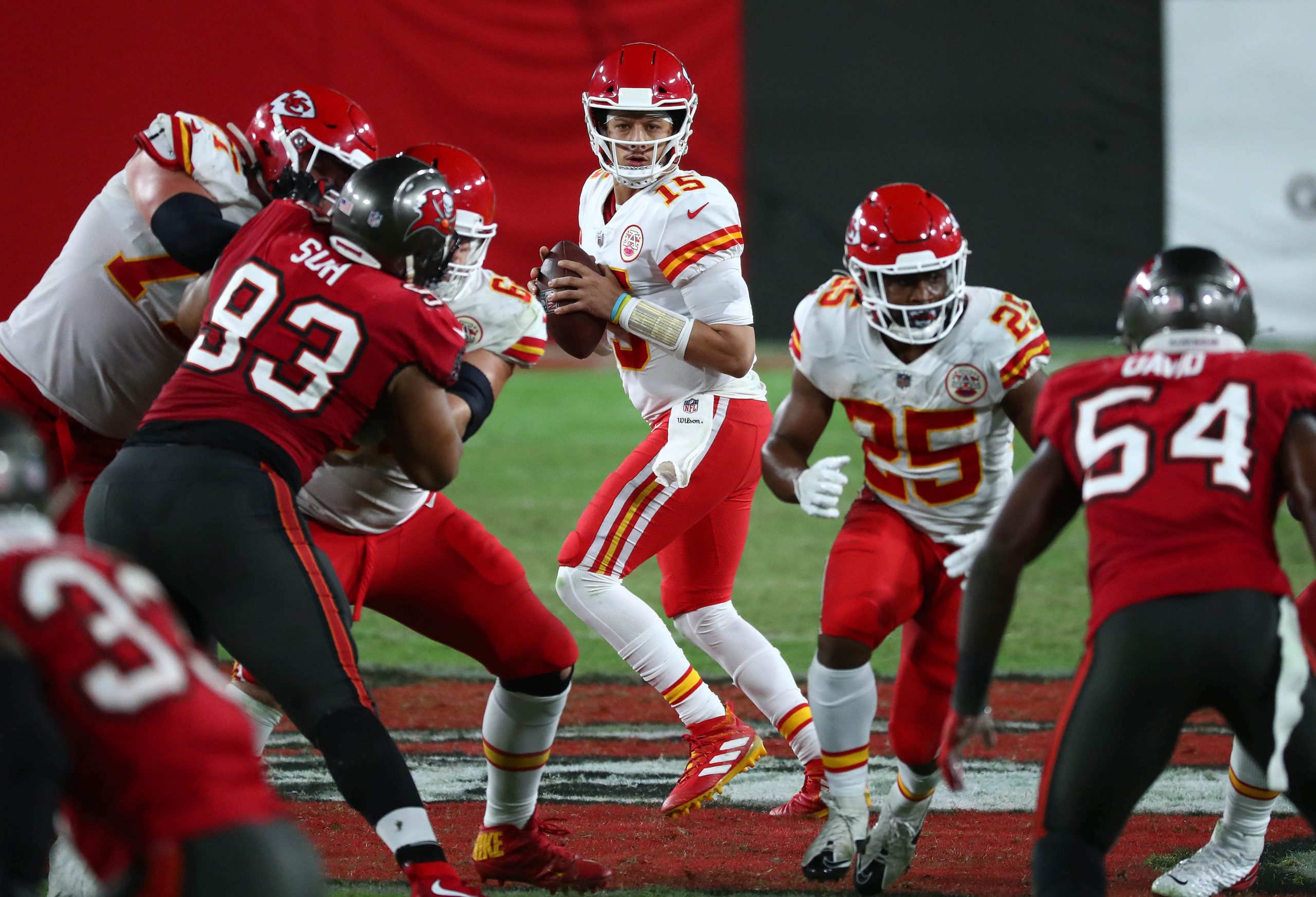 Super Bowl LV, and thus the end of the NFL season, is just a few days away. Kansas City Chiefs vs. Tampa Bay Buccaneers in the fifth meeting of Patrick Mahomes and Tom Brady. We're keeping you primed with all sorts of Super Bowl content leading up to the big game, and today we thought we'd break down some previous meetings between these two franchises.
Since the NFL schedule dictates that teams from opposite conferences only play once every four years, it's a matchup we don't see too often. These teams have never played in a Super Bowl before, so we'll have to go back nearly two decades here. Fortunately, the Chiefs and Bucs played just this last season, and that's where we'll start.
Week 12, 2020 – Chiefs @ Buccaneers (KC win, 27-24)
These teams played in Tampa just a couple of months back, so this matchup will obviously be the most relevant to what we see on the field in the Super Bowl. Kansas City emerged with a three-point victory, but the game wasn't quite as close as the final score would suggest. The Chiefs led right from the jump, and were up by 17 with 12 minutes left before they took their foot off the gas and let the Bucs score a couple of late touchdowns.
One of the keys to this upcoming game will be how Tampa defends Tyreek Hill, especially since he torched them last time. Hill went off for 269 yards and three touchdowns in that Week 12 game, and you can bet that Bucs DC Todd Bowles has been having nightmares ever since. Mahomes got whatever he wanted in that game, while Brady threw a couple of early interceptions before later settling in. If the Buccaneers' secondary plays in the Super Bowl like they did here, I don't see them having much of a shot.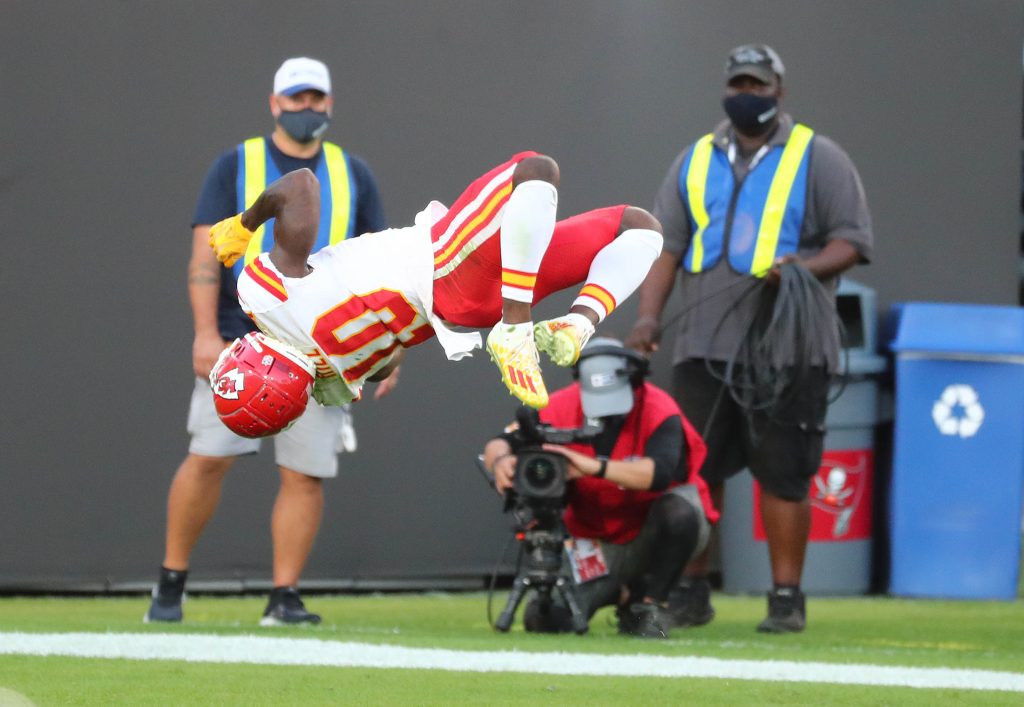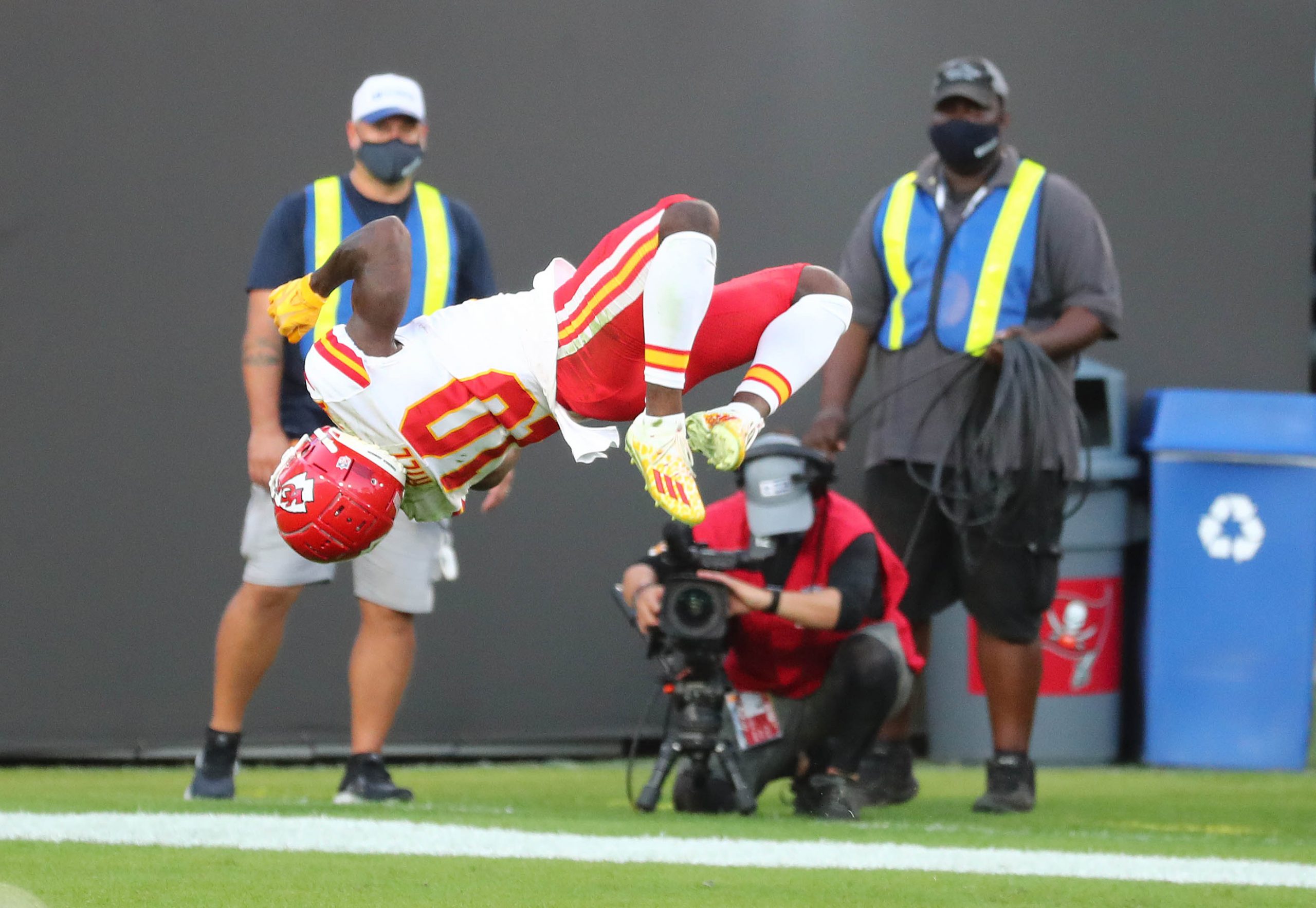 Week 11, 2016 – Buccaneers @ Chiefs (TB win, 19-17)
We have to go back to 2016 to find the next previous meeting between these squads, and both looked a lot different back then. The Chiefs were down 12-10 in the fourth quarter with the ball at the Bucs' six-yard line, but an Alex Smith interception turned into a Tampa Bay touchdown that iced the game for Jameis Winston. A lot has changed since then, but Mike Evans and Travis Kelce were the two leading receivers, so there are still some similarities.
Each team still has a key linebacker from that game roaming the middle of their defense — Lavonte David for the Bucs and Daniel Sorensen for the Chiefs. Other than that the defenses have almost completely turned over. As they often say, the NFL stands for 'not for long.'
Week 6, 2012 – Chiefs @ Buccaneers (TB win, 38-10)
This one is hilarious to look back on. Josh Freeman was at quarterback for the Bucs while Brady Quinn was under center for the Chiefs. Needless to say, both teams have come a long way at the position. Tampa led only 7-3 at halftime before blowing things open in the second half. This season spiraled into a disastrous 2-14 campaign for Kansas City, although it turned out to be something of a blessing in disguise.
It was the last year before Andy Reid took over and completely revamped the team, and it also earned them the first overall pick in the 2013 draft, which they used on left tackle Eric Fisher, a starter to this day. It was also the last of Freeman's three full seasons as Tampa's starter. Things didn't get much better, as the Bucs replaced Freeman with Mike Glennon for the majority of the 2013 season and went 4-12. Kansas City went out and traded for Alex Smith, going 11-5 and making the playoffs in their first year with Reid.
Week 9, 2008 – Buccaneers @ Chiefs (TB win, 30-27 in OT)
We'll be very lucky if we can get a game this thrilling on Sunday. The Chiefs dominated the first couple of quarters, going up 24-3 initially. A kickoff return touchdown helped Tampa Bay cut it to 24-13 before the half, and then things got wild in the fourth quarter. Kansas City was up 27-19, and the Bucs got the ball back with less than two minutes left.
They drove downfield, scoring a touchdown with only 25 seconds left and getting the two-point conversion to force overtime. A Matt Bryant field goal would then send Tampa home victorious. Jeff Garcia got the win, and the 2008 season was the last time he'd ever start a game. It was also Jon Gruden's last season as Bucs coach. Tyler Thigpen started for Kansas City, and he would only start one more game after the 2008 campaign.
Week 9, 2004 – Chiefs @ Buccaneers (TB win, 34-31)
As you can see, the Bucs had owned this matchup historically prior to 2020. In 2004, it was another one that came down to the wire, with Brian Griese leading Tampa Bay to a victory. The Chiefs led at halftime and were up 31-28 entering the fourth, but a Michael Pittman rushing touchdown with 12 minutes left would be the game's final score. Tampa got the win, but it didn't end up meaning much.
Only two seasons after winning a Super Bowl, the Bucs would finish the season just 5-11. Trent Green had 369 yards and three touchdowns for the Chiefs in the loss. It was right in the middle of his strong run in Kansas City that saw him make the Pro Bowl in 2003 and 2005 before quickly fizzling out.
Be sure to check out our full-game preview for the big matchup:
We've also got plenty of expert articles to make sure you're fully informed before making your Super Bowl bets:
Pickswise is the home of free Super Bowl Predictions. Our expert handicappers break down their best Super Bowl Picks, including our best free Prop Bets.