Pickswise NFL debate: Will Aaron Rodgers and the Packers bounce back from Week 1 humiliation?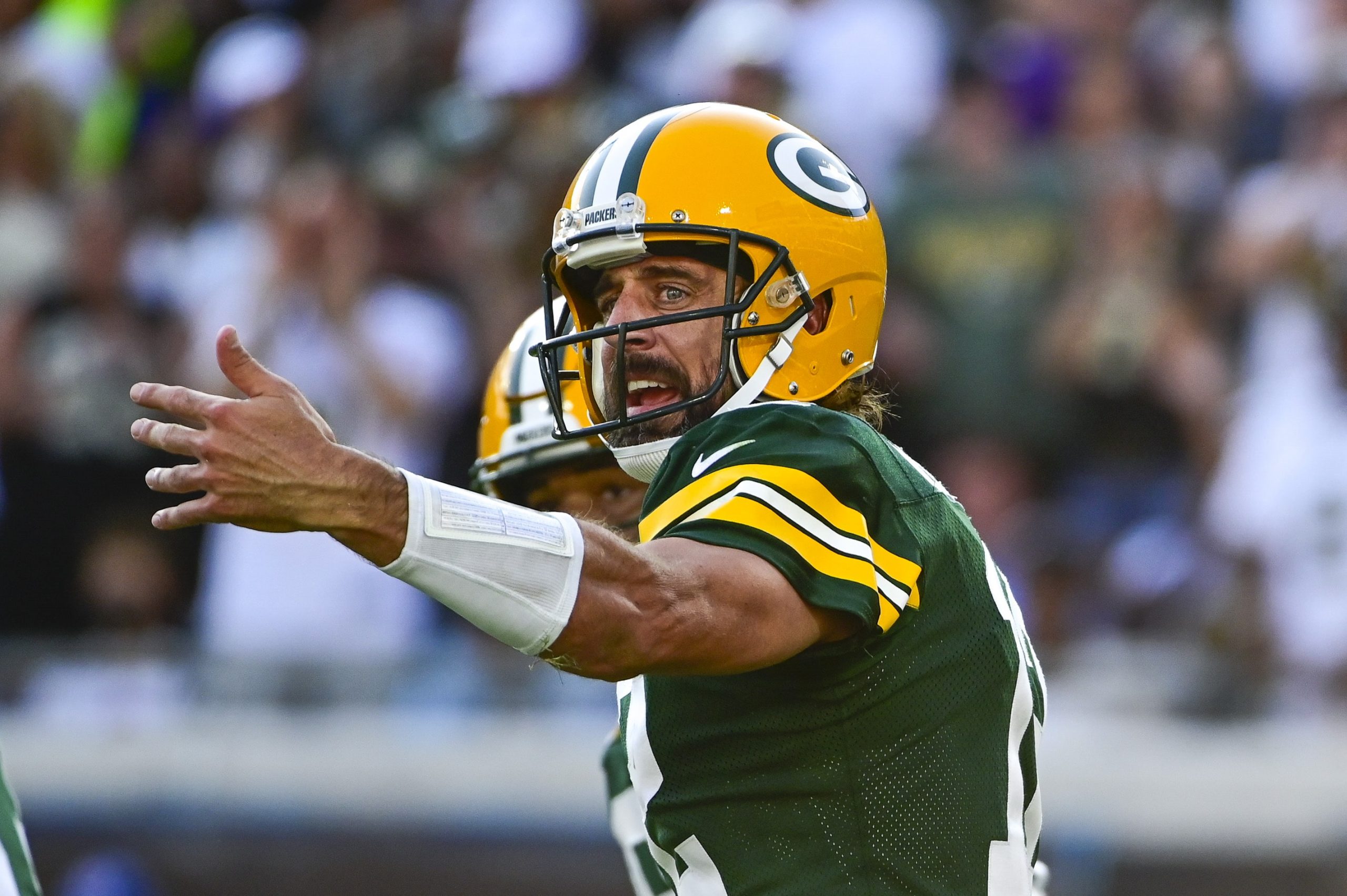 Welcome to the Pickswise NFL debate, where three of our experts give their thoughts on a big talking point from the weekend.
Week 1 of the NFL season is officially in the books, and one of the biggest stories was the flop of Aaron Rodgers and the Green Bay Packers. Rodgers completed just 15 of his 28 pass attempts for 133 yards and 2 interceptions as the Packers went down 38-3 to the Saints.
Green Bay worked hard to get A-Rod back with the team, but would they have been better off if they had let him leave? With the Packers being pushed out to +1400 from +1200 to win the Super Bowl, has there been a sportsbook overreaction to that defeat that has created value? Or have they not reacted enough? Our NFL experts — Jared Smith, Andrew Ortenberg, and Ricky Dimon — give their thoughts on the issue.
Perfect "get right" spot for Green Bay this week
If there was a tonic needed to cure the ailments of the Packers, this week's opponent might be just that. Aaron Rodgers is 17-5 in his career against the Detroit Lions so it's a good bet the Pack will get back to .500 this week. The books also believe Green Bay won't stay down for long. FanDuel actually strengthened the Packers' odds to win the NFC North this week from -145 to -175, a bullish indicator that despite a lifeless start, Green Bay should still be able to find their way into the postseason.
Additionally, the extra regular-season game gives the Packers a little more runway to rev their engines and regain their impressive form from 2020. It's not a bet I would make right now because I see value elsewhere in the NFC, but if you liked the Packers before Week 1 at +1200 then they certainly should be a more enticing option for you to take a nibble now at +1400.
Jared Smith, Sports Betting Analyst
Check out the opening lines for Week 2 of the NFL season, including a couple of early bets to jump on
Will Rodgers and the Packers bounce back? Yes, to an extent
Will Green Bay bounce back and look a lot better than they did on Sunday? Sure, yeah… to an extent. Emphasis on "to an extent". The team clearly just didn't get off the bus, the humidity of playing in Florida heat probably bothered them, and they aren't nearly as bad as they looked. All that being said, I had major concerns about this team entering the year, and those concerns were validated in Week 1. The media is all 100 percent locked in on debating whether or not Rodgers is fully invested mentally in this season, but to me, the issues are bigger than that.
Nobody seems to be talking about the fact that the offensive line is a mess. All-Pro center Corey Linsley was allowed to walk in free agency, and All-Pro left tackle David Bakhtiari is still at least five more weeks away on the PUP list. Rodgers' protection was always going to take a major step back this year, but it's somehow flown under the radar. What's in Rodgers' heart won't matter, I just don't see this offense being nearly as good as it was last year. Have some people overreacted a bit? Definitely. But I still don't want any part of the Packers at +1400 to win the Super Bowl.
Andrew Ortenberg, NFL handicapper
From a 38-3 loss to New Orleans to the Super Bowl…
It's probably a little bit of both, to be honest. Rodgers is 37 years old, is rusty because he didn't do anything football-related during the offseason, is disgruntled with the Packers, and is pretty much disinterested. The Rodgers era in Green Bay is undoubtedly past its prime.
The good news is that this team doesn't have to be any better than it was last year to go places in 2021. Green Bay basically came within one play of reaching the Super Bowl and most of the key pieces are back. Sure, Week 1 was a disaster, but there is plenty of time (even more than usual now that there are 17 games per season) to improve. Moreover, nobody in the NFC (especially in the NFC North) outside of the 4 West teams looked especially impressive.
Don't forget that the Bucs lost to New Orleans by the exact 38-3 score during the 2020 regular season and went on to win the Super Bowl. Wouldn't it be something if Green Bay did the same thing? At +1400, I would happily sprinkle a few bucks on it happening.
Ricky Dimon, NFL handicapper
Make sure you read our MNF reaction, with the key takeouts from the Raiders' overtime win over the Ravens
Pickswise is the home of free NFL Picks and NFL Odds. Check out the latest NFL Prop Bets and NFL Parlays as well as expert NFL Underdog Picks and NFL Computer Picks.