The Burning Question: How far can the Patriots go this season?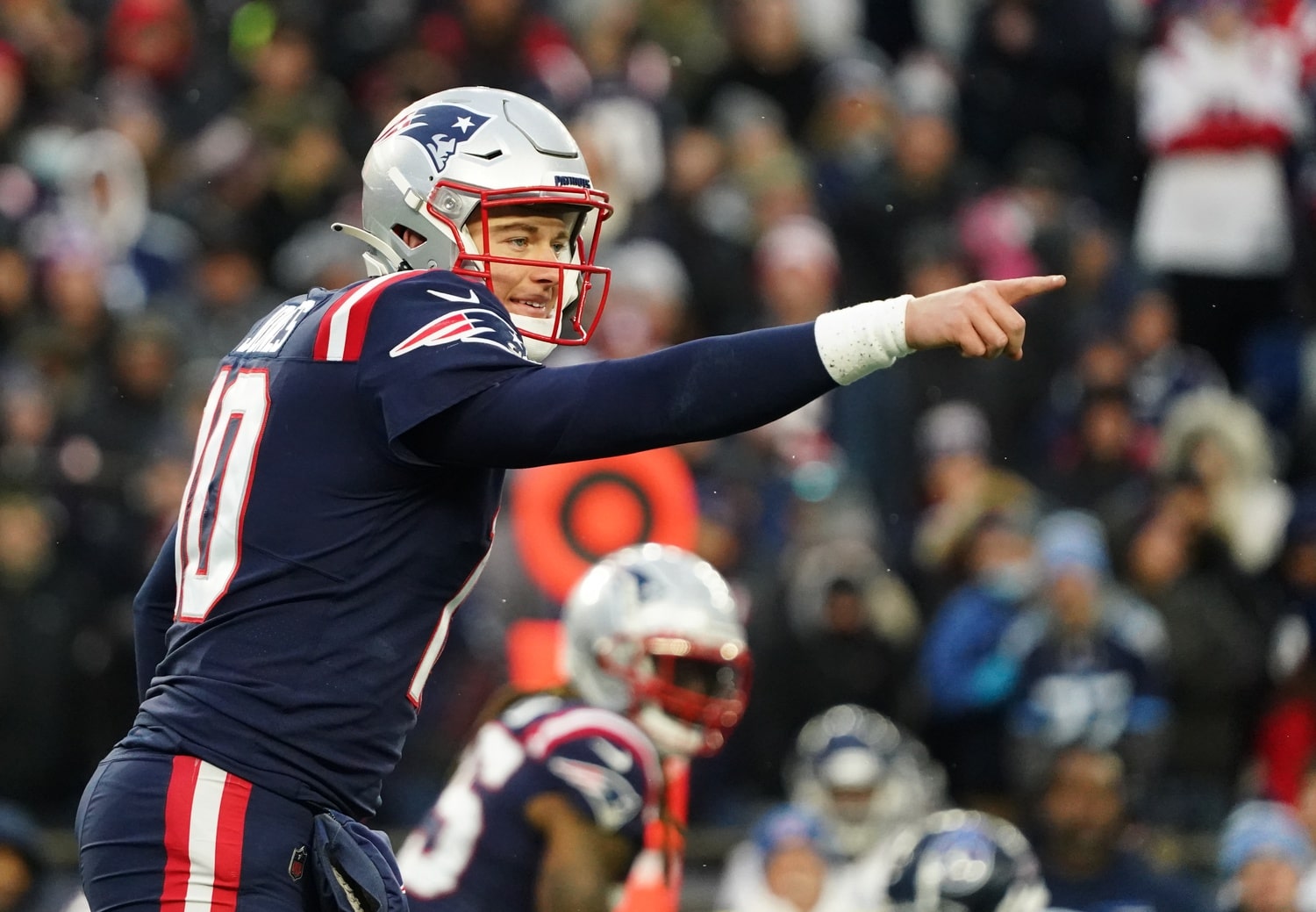 Welcome to The Burning Question, where three of our NFL experts give their thoughts on a big talking point coming out of the past week's football action.
Week 12 was an interesting one as we saw a new name at the top of the AFC standings in the Baltimore Ravens. However, the team that's starting to make plenty of noise and just half a game behind them is the New England Patriots. The Pats have won their last 6 games to improve to 8-4, and Bill Belichick appears to be masterminding a New England revival with Mac Jones under center. They are looking good for a playoff berth, but given the competitive nature of the AFC this year that is still very much up in the air.
F0llowing another superb performance against the Titans, the question has to be asked: how far can this Patriots team actually go this season? With Belichick at the helm, can they really make it to another Super Bowl? Will they even be able to win the AFC East, with the Buffalo Bills breathing down their necks and those two facing off on Monday Night Football this week? And is Jones now the man to beat in the race to be Offensive Rookie of the Year?
Our NFL experts — Jared Smith, Andrew Ortenberg, and Ricky Dimon — give their thoughts on the Patriots' prospects.
Jared Smith: Patriots have the recipe to win it all, but I'm not betting on it

This year's Patriots team draws an eerie resemblance to the 2001 squad. New England upended the "Greatest Show on Turf" St. Louis Rams in the Super Bowl that season, with second-year QB Tom Brady at the helm of an offense and makeshift weapons on the outside including Troy Brown and David Patten as the starting wide receivers, and Antowain Smith as the starting running back. That team was anchored by an elite defense, strong offensive line, and gifted head coach pulling the strings. Sounds familiar, right? The 2021 Patriots have a rookie quarterback who excels at limiting mistakes, and a defense that is amongst the best units in the league. The addition of Matthew Judon seems to be the missing piece up front, as the Pats are now making life very difficult for opposing quarterbacks.
So that's the good, but the bad is also noteworthy. The schedule stiffens dramatically over the next three weeks, with two matchups against the Bills sandwiched around a road game against the Colts. Their Super Bowl odds have also shortened considerably over the last six weeks, which has severely deflated their value. The Pats were as long as +9000 to win the Super Bowl at FanDuel following their loss to the Cowboys in Week 6, and some shops now have them in the +1000 to +1300 range. I do believe there will be spots to back New England as an underdog or short favorite down the stretch, and this team certainly has the formula to win games in January. But I'm passing on the Pats in the futures market this week.
Don't forget to check out our Pickswise NFL Power Rankings ahead of Week 13
Andrew Ortenberg: Still a bit skeptical, but it's possible
Can the Patriots make a run in the playoffs? Absolutely. Especially if they're able to win the AFC East and host a playoff game. But I'm still a bit skeptical for a few reasons. For starters, it's very hard to go far in the postseason with a rookie quarterback. It just doesn't happen very often. Mac Jones still has his fair share of rookie moments, and you can't afford those in the playoffs. I also don't think the Patriots' defense is quite as good as it's getting credit for. New England has just faced a really easy slate of opponent offenses lately. Other than the game against the Bucs, which was played in heavy rain, the best offense the Pats have faced was the Cowboys. They gave up 35 points to Dallas and let Dak Prescott throw for 445 yards (albeit in overtime).
All that being said, I'm certainly not writing them off. The AFC is wide open, and I don't think the Chiefs or Bills are anything to be too afraid of. If anyone could win a Super Bowl with a rookie quarterback, it would be Bill Belichick. But as my colleague Jared astutely pointed out, just a little more than a month ago you could have gotten the Pats at nearly 100/1. So I'm just not running to the window to bet them at below 15/1. That would be chasing, and it's important to stay disciplined when betting futures.
Ricky Dimon: There is only so high the Patriots can go
The Patriots have a high floor, but also a low ceiling. That's enough to survive — and even thrive — in the regular season, especially in this particular season in which there are seemingly no great teams. The problem for New England is that you generally need to have that high ceiling if you want to win in the playoffs. Although no AFC team looks particularly dominant at the moment, you have to think that either the Bills, Chiefs or Ravens will get hot in the playoffs… and maybe all three will! All three of those teams are more talented than the Pats and will beat them if they play their best football. New England will waltz into the postseason, but I'm not about to buy high on this team in the futures market at its current odds.
Speaking of inflated current odds, Jones is now -300 to win Offensive Rookie of the Year. No thanks! Bengals receiver Ja'Marr Chase (+225) has fallen off a cliff over the past four games, but he can catch fire at any moment. Keep in mind that Chase has one 159-yard performance and also a 201-yard effort (both of which included a touchdown). If the No. 5 overall pick can go crazy a couple more times in 2021, he will get right back in the mix. Chase obviously has a great connection with former LSU teammate Joe Burrow, so it can start clicking again at any moment. In a two-man race (no other player has better than +3500 odds to win OROY), Chase as a considerable underdog has better value than Jones.
Make sure you read ex-player scout Jim Monos' latest column on why winning is more important than draft positioning
Pickswise is the home of free NFL Picks and NFL Odds. Check out the latest NFL Prop Bets and NFL Parlays as well as expert NFL Underdog Picks and NFL Computer Picks.