The Pickswise NFL Power Rankings: Chiefs say bye to first place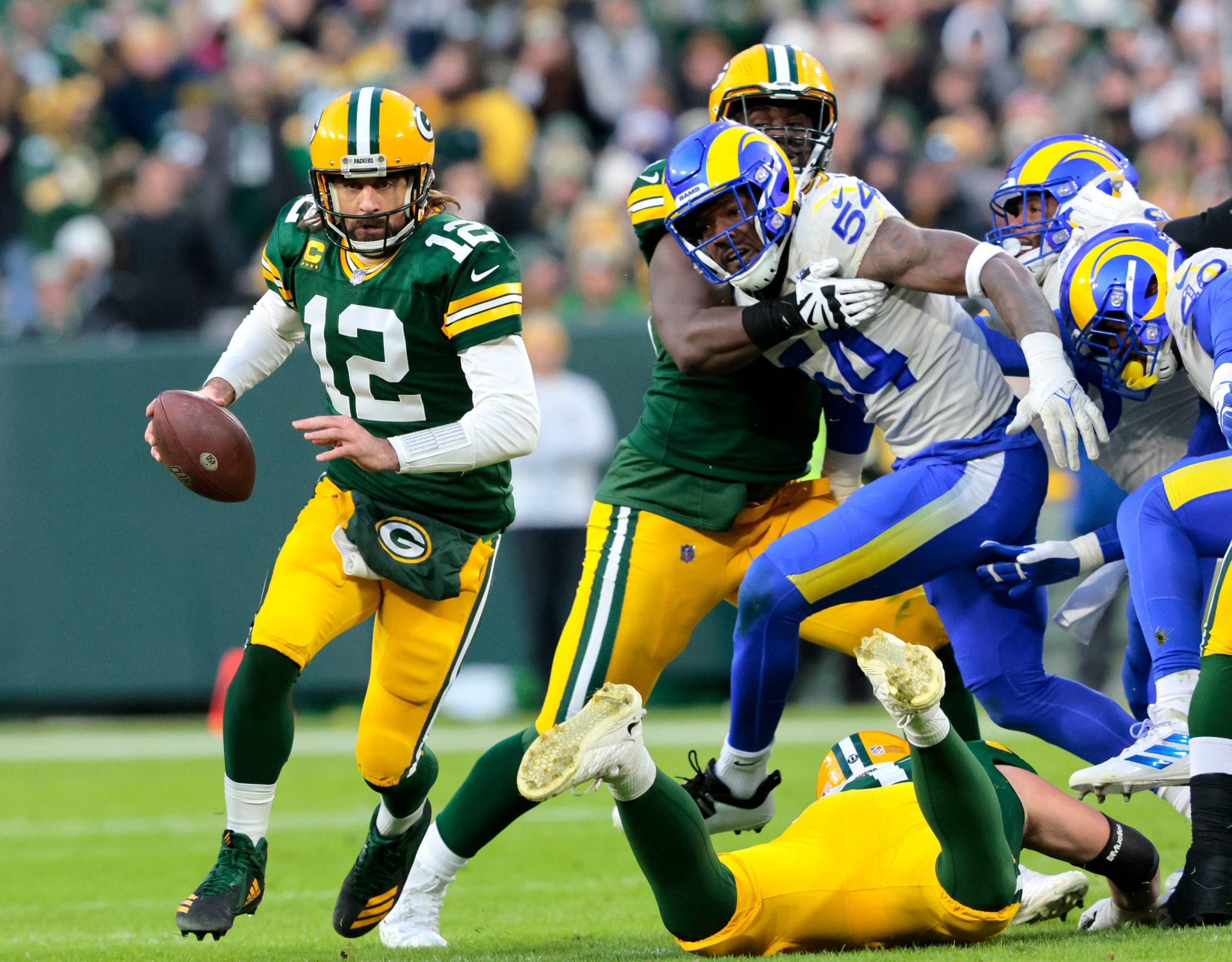 You snooze, you lose. Or in NFL terms, you have a nice relaxing bye week and someone steals your place on top of the Pickswise NFL Power Rankings.
That's what happened to the Kansas City Chiefs, who have had to hand over the No. 1 spot to the Green Bay Packers, who recorded an impressive win over the Los Angeles Rams.
This season, we've handed over control of our NFL power rankings to the Pickswise supercomputer. Our data science team has created a predictive machine learning model that makes use of a proprietary dynamic rating system. In addition to analyzing in-house derived metrics, the model also adapts to situational factors such as rest weeks, home-field advantage, and time-zone differentials.
Let's take a look at how the computer ranks all 32 teams heading into Week 13.
1 Green Bay Packers (9-3)
Aaron Rodgers looked pretty good on his 9 working toes against the Rams, but keeping their star man healthy will remain the key to the Packers' challenge for the rest of the season.
2 Kansas City Chiefs (7-4)
The Chiefs didn't do a lot wrong to slip a place in the rankings, and their prospects probably look a bit brighter now after more disappointing performances from their AFC West rivals the Chargers and Raiders. A win over the Broncos this week would be a crucial result.
3 Tampa Bay Buccaneers (8-3)
No change here, but the Bucs should be feeling better about themselves after digging deep to win in Indianapolis. Tom Brady is assured of a warm welcome in Atlanta this week…
4 Buffalo Bills (7-4)
If the Bills don't want to be called inconsistent, they should probably try to change their current sequence of results, which reads: W-L-W-L-W-L-W. The bad news is they face the Patriots on Monday night.
5 New England Patriots (8-4)
Talking of the Patriots, here they are, on a 6-game winning streak and arguably deserving of an even higher ranking. If they beat the Bills on the road they should be higher next week.
6 Arizona Cardinals (9-2)
Kliff Kingsbury has not (yet) joined the wild college football coaching carousel, and Kyler Murray has had another week to get healthy, so the league's only 2-loss team should be happy with their progress.
7 Baltimore Ravens (8-3)
The Ravens scored an important divisional win over the Browns but they did so despite Lamar Jackson throwing 4 interceptions in a messy game and they might have lost if Cleveland had been able to do anything at all offensively. They've scored only 14ppg in their last 3 games.
8 Indianapolis Colts (6-6)
You can argue that No. 8 is a little high for a .500 team, but losing to the Bucs isn't all that bad, and just imagine what might have happened if Frank Reich had decided to let Jonathan Taylor touch the ball more than twice in a spell that lasted 26 minutes from the end of the first half.
Read why the Pickswise computer model thinks the Colts will make the playoffs
 9 Los Angeles Rams (7-4)
The Rams have lost 3 straight games since their 7-1 start and their loss to the Packers wasn't really as close as the 36-28 final score suggests. Still, it's the Jaguars this week, so no real need to panic unless they lose that one too.
10 San Francisco 49ers (6-5)
The 49ers have rediscovered how to win at home, and fought back impressively from an early deficit against the Vikings for their 3rd win in a row. They are one of only 3 teams to lose to the Seahawks this year, but they get a chance to put that right this week.
11 Tennessee Titans (8-4)
The Titans are out of the top 10 having been as high as No. 4 only two weeks ago, but that's what losing to the Texans and getting thrashed by the Patriots will do. They have a late bye this week to think about things.
12 Dallas Cowboys (7-4)
The Cowboys picked a bad week to run into trouble with Covid issues — they're on a short week and due to play the Saints on Thursday, albeit without head coach Mike McCarthy.
Be sure to check out our full game preview for Cowboys vs Saints
13 Cincinnati Bengals (7-4)
The Bengals looked really good against the Steelers, the first game of a sweet schedule that sees them playing 5 games out of 6 at home. That really should be converted into a strong playoff push.
14 New Orleans Saints (5-5)
It's Taysom Time! Yeah, I'm not really feeling it, either, but if the Saints are giving him all that money the least we could do is try to sound excited about it. Still, the Raiders ended their 3-game losing run against the Cowboys last week, maybe the Saints can do the same with their 4-game skid?
Read Jared Smith's Back to the Futures analysis of the best NFL long-term bets
15 Cleveland Browns (6-6)
The Browns somehow managed to become the first team for 8 years to lose a game despite intercepting an opposing QB 4 times. At 6-6, the season's not over yet but they need to use their bye week wisely for an offensive rethink. Either that or go for 6 or 7 interceptions next time?
16 Minnesota Vikings (5-6)
The Vikings slipped back into their schtick of playing pretty well but losing against the 49ers, rather wasting their good work in beating the Packers the week before. Dalvin Cook is injured now, but with the Lions, Steelers and Bears up next, it's going to be a real challenge for them to find ways to throw away victories in those games.
17 Los Angeles Chargers (6-5)
The Chargers had few excuses for their AFC West loss to the Broncos, and they're going through a rough patch just as they're due to face three improving teams in the Bengals, Giants and Chiefs. Not ideal.
18 Miami Dolphins (5-7)
There's no point trying to work out what happened with Miami's schedule this year: beat the Patriots, lose 7 in a row, win 4 in row, makes no real sense. But how cool would it be if they can win 8 in a row and then the Patriots again to go 10-7?! Make it happen, Tua.
19 Pittsburgh Steelers (5-5-1)
The Steelers were above the Browns in the AFC North before they both lost, because the percentages guy decided 5-4-1 was a better record than 6-5. But now they're last because 6-6 is better than 5-5-1, apparently. It would really be good to know what the Steelers plan to do at quarterback next season, but they seem overly laid-back about it.
20 Seattle Seahawks (3-8)
It doesn't even look right that the Seahawks have 8 losses at this stage of the season but stats such as DK Metcalf having 1 catch for 13 yards and their running backs having a combined 10 carries for 18 yards against Washington help to explain it.
Read Ricky Dimon's verdict on what we saw on Monday Night Football
21 Denver Broncos (6-5)
Here's one of those rankings we sometimes like to dispute with the computer. The Broncos have won 3 of their last 4 and their defense made some big plays against the Chargers. I know what it will say though: "Tell them to beat the Chiefs this week and then we'll talk…"
22 Philadelphia Eagles (5-7)
In their last 3 games, the Eagles have scored 30 against the Broncos, 40 against the Saints and… 7 against the Giants, as the Jalen Hurts hype cooled very quickly.
23 Washington Football Team (5-6)
It's 3 wins in a row for the WFT and their stretch run is one they would have paid good money to have acquired: Raiders, Eagles x 2, Cowboys x 2, Giants. How do you get to Week 13 having played only 1 division game?
24 Las Vegas Raiders (6-5)
It seems a little odd to have a team with a winning record down in this unfashionable part of the rankings, but the Raiders had a great Thanksgiving Day with an overtime win over the Cowboys, so they probably won't mind too much.
25 New York Giants (4-7)
The Giants have won 3 of their last 5 but they haven't yet strung together back-to-back wins this season.
26 Carolina Panthers (5-7)
It's probably fair to say that the Panthers' 34-10 win in Arizona is starting to look like an outlier. Cam Newton got a nice big contract but then completed 5 of 21 passes before being benched against Miami. Christian McCaffrey is finished for the season and so, probably, are the Panthers.
27 Chicago Bears (4-7)
Well, the Bears won against the Lions, but they still managed to make it feel like a loss, especially for those who took them at -3 to cover. They go from playing the team with the worst record in the league to facing the team with the best record in the league, Arizona, this week.
28 Atlanta Falcons (5-6)
In similar fashion to the Bears, the Falcons go from beating the lowly Jaguars to having to face the Super Bowl champions Tampa Bay this week. They lost the teams' first meeting 48-25 in Week 2.
29 New York Jets (3-8)
It's been a pretty good week for the Jets. Not only did they beat the Texans but the Seahawks lost, so they currently have the 4th and 5th picks in the 2022 NFL Draft.
View From The Front Office: Why winning is more important than draft positioning
30 Houston Texans (2-9)
There's just the battle for the top pick left to concern ourselves with down here, not that it matters quite so much this year with no uber-QB available. The Texans would surely be interested if there was.
31 Jacksonville Jaguars (2-9)
The Jaguars have a QB! But very little else. And their head coach hasn't yet decided to bolt back to the college game, despite the silly money being thrown around.
32 Detroit Lions (0-10-1)
The Lions showed a national audience that they're not quite up to winning at the moment on Thanksgiving — and star RB D'Andre Swift is unlikely to be available this week against the Vikings. Is that 0 ever going to go?
Pickswise is the home of free NFL Predictions  and NFL Odds. Check out the latest NFL Prop Bets and NFL Parlays as well as expert NFL Underdog Picks and NFL Computer Picks.