The Burning Question: Is it time to get off Brady and the Bucs bandwagons?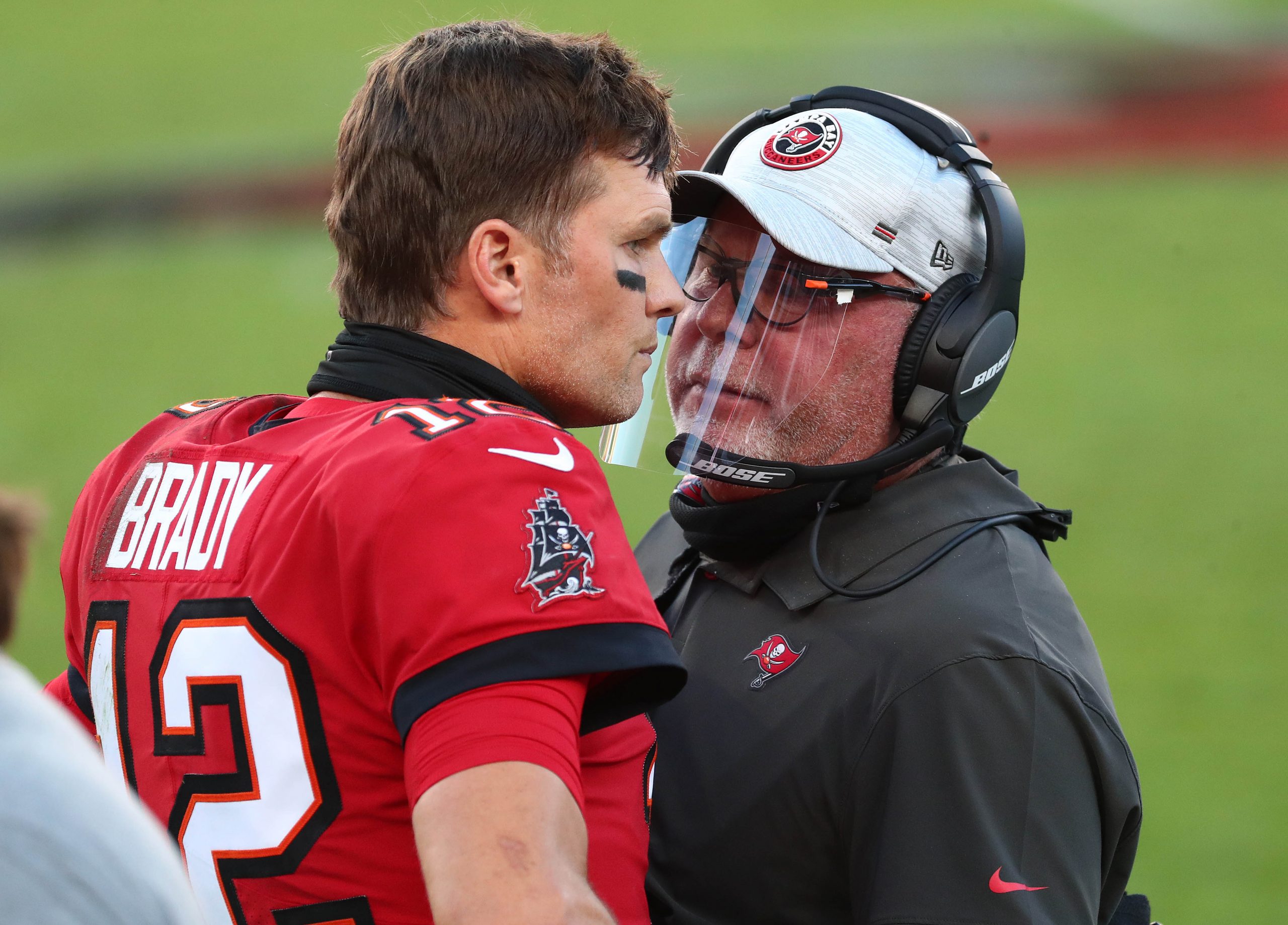 Welcome to The Burning Question, where three of our NFL experts give their thoughts on a big talking point coming out of the past week's football action.
Following a wild Week 14, we discussed the muddle NFC picture in last Tuesday's conversation. Well, Week 15 did nothing to clear anything up. The Tampa Bay Buccaneers appeared to be in line for a return trip to the Super Bowl with a 10-3 record and a 4-game winning streak heading into Sunday Night Football, but SNF against the New Orleans Saints was an unmitigated disaster for the Bucs. They not only lost 9-0 but also saw several key players exit with injuries.
Although the Arizona Cardinals also lost (again!), the bad news for Tampa Bay is that other NFC contenders like the Green Bay Packers and Dallas Cowboys kept on winning. Green Bay's success certainly doesn't help the Bucs, nor does it help Tom Brady in the MVP race. Are Brady and the Bucs done, or is there still value on them in the futures market? Our NFL experts — Jared Smith, Andrew Ortenberg, and Ricky Dimon — give their thoughts on Brady and the Bucs.
Jared Smith: I was never on them in the first place

The Packers have been my NFC darling since mid-November, and no matter how good or bad the Bucs look down the stretch, I'm not backing down from that prediction. The biggest issue for me with Tampa Bay is the defense — not Tom Brady. However, losing Chris Godwin for the rest of the season with a torn ACL certainly won't help the offense. But the Bucs defense has been a subpar unit for most of the season, mainly because of depth issues in the secondary. Now that the NFC playoffs will most likely run through Lambeau Field, it makes the road even tougher for Brady's bunch to repeat as Super Bowl champs.
Check out Jared's deep dive of the NFL futures market.
Andrew Ortenberg: Abandon ship
If I were a Bucs fan, I'd officially be panicking. Remember, Brady didn't play well at all in the team's NFC Championship game win at Lambeau last season. He threw three interceptions, and Tampa was lucky to emerge victorious. That was with all his weapons at his disposal, too. Now, as a result of their Week 15 loss it looks like to get back to the Super Bowl he'll need to win in Green Bay again — this time without Godwin and perhaps Leonard Fournette, as well. Against a Packers defense that has been much better this season than last, that may be a task too tall.
Godwin doesn't get enough credit for being one of the league's best receivers, and he's the key to this Bucs offense. In last year's NFC Championship, he led the Bucs with 110 yards. No other Tampa Bay player had more than 51. I don't think the importance of his loss can be overstated, and I just don't see Brady knocking off Aaron Rodgers on the road under these current circumstances.
Check out our Andrew's reaction to the Bucs' Sunday Night Football loss.
Ricky Dimon: Injuries too much to overcome for a team that isn't quite elite
If not for all of the injuries I would still be on the bandwagon, but my chips are no longer in the center of the table. Godwin is out for the year, both Fournette and Mike Evans could miss some time, and the defense has been banged up since the start of the 2021 campaign. Brady is good enough to single-handedly overcome one or two of those issues…but all of them? Probably not.
Even if the Bucs win out against a laughable remaining schedule, they still may have to win multiple playoff road games to reach the Super Bowl. They were good enough — and healthy enough — to do it last year. This year that is unlikely to be the case. In addition to Tampa Bay's own woes, Green Bay, Dallas, and the Rams are formidable foes in the NFC and Kansas City is red hot to the tune of being a Super Bowl co-favorite along with the Packers. I still think there is some buy-low (relatively speaking) value on the Bucs at +300 and +650 to win the NFC and Super Bowl, respectively, but I'm avoiding Brady at +175 for MVP like the plague. Rodgers (+125) has done more with less. Now it's Brady's supporting cast that is decimated and I'm not sure he can salvage it for his own sake or the team's.
Check out our picks on the side and total for every Week 16 matchup when they become available
Pickswise is the home of free NFL Picks and NFL Odds. Check out the latest NFL Prop Bets and NFL Parlays as well as expert NFL Underdog Picks and NFL Computer Picks.