The Pickswise NFL Power Rankings: Bills take over top spot after Week 5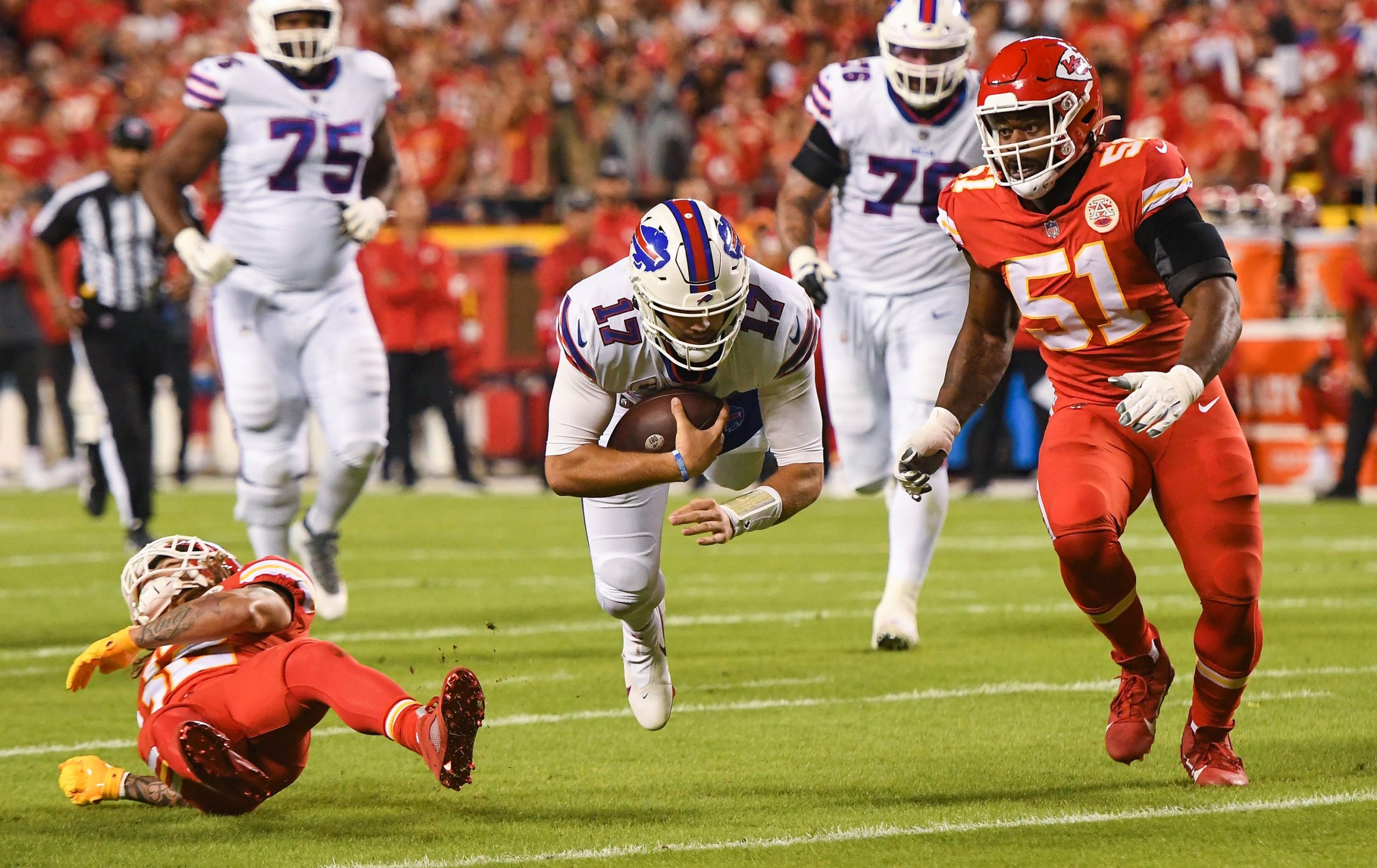 The Pickswise NFL Power Rankings have a new leader after the Week 5 games, and it's no surprise to see the Buffalo Bills at the top of the pile. Even computers know that to be the champ you have to knock out the champ, and while Tampa Bay was actually the rankings champ last week, a beatdown over AFC champions Kansas City was enough for the Bills to leapfrog the Bucs into first place.
This season, we've handed over control of our NFL power rankings to the Pickswise supercomputer. Our data science team has created a predictive machine learning model that makes use of a proprietary dynamic rating system. In addition to analyzing in-house derived metrics, the model also adapts to situational factors such as rest weeks, home-field advantage, and time-zone differentials.
Let's take a look at how the computer ranks all 32 teams heading into Week 6.
1 Buffalo Bills (4-1)
One AFC champion defeated. One AFC Championship Game defeat avenged. One Pickswise Power Rankings top spot earned. If the Bills feel like they need a midseason break now, they've got one. The defense-is-optional Titans this week followed by their bye week and then the Dolphins, Jaguars and Jets (which feels like 3 more byes). Some of their rivals would pay big money for that schedule.
2 Tampa Bay Buccaneers (4-1)
It must have felt like the good old days in the AFC East for Tom Brady as he threw 5 TD passes in a blowout win over the Dolphins. That should have warmed up his arm nicely for a Thursday Night Football clash with the Eagles, unless his thumb injury proves to be worse than we know.
Be sure to check out our full game preview for TNF Bucs vs Eagles
3 Baltimore Ravens (4-1)
The computer deals in numbers, which is why it loves the Ravens and makes them a top 3 team. It doesn't really know that they are only a few lucky breaks from being 1-4. Monday night's rousing comeback from 22-3 down to the Colts was their latest win-from-the-jaws-of-defeat, but with receivers coming back from injury and Lamar Jackson now finding them, things are definitely looking up.
4 Green Bay Packers (4-1)
We're also going to assume that "in-form kicker" doesn't get huge weight in the computer's evaluations after the Packers somehow survived a flurry of missed attempts from Mason Crosby, enabling Crosby to become the game-winning hero against the Bengals. Sometimes things just fall your way.
5 Los Angeles Rams (4-1)
The Rams managed to shake off the shock of their heavy loss to the Cardinals in another NFC West battle against Seattle, but they had trailed at halftime. A run of games against the Giants, Lions and Texans next should help their offense regain some cohesion.
6  Kansas City Chiefs (2-3)
No one thinks the Chiefs have become a bad team yet (offensively anyway, their defense is terrible).  And it's still not time to panic. Their 3 losses have all come against top-10 teams (Ravens, Chargers, Bills) while the Browns, who might easily have beaten them in Week 1, are also in that group. An injury to running back Clyde Edwards-Helaire doesn't help, but a slight easing of the schedule (Football Team, Titans, Giants next) could.
7 Arizona Cardinals (5-0)
The Cardinals just keep winning. They staged a huge goal-line stand to deny San Francisco's Trey Lance on Sunday, and might be getting lucky with their schedule again as they next face a Cleveland Browns team who looked to pick up a laundry list of injuries in Los Angeles.
8 New Orleans Saints (3-2)
The inconsistent Saints kept up their W-L-W-L-W pattern with a win at Washington. I guess if they keep that up they'll at least finish with a 9-8 record, but the computer thinks they're capable of better.
9 Los Angeles Chargers (4-1)
I like my new friend the computer, but friends have to tell friends when they may have teams too low in their rankings and I would certainly make the Chargers a top 5 team after their wins over the Chiefs and Browns. They had star QB Justin Herbert converting a number of 4th downs when they needed them (and the refs throwing a flag the wrong way when he couldn't) but the LA offense is going to be tough for anyone to handle.
10 Cleveland Browns (3-2)
That really was a heartbreaking loss for the Browns, who have scored 71 points on the road in their losses to the Chiefs and Chargers with nothing to show for it. It doesn't get much easier with unbeaten Arizona up next, but for now their priority will be finding healthy cornerbacks after the entire CB staff was injured at some point in Sunday's game.
11 Dallas Cowboys (4-1)
The bettors' best friends have covered in every game this season and it's no surprise to see their NFC East odds as low as -380 with the Giants, Football Team and Eagles looking in far worse shape and a soft-looking schedule ahead.
12 Seattle Seahawks (2-3)
There's no real point in arguing that the Seahawks might be any higher given they are almost certainly going to be lower soon due to Russell Wilson's finger injury. The Cardinals could be a long way ahead by the time he returns.
13 Tennessee Titans (3-2)
The Titans managed to inflict Jacksonville's 20th successive loss without too much trouble, as you would expect. I guess their schedule gets a little bit tougher next? Ah yes, Bills and Chiefs within 6 days of each other.
14 San Francisco 49ers (2-3)
Trey Lance lost his first game as starter, the 49ers' third loss in a row, but the 49ers gave it a pretty good shot against the Cardinals. San Francisco gets their bye this week and Jimmy G could be back when they return.
15 Indianapolis Colts (1-4)
The Colts looked pretty good for much of their Monday Night Football game against the Ravens, only to slump to a fourth loss of the season in overtime. The AFC South serves up the Texans for them to try to get back in the W column this week.
Check out our MNF reaction as the Ravens beat the Colts
16 New England Patriots (2-3)
The computer loves Ws, so is a little more impressed by a 3-point win over Houston than I was. Let's see how they get on against the Dallas offense this week…
17 Pittsburgh Steelers (2-3)
Are the Steelers back? They might be. They're certainly having some luck with the scheduling as the Broncos were pretty banged-up and now they face a Seahawks team missing Russell Wilson.
18 Chicago Bears (3-2)
Not many fans would have expected the Bears to have a winning record after Week 5 a couple of weeks ago, but defense led the way for Matt Nagy's team over the now coach-less Raiders. They'll at least be in better heart heading into a crucial clash against the Packers now.
19 Las Vegas Raiders (3-2)
Well, what can you say? Time for the Raiders to roll the dice again after the swift collapse of the Jon Gruden era. Owner Mark Davis has some important decisions to make in the next few weeks.
Read our analysis of Jon Gruden leaving the Raiders here
20 Minnesota Vikings (2-3)
The Vikings managed to win one even without Dalvin Cook, but only after winless Detroit looked like they'd snatched victory with 10 points inside the final 3 minutes. The Vikings need to step it up for a tough mid-season stretch of games that's coming up.
21 Carolina Panthers (3-2)
The Panthers looked to be on their way to a 4-1 record when they went 15-3 up on the Eagles, but three Sam Darnold interceptions proved too much to overcome, despite a 100-yard rushing game from rookie Chuba Hubbard.
22 Denver Broncos (3-2)
The Broncos, like Carolina, are a 3-0 to 3-2 team, who have not proved as good as they looked in the first couple of weeks. It's anyone's guess what kind of performance they can expect from the Raiders against them this week.
23 Miami Dolphins (1-4)
The Dolphins have lost 4 in a row, and the margins of the defeats have been heavy. Their clash with Jacksonville this week will appeal to those with certain personality types (the same ones who like driving past car wrecks) but probably not to football purists.
24 Cincinnati Bengals (3-2)
The Bengals had a pretty good shot at going 4-1 when they took the Packers to overtime but it seems QB Joe Burrow has an injury scare every week, no doubt as a result of an offensive line that tends to wave guys through. Lions-Ravens-Jets-Browns is a real rollercoaster of a schedule ahead.
25 Washington Football Team (2-3)
While it was previously a question of when the Washington defense was going to step up, it's now becoming a question of if they're ever going to show up at all. One of the league's best units on paper in the preseason has now allowed 29+ points in 4 straight games. It's a mystery.
Read Back to the Futures as Jared Smith analyzes the NFL Futures markets heading into Week 6
26 Philadelphia Eagles (2-3)
The Eagles got back in the win column at Carolina but that was a fairly opportunistic success and they may not be given the same gifts by Tom Brady on Thursday that Sam Darnold handed out.
27 Atlanta Falcons (2-3)
The Falcons wobbled a bit after establishing a big lead over the Jets in London but held on for a morale-boosting win. The team's planning skills have to be questioned though, after they forgot to take their kicking net to the UK with them and had to improvise using two ladders and a soccer goal net.
28 New York Giants (1-4)
The Giants were crushed by the Cowboys and picked up some serious injuries in the process. They're already a long way off the pace in the NFC East and don't look likely to get any closer.
29 Houston Texans (1-4)
The Texans looked like they were going to beat the Patriots at one stage on Sunday, but that says more about the Patriots these days than the Texans. They're still fighting hard for head coach David Culley, though, to their credit.
30 New York Jets (1-4)
It took the Jets a long time to get anything going at all in London and Zach Wilson will have to hope he can play better back in America than he did in England.
31 Detroit Lions (0-5)
You have to feel for Dan Campbell, whose teams are attracting unbelievable ways to lose like they have magnets in their pants.
32 Jacksonville Jaguars (0-4)
The Jags can enjoy a rare week of not being the most messed-up franchise in the league, thanks to the Raiders. That should give Urban Meyer time to work on his target of 250 rushing yards per game (current average: 129.4).
Pickswise is the home of free NFL Predictions  and NFL Odds. Check out the latest NFL Prop Bets and NFL Parlays as well as expert NFL Underdog Picks and NFL Computer Picks.