The Pickswise NFL Power Rankings: Brady's Bucs still lead the way after Week 7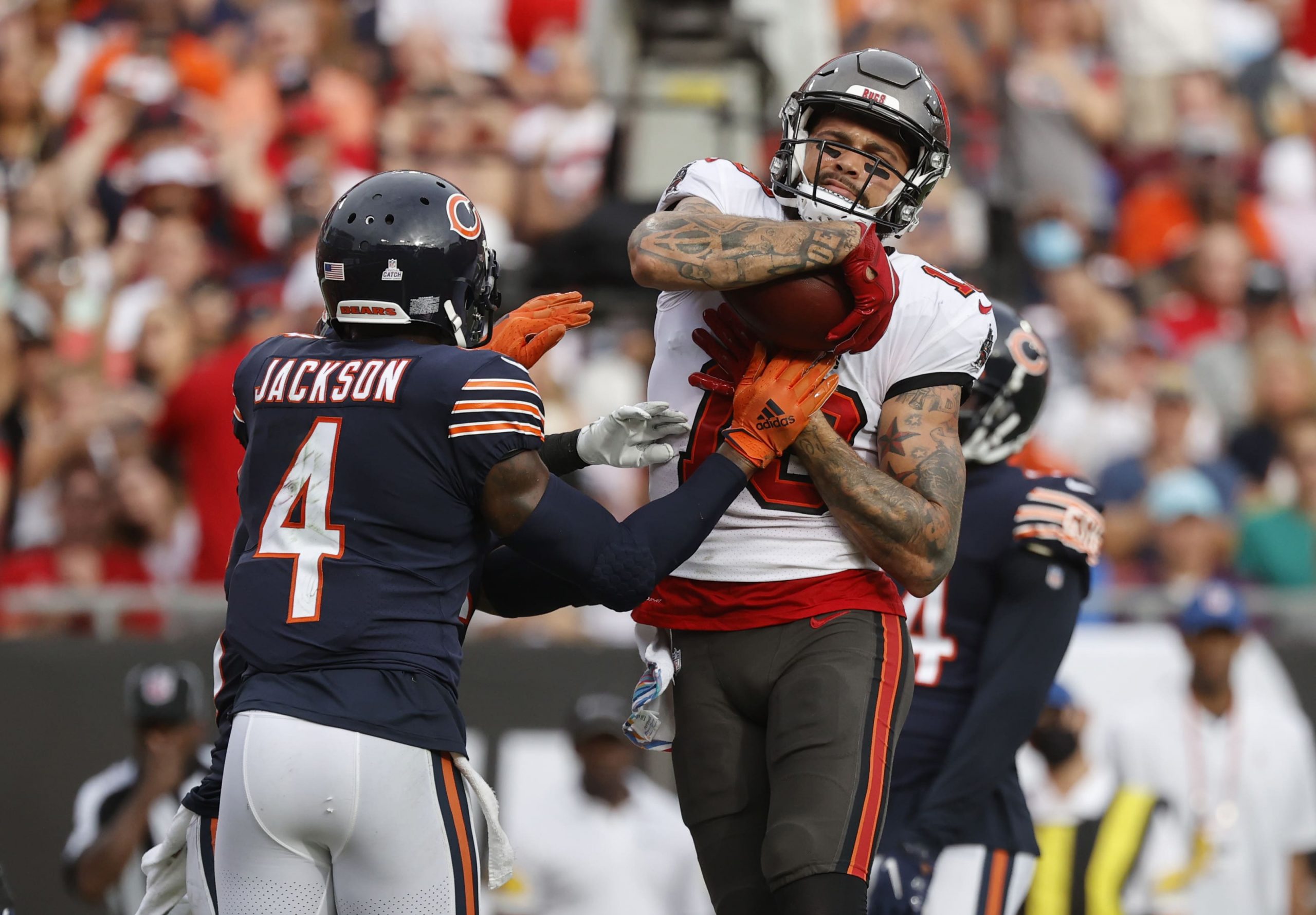 Congratulations to Tom Brady and the Tampa Bay Buccaneers — the Super Bowl champions have retained top spot in the Pickswise NFL Power Rankings after Week 7. We did have a special game ball made to give them to mark the achievement but Mike Evans gave it away. These things happen.
This season, we've handed over control of our NFL power rankings to the Pickswise supercomputer. Our data science team has created a predictive machine learning model that makes use of a proprietary dynamic rating system. In addition to analyzing in-house derived metrics, the model also adapts to situational factors such as rest weeks, home-field advantage, and time-zone differentials.
Let's take a look at how the computer ranks all 32 teams heading into Week 8.
1 Tampa Bay Buccaneers (6-1)
Chicago picked a really bad day to throw 3 picks and fumble 4 times (losing 2 of them). Thanks to the gifts from a QB they should probably now call Justin "Short" Fields, the Bucs cruised to a victory to stay at No. 1.
2 Buffalo Bills (4-2)
It was a bye week for the Bills, which gave them time to contemplate their extremely avoidable loss against the Titans. They return with a game against the Dolphins, which we can file under "gently easing your way back into it".
3 Green Bay Packers (6-1)
The Bills' No. 2 spot never came under threat as the previous occupants of this position were the Ravens. Replacing them are the 6-1 Green Bay Packers, whose win over the WFT was probably closer than the final score of 24-10 sounds, but they are on a 6-game winning streak heading into Thursday's stronger test against Arizona.
Be sure to check out our full game preview for TNF Packers vs Cardinals
4 Arizona Cardinals (7-0)
Did someone say Arizona? Here are the nation's only unbeaten team, fresh off a 31-5 win over the Texans. That result was a scorigami — the name given to any final score that has never happened in the NFL before. It was the 1,068th unique result the league has seen and you can follow in-game updates on emerging situations each week from @NFL_Scorigami on Twitter. Well done to anyone who correctly predicted that Houston would be leading 2-0 after the first quarter of that game.
5 Los Angeles Rams (6-1)
The Rams won the Matthew Stafford Bowl against Detroit (and obviously the Matthew Stafford trade with Detroit, too) but that's little consolation to those bettors who backed them to cover against the Lions. The computer clearly isn't too worried about the margin of victory (or maybe it had the Rams on the money line in a parlay?) as there's a decent gap between the top 5 and the rest in its ratings.
6 New Orleans Saints (4-2)
The computer remains sweeter on the Saints than many people might be, but maybe it's factoring in good fortune as they likely wouldn't have got that win in Seattle on Monday if Russell Wilson had been playing. As Andrew Ortenberg says in our MNF reaction, it wasn't a pretty win by any means. It's worth noting, though, that the Saints have already played 4 road games this season, winning 3 of them.
7 Baltimore Ravens (5-2)
Four places is the answer to those asking how far the Ravens fell after their shellacking by the Bengals. Divisional and head-to-head records look likely to play a bigger role in the tight AFC North than many other divisions, so that was a costly loss for John Harbaugh's team.
8 Kansas City Chiefs (3-4)
Well, well, well. Just what is going on with the 2019 and 2020 AFC champions? Patrick Mahomes is up to 9 interceptions in 7 games and it's getting harder for my microchipped buddy to even have them in the top 10 now.
9 Tennessee Titans (5-2)
Just back-to-back wins over the Bills and Chiefs for the Titans — no big deal. I know what you're thinking, though. 'Didn't they lose to the Jets?' And yes, they did lose to the Jets. The NFL gods move in mysterious ways.
10 Dallas Cowboys (5-1)
It's a bit harsh on Dallas that they drop a place despite being on their bye week but maybe the computer didn't like Dak Prescott's swing on the golf course or something like that. All available data is taken into account.
11 Los Angeles Chargers (4-2)
The Chargers were also on their bye last week, but won't have enjoyed seeing Cincinnati slicing and dicing a Ravens team that had thumped them before their break. Their remaining schedule looks pretty soft overall, though, and they should remain in the AFC playoff chase.
12 Indianapolis Colts (3-4)
The Colts are much happier at 3-4 than they would have been at 1-4, but there's no middle ground in their next 6 games, which are either very hard (Titans, Bills, Buccaneers) or the opposite of very hard (Jets, Jaguars, Texans). Who thinks they might go 3-3 in that stretch?
13 Cleveland Browns (4-3)
The Browns roster looked so strong in preseason that people thought their backups were better than the teams they started 3 or 4 years ago. And they proved that by beating Denver with backup QB Case Keenum and 3rd-string RB D'Ernest Johnson leading the way. Nick Chubb could be back to face the Steelers and their 1st-choice offensive line may be in place for the first time in 3 games too, even if Baker Mayfield remains sidelined.
14 Las Vegas Raiders (5-2)
Rich Bisaccia will be in line for NFL Coach of the Year if he keeps this up with the Raiders, who scored 30 unanswered points at one stage in their win over the Eagles. Interim coach Bisaccia is 2-0 and has at least given the owners no reason to rush into finding a permanent replacement for Jon Gruden during their bye this week.
15 Cincinnati Bengals (5-2)
We said the Bengals could easily have been higher when they were 21st last week and the same applies this week despite a 6-place rise for beating the Ravens in convincing fashion. There's little to be gained in terms of style points by beating the Jets this week, but, like taking out the trash, it needs to be done.
16 Seattle Seahawks (2-5)
With 5 defeats in their last 6 games and Russell Wilson not expected to be back before their Week 9 bye, the only good news for Seattle at the moment is that they have the Jaguars this week. That said, they have only 1 more win than the Jags.
17 Minnesota Vikings (3-3)
It's now or never for the Vikings as they return from their bye with a potentially season-defining sequence of games against the Cowboys, Ravens, Chargers and Packers.
18 Pittsburgh Steelers (3-3)
Mike Tomlin was understandably grumpy to be asked about college coaching vacancies at the start of the week in which the Steelers have an important divisional game against the Browns. Maybe he can also play the disrespect card in the locker room by pointing out to his players that they are 4-point underdogs against a team likely to be fielding their backup QB.
19 New England Patriots (3-4)
We pointed out last week that the Patriots only get to play the Jets twice a year and they've used up both now, with those games accounting for 66.67% of their wins this season. A win over the Chargers this week would be more likely to get them moving up the rankings.
20 San Francisco 49ers (2-4)
The name San Francisco 49ers conjures up images of blue skies, sunshine and winning football, but that's not what we got on Sunday night, instead it was heavy rain and a 30-18 home defeat by the Indianapolis Colts. Their game against the Bears this week is not likely to be one for the ages.
21 Chicago Bears (3-3)
Talking of the Bears, they can consider themselves lucky to be this high after that abomination of a performance in Tampa Bay. The team also has Covid issues to deal with now, with head coach Matt Nagy among those to test positive.
Read Back To The Futures as oddsmakers react to the Week 7 games
22 Denver Broncos (3-4)
The Broncos have lost 4 straight games since starting 3-0 and though they lost by only 3 points to Cleveland's reserves, it really wasn't that close. Maybe a run against the NFC East is what they need to turn things around — the WFT, Cowboys and Eagles are up next for them.
23 Atlanta Falcons (3-3)
The Falcons are beginning to live up to their hashtag and #RiseUp the rankings, with rookie tight end Kyle Pitts becoming the force many expected before the season began. With the free-falling Panthers next, there could be more to come.
24 Carolina Panthers (3-4)
Things have got very bad very quickly for the Panthers, to the extent that QB Sam Darnold was benched for PJ Walker during their loss to the Giants. It's no wonder their name is back in the chat about quarterback trades before the deadline.
25 Miami Dolphins (1-6)
The 1-6 Dolphins can't really complain of being disrespected by the sportsbooks as 14-point underdogs against the Bills, as they lost the teams' first meeting 35-0. It's almost a compliment!
26 Washington Football Team (2-5)
No change for the WFT this week and that's starting to sum up their disappointing season. We need to see a spark from them in Denver or it could be a long slide towards the draft.
27 Philadelphia Eagles (2-3)
Eagles vs Lions this week is a real desperation derby, and Philly losing running back Miles Sanders to injury just after they finally realized they should give him the ball more often was pretty bad timing.
28 New York Giants (2-5)
The Giants scored a solid win over the crumbling Panthers and who knows what could happen when they meet a wounded Kansas City team on Monday Night Football this week. It's certainly going to be worth tuning in to find out.
29 Houston Texans (1-6)
The Texans have lost 6 in a row and it might not be pretty when they meet the Rams as 14.5-point underdogs on Sunday. On the bright side, QB Tyrod Taylor (who was playing when they won their opener) could be back soon.
30 New York Jets (1-5)
The Jets may well be 2 places lower than this fairly soon. Crushed 54-13 by the Patriots this week, they have a choice between the untried Mike White and the unprepared (he was traded on Monday) veteran Joe Flacco at quarterback as they face red-hot Cincinnati this week. Good luck, guys!
31 Jacksonville Jaguars (1-6)
Jacksonville stays at 31 in these rankings but they've fallen down the NFL dysfunctional rankings as worse things are happening to other teams (Jets, Bears, Panthers) and they've been relatively out of the headlines. Not playing last week helped, obviously.
32 Detroit Lions (0-7)
That 0 matters a lot to the computer, which gives the Lions little credit for covering the spread with a spirited performance against the Rams. We will, however, give Detroit plenty of credit for emptying the back page of their playbook early in the game last week with every trick play they had. Great stuff.
Pickswise is the home of free NFL Predictions  and NFL Odds. Check out the latest NFL Prop Bets and NFL Parlays as well as expert NFL Underdog Picks and NFL Computer Picks.