Thursday Night Football touchdown scorer predictions and prop bets for Ravens vs Dolphins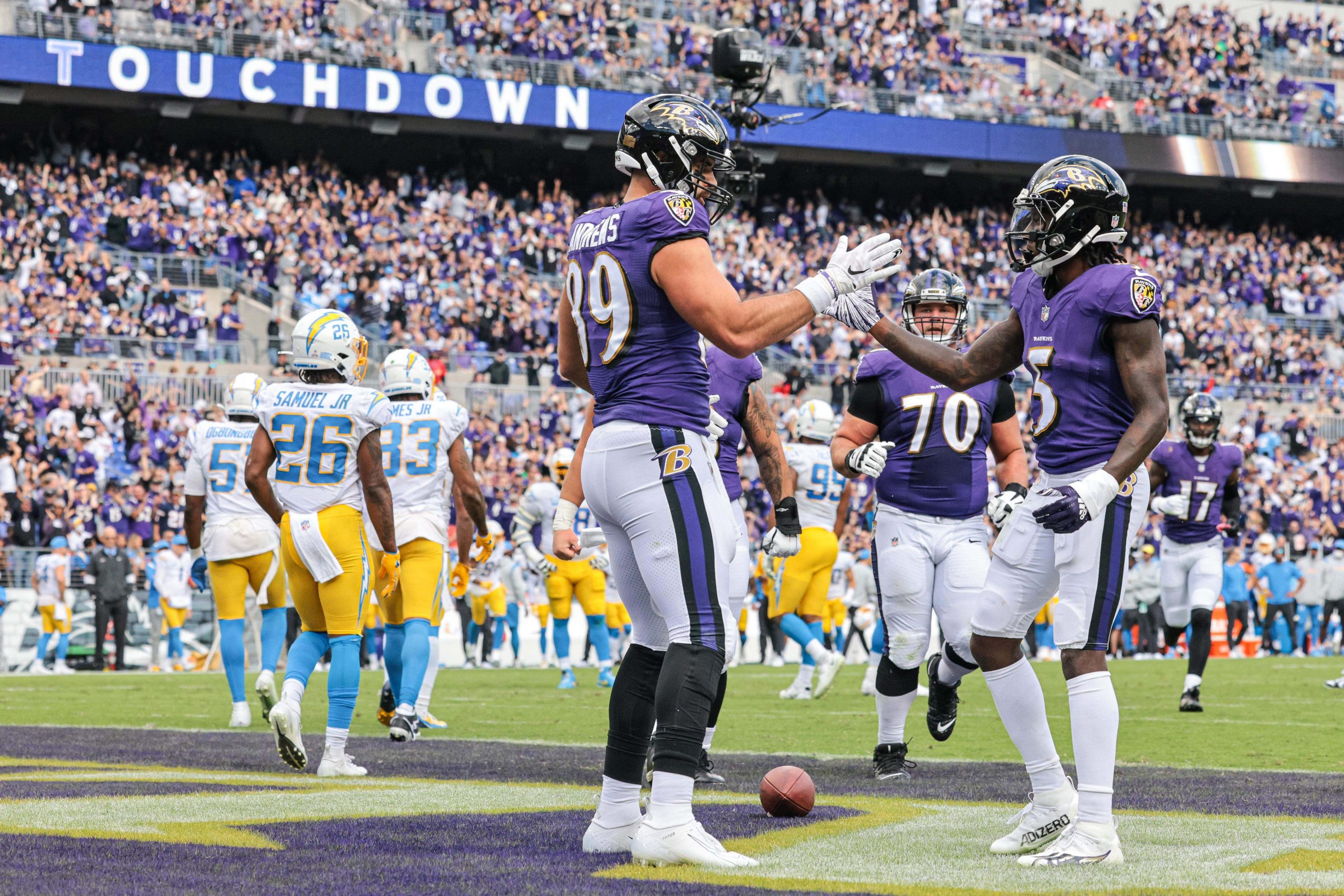 Week 10 of the NFL season gets underway with Thursday Night Football between the Baltimore Ravens and Miami Dolphins. A matchup between a 6-2 team and a 2-7 opponent may not be the most intriguing, but Baltimore QB Lamar Jackson is generally worth the price of admission by himself. And you can always spice things up with some bets, too.
Here we will discuss the touchdown scorer market for Thursday's all-AFC contest. Who will find the endzone, specifically first but also at any point? Let's take a look at some of our best TD scorer bets for TNF:
First touchdown scorer: Mark Andrews, TE, Ravens (+900)
I'm generally not big on favorites in this market, because the first touchdown scorer is often a crapshoot (there are some exceptions like Derrick Henry, when he was healthy). You can almost always find better value with longer odds, although that isn't entirely the case this time around. I'm not going to hammer co-favorites Lamar Jackson and Hollywood Brown at +750, but Baltimore tight end Mark Andrews is a pretty good bet at +900 even though he is the third favorite to score first.
Andrews has scored three TDs in 2021 and all three have come in the last four games. The 2018 third-round pick out of Oklahoma did not find the endzone during last week's 34-31 overtime win over Minnesota, but he had 5 receptions on 10 targets for 44 yards. He is a big part of the Ravens' offense, and that should bring success on Thursday. The Dolphins are third-to-last in the NFL in passing defense and have allowed the third-most touchdowns through the air (17). They are just 20th in fewest fantasy points allowed to tight ends. This is a good opportunity for Andrews to score early and perhaps score often.
Be sure to check out our full game preview for Baltimore Ravens vs Miami Dolphins
Anytime touchdown scorer: Mike Gesicki, TE, Dolphins (+225)
It should be great day to be a tight end. The Ravens are dead last in defending tight ends when it comes to fantasy points allowed. They are also second-to-last in passing defense and have surrendered 14 passing TDs. Gesicki has racked up 529 yards for Miami this season and although he has scored only twice, both scores have come in the last six games. The 2018 second-round selection out of Penn State should be in line for a third TD at the expense of a Baltimore defense that does little to stop opposing pass-catchers—specifically tight ends.
Don't forget to read our same game parlay for Ravens vs Dolphins (+1666 odds!)
Anytime Touchdown Scorer FAQs
What does "anytime touchdown scorer" mean?
Anytime touchdown scorer is a popular player prop bet that NFL bettors can wager on throughout the season. But what is it, and how do you win?
As the name suggests, placing a wager on the anytime touchdown scorer market is when you tip a particular player to score a touchdown during a game. This can be a rushing or receiving touchdown for an offensive player, or you can wager on a team's defense/special teams to score a touchdown by interception return and fumble return or kickoff and punt returns.
If your player or defense scores a touchdown, you win! The odds will differ from player-to-player depending on the sportsbooks' calculated probability of that player scoring.
Does anytime touchdown scorer include passing touchdowns?
Not for a quarterback, no. A player must get into the endzone, himself, in order to qualify as an anytime touchdown scorer. If a quarterback throws a touchdown pass, only the player who caught it counts as the scorer. If Tom Brady throws a touchdown pass to Mike Evans, wagers placed on Evans as an anytime touchdown scorer will cash. However, those placed on Brady as an anytime touchdown scorer will not (unless he also runs for a TD). See below for more on what the anytime touchdown scorer market means for quarterbacks.
What does anytime touchdown scorer mean for a QB?
For a wager on a QB to be an anytime touchdown scorer to cash, he must follow the same rules as a running back, tight end, or receiver. He must get into the endzone himself, either as a runner or a pass-catcher.
In the age of the mobile quarterback, QBs such as Jackson, Patrick Mahomes, Kyler Murray, and Josh Allen are often seen rushing in for a touchdown on any given Sunday. And don't forget the occasional Philly Special, either. QBs can sometimes catch passes for TDs, too.
Pickswise is the home of free NFL Predictions  and NFL Odds. Check out the latest NFL Prop Bets and NFL Parlays as well as expert NFL Underdog Picks and NFL Computer Picks.