NBA Futures: 2021-22 Northwest division odds, preview and best divisional bets: Take note of the Jazz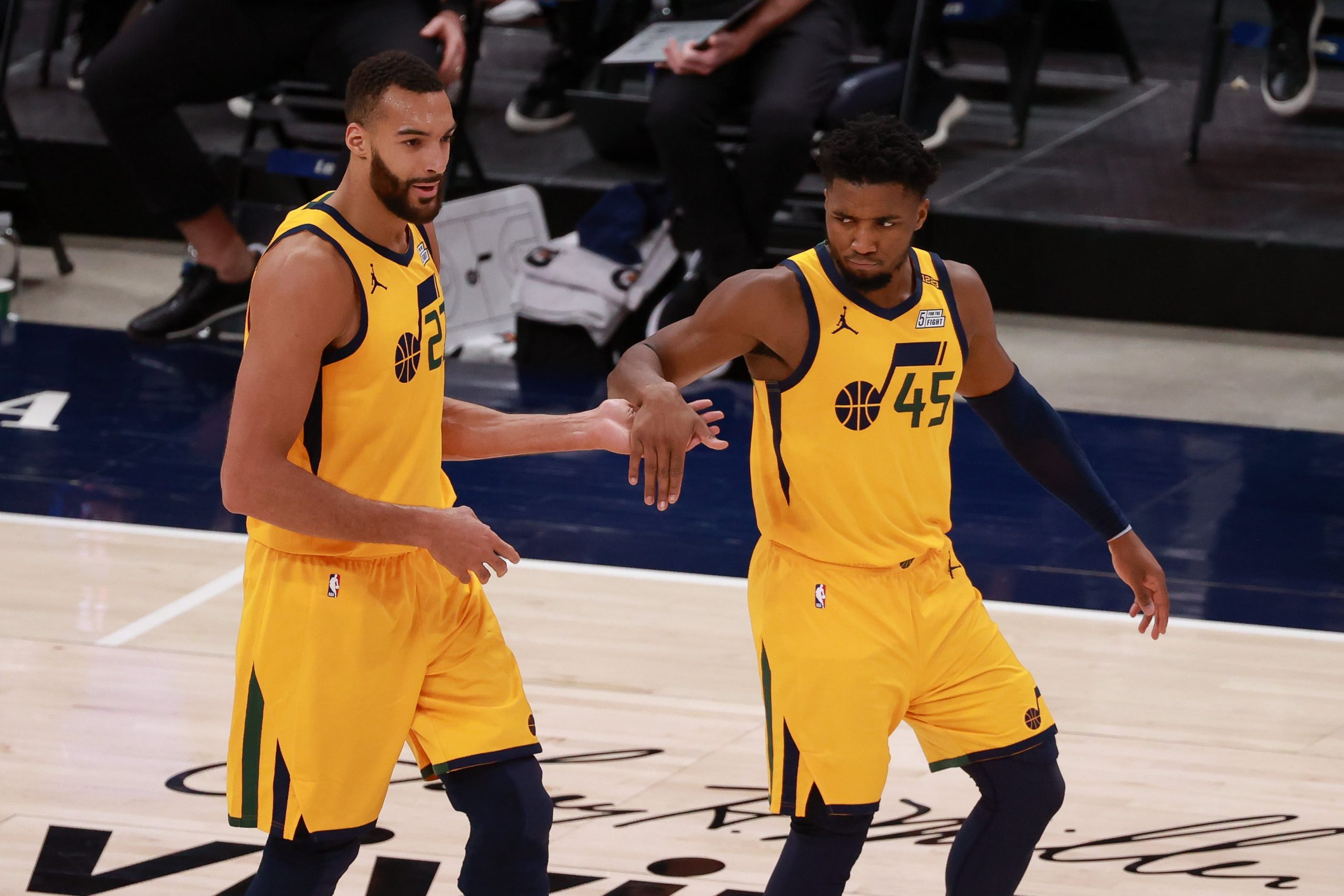 We are just days away from the 2021-22 NBA regular season as we go through every single division with our previews and predictions. Three teams made it to the playoffs last season from this division, with two of those teams grabbing the number one seed and the number three seed. Can the Jazz and Nuggets produce a similar output this season? Is this finally the year Damian Lillard and the Portland Trail Blazers break out?
Continue reading below for our free Northwest Division preview for the 2021-22 season.
Utah Jazz
Odds to win division: -310
Win total: 53.5
Despite having the best record in the NBA last season, the Utah Jazz had a disappointing campaign in the end. Expectations were high, especially when Kawhi Leonard went down with an injury in the series against the Clippers, but then they simply couldn't pull it off. Now they get another opportunity at it and they should be very good yet again, pulling a couple of interesting additions in the offseason. Rudy Gay, Hassan Whiteside and Eric Paschall will all contribute to the team's depth. The only notable departure was Georges Niang.
With other contenders such as the Nuggets and Clippers struggling with injuries, I believe the Jazz will secure one of the top 3 seeds yet again this season. This team is loaded with talent and with one more year of experience under the belt for Donovan Mitchell, I wouldn't be surprised if they ended the season with the best overall record. FanDuel has them at +400 odds for that to happen, it's not out of the realm of possibility.
ball movement ✔️
hustle play ✔️
bucket ✔️#TakeNote pic.twitter.com/07QNTPYcLF

— utahjazz (@utahjazz) October 14, 2021
Denver Nuggets
Odds to win division: +400
Win total: 47.5
The Nuggets did some really good moves this offseason extending the likes of Michael Porter Jr. and Aaron Gordon, but with Jamal Murray suffering an ACL injury in April this team just won't be the same without him. They also added veteran forward Jeff Green as JaVale McGee and Paul Millsap moved on. Nikola Jokic is coming off an MVP year, barring any injury setbacks we can expect his standard 26 points, 10 rebounds and 8 assists per game this season. I'm not worried for the Nuggets in the regular season at all, with the style they play and the altitude advantage over other teams they should win over 50 games, they are loaded at every position which also helps. Backing over 47.5 wins this season at -115 odds is a good bet in my opinion.
Portland Trail Blazers
Odds to win division: +750
Win total: 44.5
For a couple of seasons we've been waiting for Lillard's breakout year and now with a replacement at the head coach position, they simply have no more excuses to use. Chauncey Billups will be a good mentor for Dame and the rest of the team, but the Blazers will once again have to focus on health before anything. There are questions around Jusuf Nurkic, he has struggled with injuries lately and he will be under the radar a lot more this season after the departure of Enes Kanter.
Offensively, this team was one of the best in the NBA last season. The departure of Carmelo Anthony does hinder them a bit, but it should do them well on the defensive side as Melo is a liability. If the Blazers manage to stay healthy and Lillard plays at an MVP level, they will most likely win over 44.5 games and could even be a dark horse for the best record in the Western Conference. We've actually backed them as our longshot bet at 35/1 odds in our Western Conference Preview.
Minnesota Timberwolves
Odds to win division: +10000
Win total: 35.5
After a disappointing campaign last year when they finished 19-45, the Timberwolves will look to turn things around. A lot depends on Karl-Anthony Towns and whether or not he can play a full season healthy for them. Ricky Rubio has left in free agency so they lose a bit on the experience side, but things could open up for the likes of Anthony Edwards and Malik Beasley.
This team is young, so if things don't go right for them early on we could very well see a KAT trade and the Wolves entering yet another rebuilding phase, something they definitely want to avoid. If KAT can establish himself once again to be one of the Top 15 players in the league, Minnesota will have a solid season. Can they double their win total from last season? With so much instability, I'm not so sure. I'd rather back under 35.5 wins at -144 odds at FanDuel.
Oklahoma City Thunder
Odds to win division: +24000
Win total: 22.5
Only the Houston Rockets had a worse record in the West last season than the Oklahoma City Thunder. This team tanked heavily last season, they had a better record on the road than at home which is not something you see very often these days. Shai Gilgeous-Alexander was their only bright spot last season, he averaged 23.7 points per game and we could see a similar output this season. Will it lead to more wins? I am not so sure as this team hasn't really done anything in the offseason to improve it's biggest weakness – their defense. Al Horford is gone, so it's an inexperienced roster with 36 draft picks over the next seven seasons. It's pretty obvious that they are in a rebuilding mode and won't win many games this season. I'm backing under 22.5 wins at -110 odds at FanDuel.
2021-22 NBA season preview
Want more NBA futures content? Check out more of our previews, including conference and division picks:
Pickswise is the home of free NBA Picks and Predictions. Check out our daily NBA Prop Bets, NBA Parlays and NBA Best Bets throughout the entire NBA season.