NBA Futures: 2021-22 Pacific division odds, preview and best divisional bets: Suns come down to earth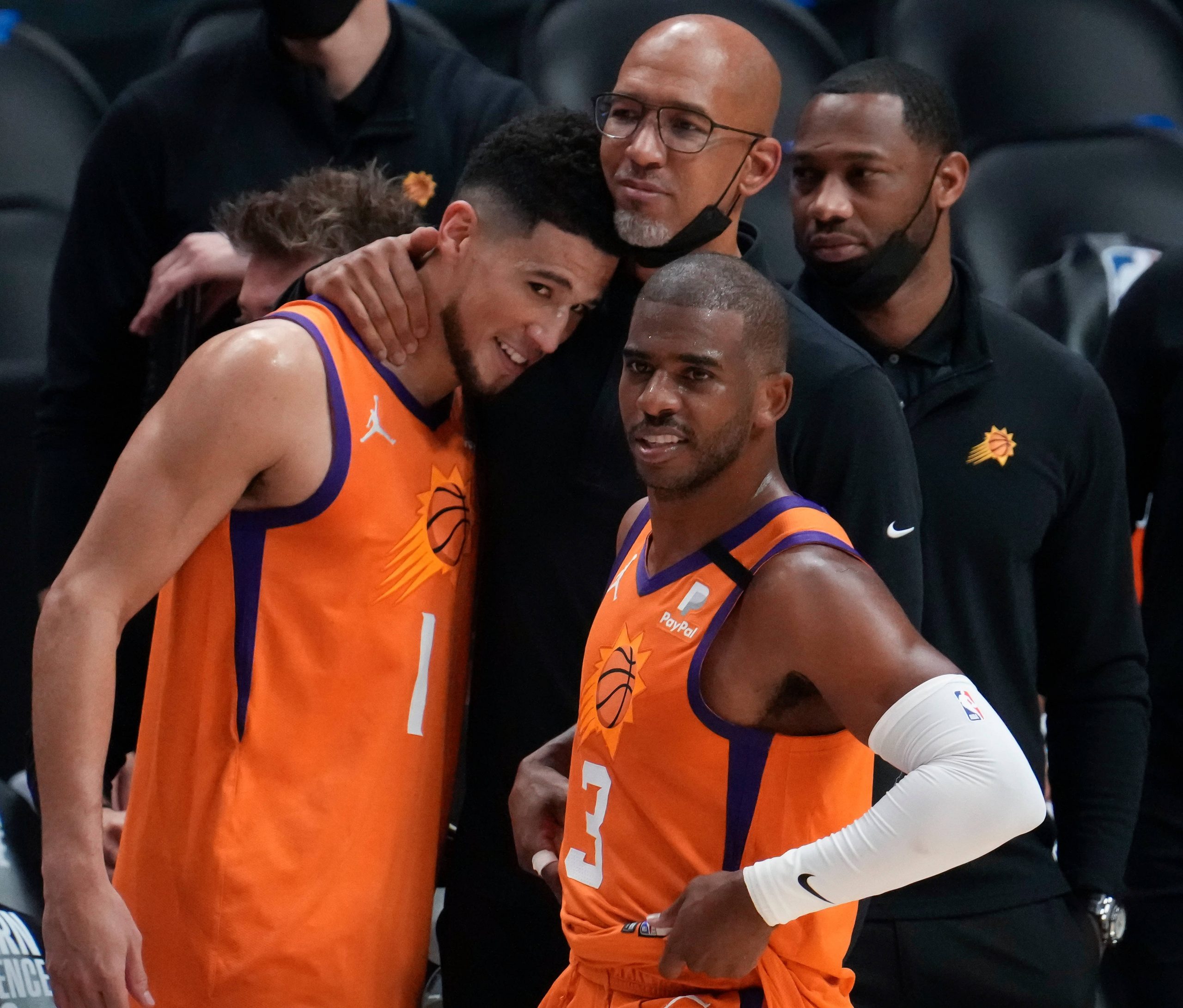 The new NBA season is right around the corner. In less than a week the 2021-22 campaign will get started, and we can't wait. The Pacific division was already a powerhouse before the Suns got good, and then Phoenix made the NBA Finals. That's the division we'll be breaking down today. Incredibly, 4 of the Pacific's 5 teams are considered legitimate title contenders. The Kings will likely bring up the rear, but everything else is up in the air. The Lakers, Clippers, Suns, and Warriors all have sky-high aspirations for this season, so this division should be a ton of fun.
Here at Pickswise we've got a ton of great content coming for the new NBA season. Just the other day, I took a look at the Western Conference, and then I broke down the Atlantic division. Be sure to keep an eye on our NBA news tab for all of our latest articles. But for now, let's break down the Pacific division:
Los Angeles Lakers
Odds to win division: +105
Win total: 52.5
We'll start off with the team that's the clear betting favorite to win the Western Conference this season, the Lakers. LeBron James had an early exit from the playoffs in the midst of his title defense last season, as Los Angeles struggled with injuries. GM Rob Pelinka made some bold moves to upgrade the roster, most notably trading for Russell Westbrook. But it isn't just the addition of a third star. Just about every role player has been switched up. Out with the old, in with the new. Carmelo Anthony, Rajon Rondo, Kent Bazemore, Trevor Ariza, Malik Monk, DeAndre Jordan, Dwight Howard and Kendrick Nunn. All guys who weren't on the team last year. It's an incredible amount of turnover for one offseason, and it's really anyone's guess what they'll look like.
One year ago today, Lebron James and the Lakers (+225 preseason) took home the title 🏆pic.twitter.com/os7ZgeZwyO

— Pickswise (@Pickswise) October 11, 2021
Phoenix Suns
Odds to win division: +220
Win total: 51.5
The Suns were the Cinderella team of this past NBA season. Phoenix captured everyone's hearts during their miracle run, as Chris Paul finally made it to the NBA Finals. That makes them the Pacific division team to beat entering this season. Now they'll look to avoid a hangover as they run it back with Paul and Devin Booker. Deandre Ayton made major strides last season, and the team is hoping he'll be able to continue to progress. He'll need to, since the team didn't make many additions. Phoenix is mostly electing to run it back with their same core, only adding a few minor bench pieces in Elfrid Payton, JaVale McGee and Landry Shamet. Will Paul be able to maintain his same level of elite point-guard play in his age-36 season? That's the big question for this team.
Golden State Warriors
Odds to win division: +425
Win total: 47.5
The Warriors are a very interesting team entering the season. They've fallen on hard times in the past two years since their dynasty drifted apart, but there are reasons for optimism. For starters, they're getting Klay Thompson back after he missed each of the past two seasons with devastating injuries. It's unclear if he'll be as good as he was pre-injury, but it sure will be fun watching him and Stephen Curry cook together again. Golden State is hoping for a big leap from second-year big man James Wiseman, and they just drafted Jonathan Kuminga seventh overall. They reunited with Andre Iguodala, a key part of some of their best teams, and also added fellow long-time vet Avery Bradley. Will the Splash Bros make a triumphant return, or have the times passed them by? I can't wait to find out.
Los Angeles Clippers
Odds to win division: +900
Win total: 45.5
Los Angeles' other team is in an interesting spot. The Clippers are very much a threat to win the title, but are being given much longer odds for the Pacific division due to the injury to Kawhi Leonard. Leonard is coming off an ACL tear, and it's unclear exactly when he's going to return. But at the very least he's going to miss most of the regular season. Paul George is going to have to do most of the heavy lifting. The team added Eric Bledsoe and Justise Winslow this offseason, while keeping key free agents including Reggie Jackson locked up. Patrick Beverley is gone, but that's not too much of a loss all things considered. Before Leonard returns, guys like Marcus Morris and Serge Ibaka will be counted on for more offense.
Sacramento Kings
Odds to win division: +15000
Win total: 36.5
The Kings were once again a disappointment last season. Stop me if you've heard that one before. Sacramento failed to make the playoffs yet again, and aren't expected to this time around. If they don't make real progress in the Pacific division this season, the 2021-22 campaign will likely be the last with Luke Walton as head coach. It looked like the Kings were going to trade Buddy Hield this offseason, but those talks fell through. They used the 9th overall pick on Baylor's Davion Mitchell. Hopefully 2018 2nd overall pick Marvin Bagley can take a big step forward in his 4th season, but I don't think anybody in the organization is holding their breath at this point. De'Aaron Fox is a stud, but it's mostly the same exact team around him outside the uninspiring addition of Tristan Thompson.
Pacific division best bet: Suns under 51.5 wins
I say this as someone who had a 70/1 futures ticket on the Suns to win the NBA Finals last year. They overachieved last season. And now the competition, not just in the Pacific division but the whole Western Conference, is about to get a lot stiffer. Just within the Pacific, the Lakers and Warriors are both projected to win a lot more games than they did last year. Even some of the bottom-feeders in the West aren't going to be as bad as they were last year, like the Timberwolves (who were only 23-49). At a time when their rivals were making bold moves to upgrade, the best player the Suns added this offseason was Elfrid Payton. I hate to say it because of how much I enjoyed them last season, I'm expecting some serious regression in the desert.
Pacific division winner: Los Angeles Clippers (+900)
I'm not saying the Clippers are going to win the division, but at +900 they've got the most value. A bet at +900 only has to cash 1/10 times for it to be profitable. And there's a very realistic scenario where Leonard returns sooner rather than later and helps push them over the edge down the stretch. Remember, this team played very well without Leonard last year. In the playoffs they finished off Utah without him, and nearly won the Conference Finals over Phoenix. I suspect the Lakers will have real spacing issues, so I certainly don't want any part of them at even money. I just explained why I'm skeptical of the Suns, and the Warriors aren't just going to magically start playing like they did in their heyday.
2021-22 NBA season preview
Want more NBA futures content? Check out more of our previews, including conference and division picks:
Pickswise is the home of free NBA Picks and Predictions. Check out our daily NBA Prop Bets, NBA Parlays and NBA Best Bets throughout the entire NBA season.