NFL Draft Guides
Back
NFL Draft Guide: When is the 2020 NFL draft?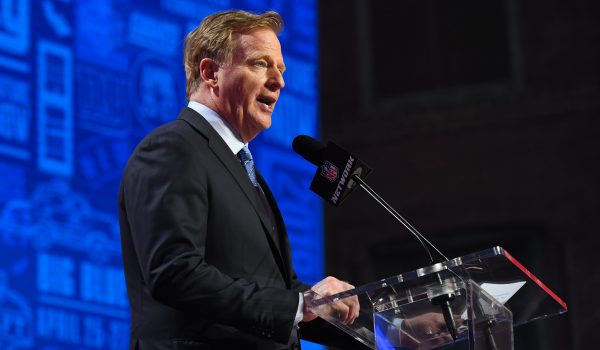 The 2020 NFL Draft will take place between Thursday, April 23rd, and Saturday, April 25th. The schedule is as follows:
Round 1: Thursday starting at 8 p.m. ET
Rounds 2-3: Friday starting at 7 p.m. ET
Rounds 4-7: Saturday starting at 12 p.m. ET
The event will be broadcast on ABC, ESPN, and NFL Network. The entire draft will take place virtually, with the NFL going as far as to install cameras in the houses of general managers and coaches. Commissioner Roger Goodell will be announcing each selection at his residence in New York. 
The draft was initially supposed to take place in Las Vegas, Nevada, but the public portions of the event were canceled due to the coronavirus pandemic. Some NFL executives were hoping the league would push back the start of the draft, with most citing their inability to complete scouting. Still, the NFL decided to move forward with the event.
The NFL expanded the draft to the three-day format back in 2010, and there have been whispers that the league could look to broaden the affair to a fourth day in future years. The draft generally takes place around the end of April each year. The most recent exception was the 2014 Draft, which was delayed until almost mid-May, thanks to a scheduling conflict at Radio City Music Hall in New York City.
While we can peg down a start time for the draft, it's not as easy to predict when each day will end. Teams have the following amount of time to make their selections in each round:
1st Round: 10 minutes
2nd Round: 7 minutes
3rd Round: 5 minutes
4th Round: 5 minutes
5th Round: 5 minutes
6th Round: 5 minutes
7th Round: 4 minutes
If a team doesn't make their selection within that allotted amount of time, the next team is allowed to skip ahead and submit their pick. We saw this in 2003 when both the Jaguars and Panthers jumped the Vikings, who had the 7th-overall pick.
The allotted amount of "time on the clock" has changed a bit over the years. Until 2017, teams had 15 minutes to make their first-round selections.
Pickswise Guide To The Draft 2020
A comprehensive guide to all your 2020 NFL Draft questions below:
Last updated: Wed 22nd April 2020